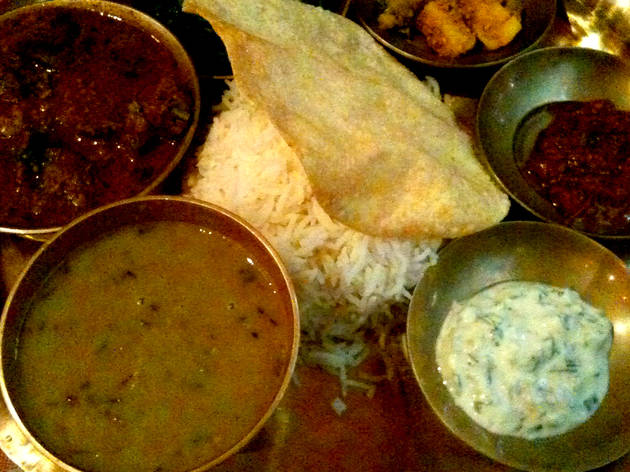 1/3
Photograph: Brian Yap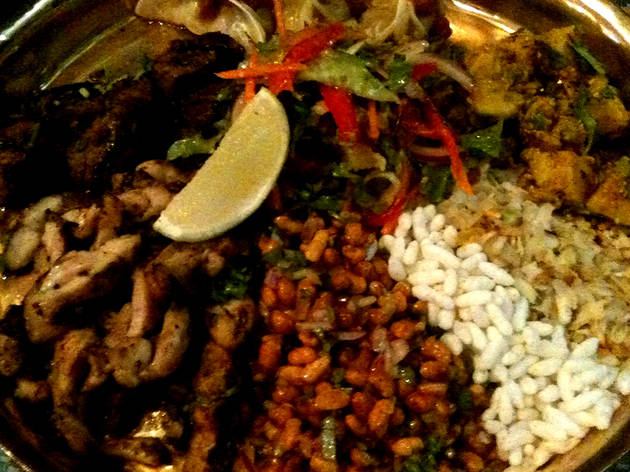 2/3
Photograph: Brian Yap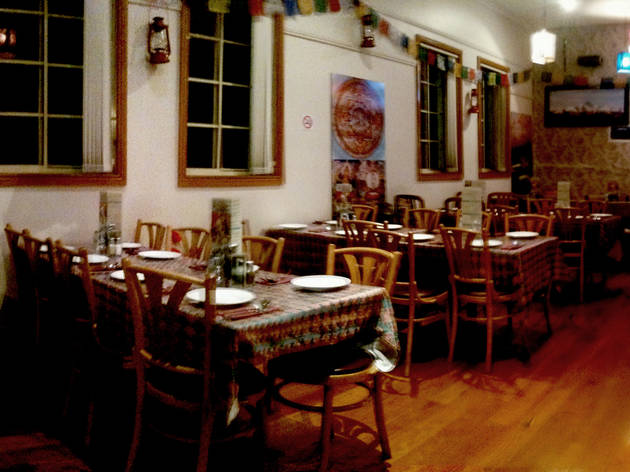 3/3
Photograph: Brian Yap
Time Out says
Hook into some authentic Nepalese cuisine, right in the heart of Marrickville
Eat this... Thaal
What is it?
Thaal offers the perfect introduction to Nepalese cuisine: an all-in-one meal of meat, vegetables and dhal curry served in small kachaura bowls and presented on a metal tray.
Where can I get it?
Everest Kitchen in Marrickville is a modest suburban restaurant committed to serving traditional Nepalese dishes. Multi-coloured prayer flags and lanterns hang over a crowd that includes Nepalese families and curious locals. A huge LCD screen has looping footage of life in the Himalayas but to be honest, it's more distracting than atmospheric. Service can be a little slow at times so turn up expecting a leisurely meal.
What's it like?
Choose your own curry for your thaal dinner set ($18.95–$24.90) from a long list of options that includes prawn, fish, goat, lamb, chicken, pork, deer and vegetable. When your mini banquet arrives, pick your way around the plate by scooping up mouthfuls of rice with curry or bhuteko saag sautéed silverbeet. A deep-fried pappadum is light and crisp and the gold cup on your tray contains a thin lentil soup. Little saucers of pickled radishes, tomato chutney and a cool raita yoghurt and cucumber dip help refresh the palate.
Any Nepalese specialties?
It's worth trying the traditional Nepalese dhindo set ($18.95–$24.90) which comes with dhindo, a millet porridge that is more often found in Nepalese hillside villages than in Sydney restaurants. The porridge is definitely an acquired taste, with an odd, gluey consistency and sandy texture on the tongue, but it improves significantly if you eat it together with the curry. Dhindo is high is protein, and usually eaten in hilly or rural areas of Nepal where rice is difficult to cultivate.
Anything else?
Hook into the mriga masu ko tarkari, a tender deer-meat curry ($19.95), fragrant with fenugreek, cumin cinnamon and coriander. Sadeko bhatmas ($6.95) is a crunchy salad of deep-fried soy beans mixed with red onion, chilli and spices. And you can't go past the national dish of momo ($8.95): silky steamed dumplings stuffed with buffalo meat and served with a fiery tomato sauce.
Details