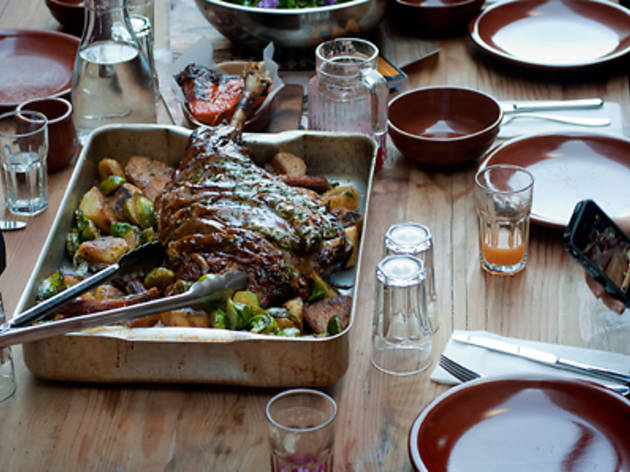 Time Out says
Whole foods and yummy desserts are on offer at this pocked-sized delight
Sydney's wave of produce-driven, whole-food cafés that don't mess around with their ingredients – we're looking at you,
Bread and Circus
– is a trend that we hope sticks around. In the case of Youeni, we're lucky enough to have two excellent spots so close together that you could kick a head of organic lettuce between them.
Owner Chris Starke opened Youeni Provides on South Dowling Street with just $50 in his pocket. That lucky pineapple sure went a long way, and the café grew so big for its boots that when he was approached about a vacancy down the road he signed on the dotted line faster than you can say "pass the kale".
Compared to the teensy three-door-fridge-sized space at Youeni Provides, the new Foodstore's full commercial kitchen has ensured that Starke and his staff have the room to crack their knuckles and get stuck into some serious work. Serious work like churning their own cultured butter, baking bread for both cafés that is so spectacular it may even steal the queue from Iggy's and rolling out the delicate, sensational pastries that this small alcove is fast becoming famous for.
A tangy, craggy rhubarb and ginger crumble tart with a caramel custard centre hits just the right point between sweet and sour, crunchy and soft. And a bitter and rich dark chocolate ganache tart with cap of runny, salted caramel sauce shows off Starke's experience in the pastry business (he manned that station at
Marque
for a turn).
Soft woven blankets are draped about the eight outdoor tables to warm your knees, and Youeni's own subtle coffee blend should assist in that matter too, but you'd be crazy not to try one of Youeni's epic sandwiches. The thickly cut caramelised honey mustard ham number with caramelised apple, a generous swipe of tarragon and horseradish mayo and watercress tastes like all the good bits of Christmas for just $12.
But it's the piece of carrot dauphinoise alongside the Angus scotch fillet, with slices of carrot as thin as that weird Bible paper, the edges crisp, dark and sweet, that is the perfect display of Youeni's crusade to preserve the heart of the produce. See? We told you – no mucking around, they don't even have a microwave.
Starke has big plans for the Youeni group – an online store will take orders for boxes of locally sourced fruit and veg, and communal-style dinners of slow-roasted lamb legs and whole pork shoulders, with craft beer on tap and boutique wines will soon come into play.

In the meantime, the locals have clued up fast and certain items are starting to sell out around lunchtime, so be prepared to elbow your way in. It's worth it: Youeni Foodstore is a quiet, friendly corner where the staff are keen to talk you through each ingredient if you ask and the value is easily spied in between each hand-picked radicchio leaf.
Details
Users say