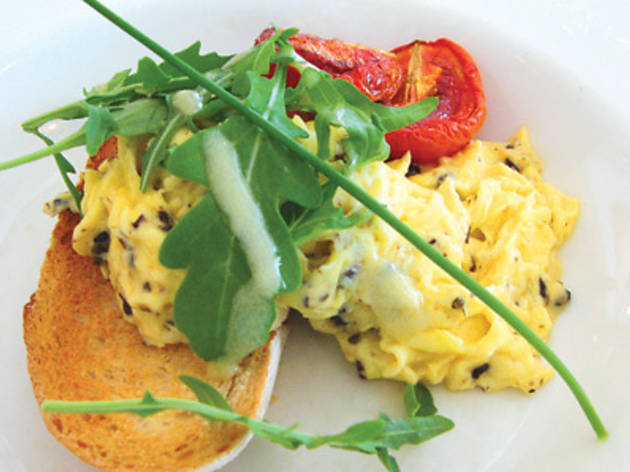 Time Out says
Decked out like a coastal beach house, this open plan restaurant/cafe takes its name from the ocean pool across the road at Shelly Beach, where local nuns once bathed
Walking into the restaurant is like entering a sun-drenched living room, with paintings of the beach adorning the walls, and striped pillows on the seats – even the waitresses go super casual in cut-off jeans and t-shirts.

Pancakes, pastries, as well as a dressed up version of the ubiquitous fry-up with balsamic tomatoes, poached eggs with asparagus, and sauteed mushrooms with prosciutto and thyme make an appearance at breakfast, while lunch sees a less-than-moist chicken salad with slow cooked puy lentils (small French brown lentil). Grilled scampi with angel hair pasta does not disappoint – the meat is super sweet and while there's little of the promised chilli. This is the best dish of the day.

Greek touches like the salad dotted with creamy Persian fetta and lightly dressed tomato, olives, cucumber, and Spanish onion is well rendered without being exceptional. Hopwever, desserts like the bougatsa (a custard-filled Greek filo pastry) add pizazz to an otherwise tired menu.

The Nuns' Pool is casual, laid back, right near the beach and cheap. The food has its inconsistencies and the menu could do with an update to 2008 but there's only one sitting at lunch, so the table is yours for the whole afternoon. The laid back service is attentive, allowing you a lazy carafe or two on the cushioned banquettes to enjoy the last gasps of summer.

Details
Users say