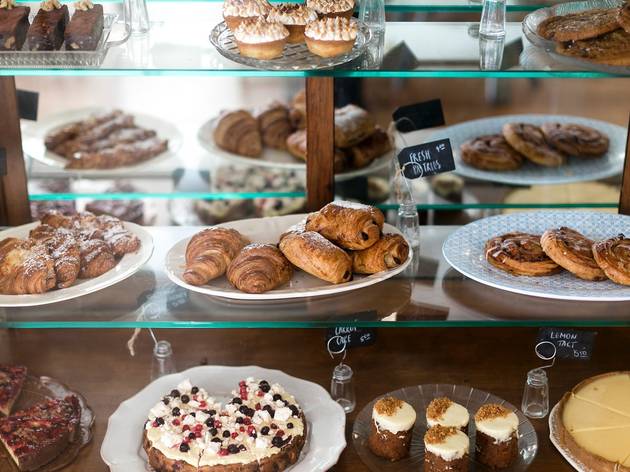 1/9
Photograph: Kiera Chevell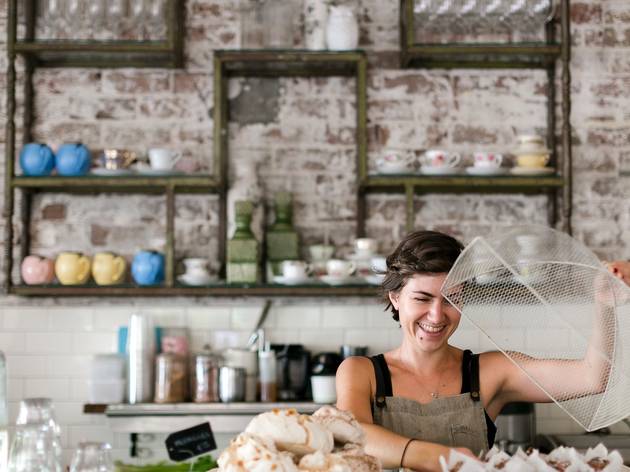 2/9
Photograph: Kiera Chevell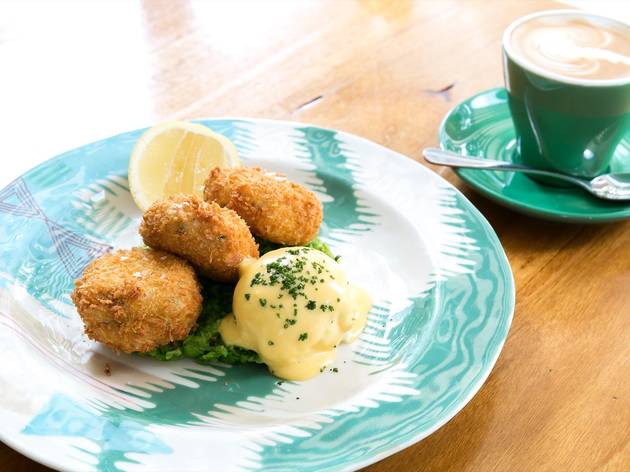 3/9
Photograph: Kiera Chevell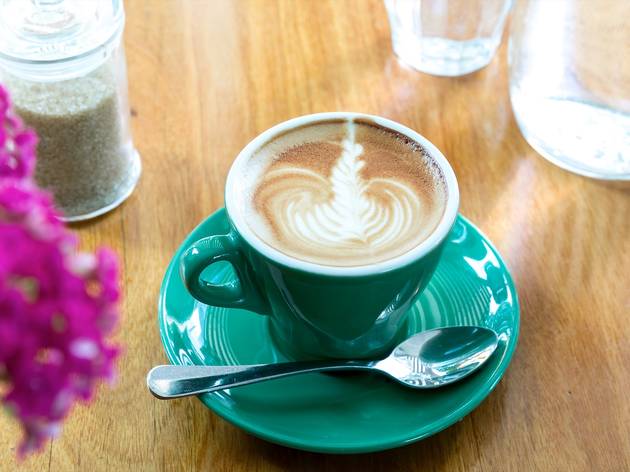 4/9
Photograph: Kiera Chevell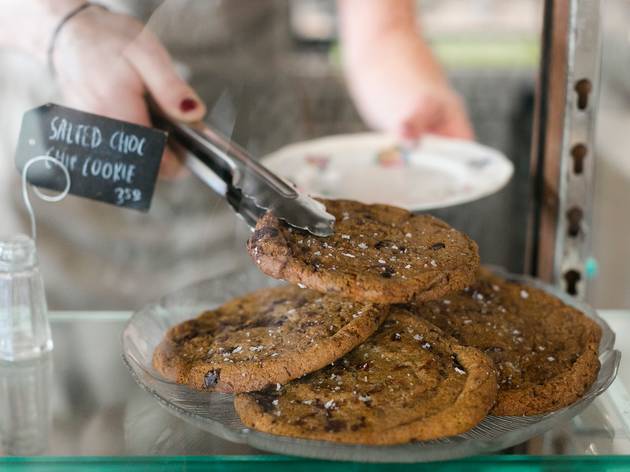 5/9
Photograph: Kiera Chevell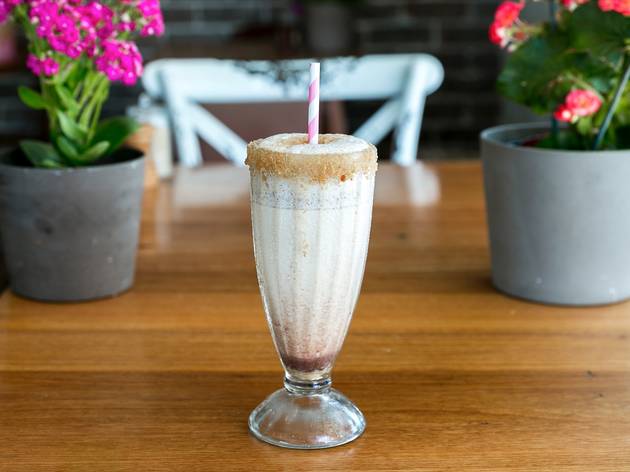 6/9
Photograph: Kiera Chevell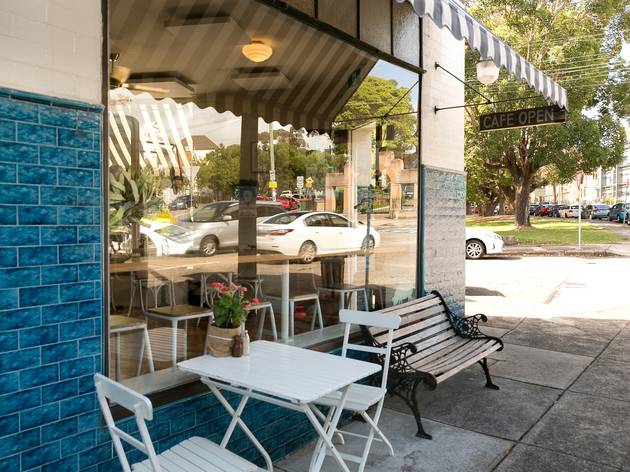 7/9
Photograph: Kiera Chevell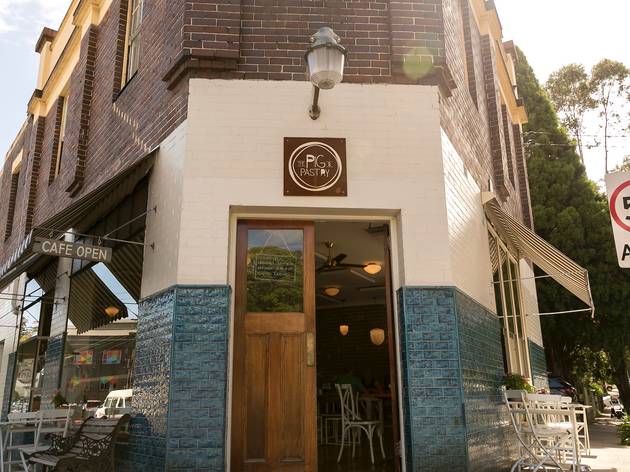 8/9
Photograph: Kiera Chevell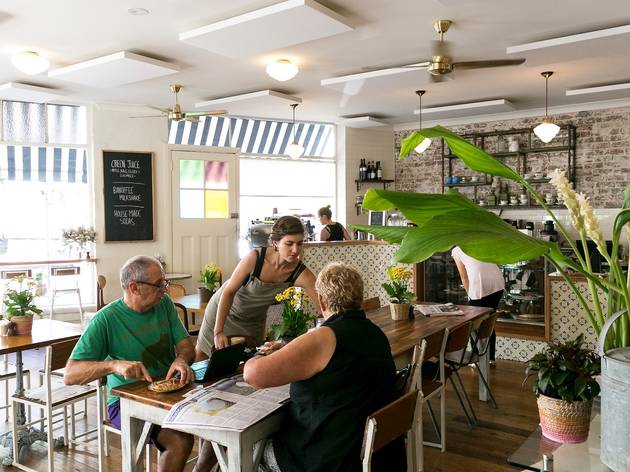 9/9
Photograph: Kiera Chevell
Time Out says
Turns out Petersham's secret superpower is impossibly charming cafés like this
Parramatta Road may be one of the Inner West's least inspiring stretches of bitumen, but the bridal warehouses, print shops and auto yards quickly give way to parks, terraces and shops once you turn off the main drag. Take the West Street intersection, for example. Behind the Goodyear and Ryda centres sits a café and bakery that has set its charm guns to stun.
The blue-and-white tiled Pig and Pastry sits on a sunny corner across the road from Petersham Park. There are tables out on both sides of the street under jaunty, striped awnings and inside this open, breezy café has a gentle vintage fitout that reminds us of a country scone house.
The crowd is older, which isn't surprising given the proximity of the St Vincent De Paul Society and its aged care home, but for every brace of nice old ducks there's a local family or pod of students who've organised their timetables to allow for maximum coffee and cake time during the day.
And the sweet stuff is reason enough to visit. The display case set into the counter is stacked full of old-fashioned bakery treats: huge meringues run through with chocolate chips and dusted in cocoa; chewy chocolate chip cookies with a little sprinkling of salt. For all you red velvet fans out there, they make a version of a Moon Pie that uses a red velvet base cake and then adds a mixed berry jam, a layer of sticky vanilla marshmallow and chocolate ganache icing. Their prowess with pastry extends beyond dessert – if you're lucky enough to get a slice of the cheesy, just-set quiche with pockets of sweet roast pumpkin, exploding cherry tomatoes and crisp bacon on top, your day is already better than most.
Brunch here may well include poached eggs and hollandaise, but they go their own way and pair it with three golden fish cakes of house-smoked Barramundi and potato. They come on a brilliant green bed of crushed, minted peas that should be the subject of an English folk ditty about springtime bounty. A generous serve of zesty butter sauce binds together the flavours of land and sea, creating a breakfast plate that is fresh, crunchy and buttery all at once.
They make good coffee, but you really shouldn't leave without a spiced gingerbread shake. If you are almost at capacity, order a kids' size one. It comes in a colourful milk bottle and the foamy top is dusted in gingerbread crumbs.
In the last couple of years Petersham has proved fertile ground for great cafés.
Daisy's Milk Bar
brought mixed lollies and mac and cheese to an area better known for jelly wrestling, and
Brighton the Corner
won friends fast with house-made crumpets. The Pig and Pastry adds sweet treats, spiced milk and a delicious hollandaise-dressed brunch to the mix, and you're going to have to work very hard not to love it.
Details
Address:
1 Station Street
Petersham
Sydney
2049

Contact:
Opening hours:
Mon, Wed-Fri 7.30am-4pm; Sat-Sun 8am-4pm
Best selling Time Out Offers