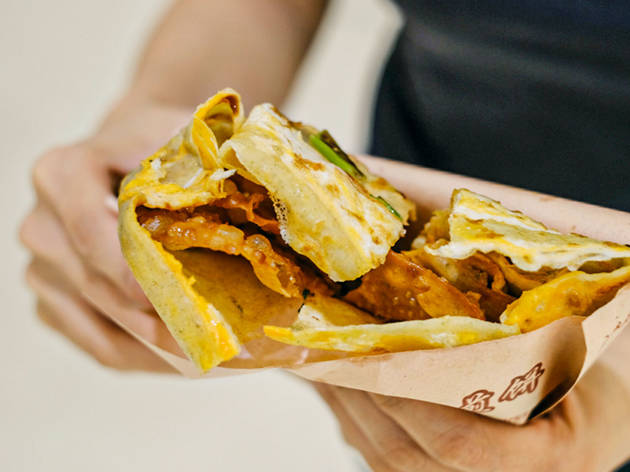 1/3
Photograph: Helen Yee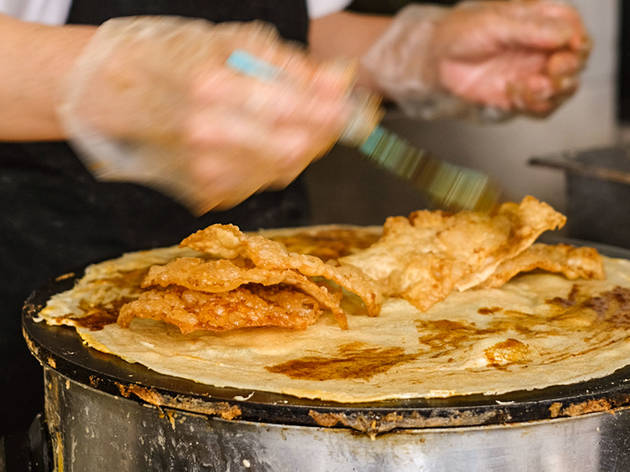 2/3
Photograph: Helen Yee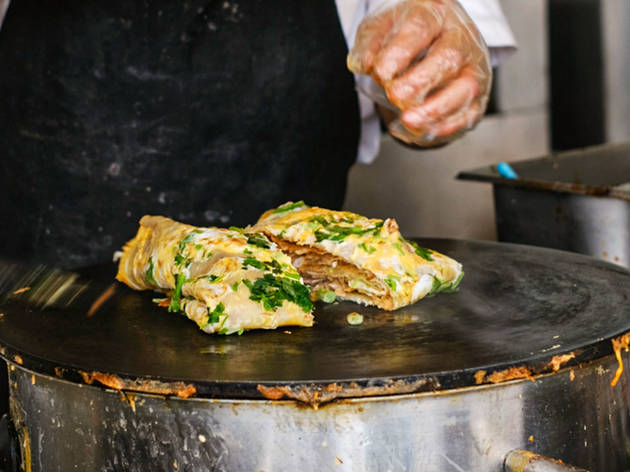 3/3
Photograph: Helen Yee
Time Out says
A Campsie shopfront that offers you the chance to meet jianbing, the crunchy Chinese street breakfast staple
Never heard of jianbing? Imagine a crêpe, cooked to order. Then, crack an egg across the top, spread it thinly until cooked, add giant shards of deep-fried wonton sheets and fold it up like a burrito. It's a Chinese breakfast favourite and, like most street-food classics, it's easily eaten on the run.
Tianjin Bun Shop calls this a hamburger on its English menu, but locals know it as jianbing. This eggy breakfast crêpe-cum-burrito is addictively delicious, slicked with sweet bean sauce, garnished with coriander and loaded with the noisy crunch of golden fried wonton sheets.
The open shop window to the street is where you'll pick up your jianbing ($6), straight from the chef manning the hotplate. Don't expect small talk or smiles. It's all about no-nonsense speed and precision.
But that's just what punters are looking for as they queue for a snack on their way to and from Campsie Station and nearby bus stops. This takeaway-only shop opens every day at 5am for the breakfast crowd, and trades right up until 8pm for dinner. Breakfast congee, wontons and fresh soya bean milk all sell out by mid-morning.
Behind the counter, you'll find plenty of snacks you can point at to order, like tea eggs, fried bread sticks and glutinous corn cobs completely devoid of sweetness but adored by fans for their chewy starchiness. Steamed buns ($2) include sweet red bean paste as well as savoury fillings like egg and chives or pork with preserved vegetables. There's also a range of stuffed pancakes ($4.50) so big they have to be folded in half to eat. The pancake stuffed with garlic chives and vermicelli noodles is particularly good. Check out the cold meats section, too, and don't let the offer of 'pork head meat' freak you out – it's actually slices of lusciously fatty pork jowl that go brilliantly with the accompanying tub of black vinegar and garlic.
Whatever you order, just try to bring your own container. You'll be faced with more plastic bags than a roll of bin liners if you don't.
Details
Best selling Time Out Offers