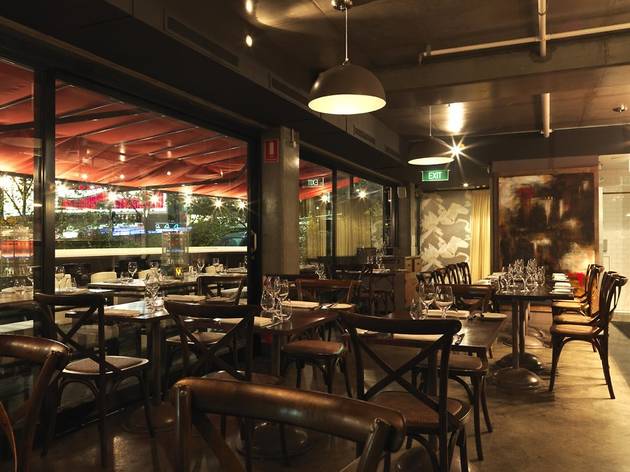 Time Out says
Does this kooky Darlinghurst restaurant live up to its reputation?
Tomislav Martinovic offers a progressive four-course menu of technique-driven dishes. The ex-Fat Duck chef delivers all this in an intimate setting in the heart of Darlinghurst. In fact, the heated balcony is so cosy you could almost forget you were dining on William Street, save from the unearthly glow from the Coke sign.

Tomislav serve $10 rice crackers. No need to rub your eyes folks, you read that right the first time round. The crackers are spritzed with salt and vinegar mist out of a little spray bottle. (They're not made from crack-cocaine. We checked.)
If you've chosen to forgo the crackers and save the money for a nightcap around the corner at
Hinky Dinks
, you might like to move straight to the fine dice of raw scampi. It's covered in a rough-hewn caper salsa punctuated by a blob of airy, salted sour cream. The addition of a 'pumpkin gazpacho' poured at the table, though, seems more or less gratuitous with the rest of the dish. It's a shame.
Golden roast quail is served really simply on a slash of house-made XO sauce. The skin of the bird is crisp and golden. But then there's a spoonful of sour cherry granita on the plate that sends the whole dish cold in seconds. The flavour profile's spot on, but it's something of a mystery to us why you'd choose to do a flavoured ice on a hot dish like this.

The wagyu beef rib with a brush stroke of beef jus, sautéed enoki mushrooms and beetroot purée is, again, a really solid dish. But we're once again confused as to why you'd choose to serve meat this outrageously marbled a) medium rare so the fat remains largely un-rendered and b) cool to the touch. Still, you can grab victory from the jaws of defeat with a side of chips. A signature of the restaurant, they're all soft and creamy on the inside, captured in a crisp crinkle-cut shell.
Then there's dessert.
4Fourteen
are doing their take on a Bounty Bar. The
Bentley
occasionally feature a riff on the Crunchy. Melbourne chef
Philippa Sibley
is famed for her Snickers. At Tomislav, it's the Milky Way. Here, a milk chocolate cream block is covered in a light dusting of cocoa, and some very deftly placed sea salt flakes. Oh, and a scoop of smoked banana ice cream and a crunchy scattering of hazelnut nibs. It's a bit like one of those creamy desserts you find in the cake shops in Chinatown – we dig it.
Chef Tomislav Martinovic can cook. And he's hired an incredibly friendly floor team who really want you to have a good time. The wine list is a little limited considering the breadth of the menu, but it's certainly workable. All it would take to have this restaurant evolve from fine to great would be fewer ingredients on some of the plates and a little more heat in the kitchen.
Details
Address:
2/13 Kirketon Road
Darlinghurst
Sydney
2010

Contact:
Opening hours:
Dinner Tue-Sat 6-10pm; lunch Fri noon-3pm