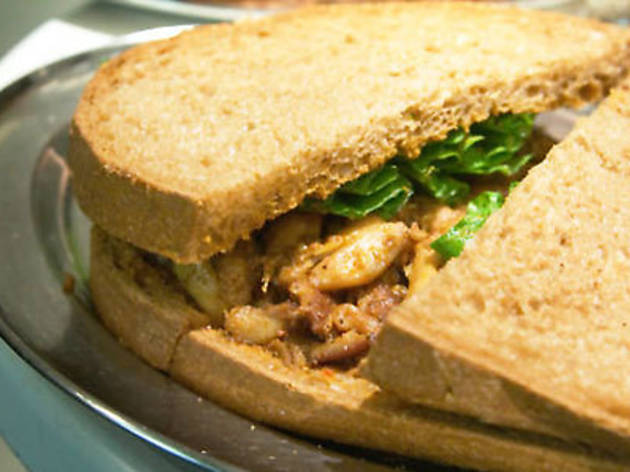 Time Out says
What's not to love about the humble sandwich? It has been the lunch food of choice for generations and for good reason too. From the simplicity of a vegemite sanga through to a multi-story club, or even a dessert sambo with Nutella, it's hard to beat slices of bread encasing tasty filling for a quick, travel friendly and cutlery-free midday meal.
Clearly the hordes of well-heeled city workers who descend from their steel towers to refuel agree with us. At lunchtime every available space is filled in the compact Via Abercrombie sandwich shop hidden down the laneway beside Establishment.
Fortunately this little sandwich shop has their peak hour production line down to a fine art in order to meet the clamouring need of those who keep our economy and legal systems running. Efficient women wielding serrated knives shear great slabs of bread off Vienna loaves with ninja-like precision. When it comes to fillings you start with your protein and build from there. Ham, schnitzel, salami, tuna or salmon covers the usual suspects, but our pick is the slightly smokey barbecue chicken pieces. They come piled high on a slice of bread, then topped with shredded lettuce before the second slice is swiftly clamped down, trapping the fillings inside in the same way you try and close an overstuffed locker without shutting your hand in the door.
If bread isn't tickling your fancy order a salad. They put the limits of a takeaway container to the ultimate test, packing in pumpkin and sweet potato mash, grilled zucchini, mushrooms, capsicum, tomato, red cabbage, corn, potato salad and hummus. It's enough to last two days and we'd wager it'll ward of scurvy until the day of the rapture.
It's simple, filling and flair free food and exactly what you need when you've worked up a serious hunger.

Details