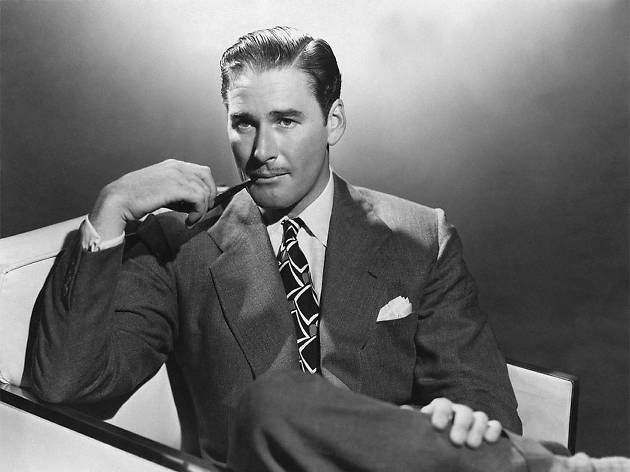 Australian men from history with great personal style
When discussing men's style, it's important that we pay homage to the legendary men who've come before us.
Whether they kept it chic and simple, rugged and ragged, or so suave they named a dashing comic book character after you (that really happened), these Australians had their own style and they did it better than anyone else to date.
Long after his early death in 1959, Errol Flynn remains one of Australia's — and indeed Hollywood's — most glamorous filmic icons. It's rumoured the phrase 'in like Flynn' originated from a reference to the actor's prowess with the opposite sex, and Marvel Comics' Stan Lee even based a character on his handsome visage (the appropriately named 'Fandral the Dashing'). Joan Crawford called him "the most beautiful man who ever lived", and his looks and cavalier public image helped make him one of the highest paid actors in Hollywood. He wore his hair in controlled waves and had a pencil thin moustache, both of which were popular looks in the 1930s that have since become inextricably tied to the legend of Flynn himself. Google him and take note! This was one stylish dude.
INXS's late lead singer was one of the best-dressed guys on the planet during his time in the limelight in the '80s and '90s. Beneath his loose curls, he experimented with his style constantly – a leather jacket over a singlet one day, a silver snakeskin-print suit the next. Perhaps one of his best outfits was the one he wore to the premiere of The Delinquents film in 1997, where he wore a vest without a shirt over trousers embellished with imagery of crowns and royal jewellery. The best lesson learnt from trawling through years of his images? That experimentation and the fun that goes with it is timeless.
Rock'n'roll legend Bon Scott always looked like he DGAF. The jeans were so tight his package was pretty much always on show. His denim vests were basically open crop tops. His T-shirts (when he wore them) were so tight it looked like he'd squeezed into his kid brother's clothes. Teamed with long fluffy hair, a hairy chest and tattoos, the dude was living proof you should just do you when you're throwing on clothes in the morning – even (or especially!) if that means wearing a school uniform with short shorts.
Robin Gibb – like all three of the Bee Gees – was one stylish dude. He and his brothers were among the most successful pop acts of all time but here we'd like to remember his amazing style. He had long wavy hair, the length of which varied greatly over the years, and it was, in a word, majestic. Long hair with a strong part, plus a turtleneck or suit-and-tie? Winning look. And that band's use of all-white ensembles, or shiny bomber jackets with trousers in a matching fabric, or silver space suits, reminds us that head-to-toe solid looks are always a good idea.
Lionel Rose MBE broke down barriers. He was the first Indigenous Australian to win a world title – a bantamweight boxer who would become the first Indigenous Australian to be named Australian of the Year. He even released a top five single called 'I Thank You'. While style may be the last thing he was remembered for, it's worth noting that the man looked great in all pictures, whether he was wearing a well-cut grey suit, or white jeans without a shirt, or a clean polo shirt. Proof that keeping in shape and keeping it chic and simple can have a strong effect.