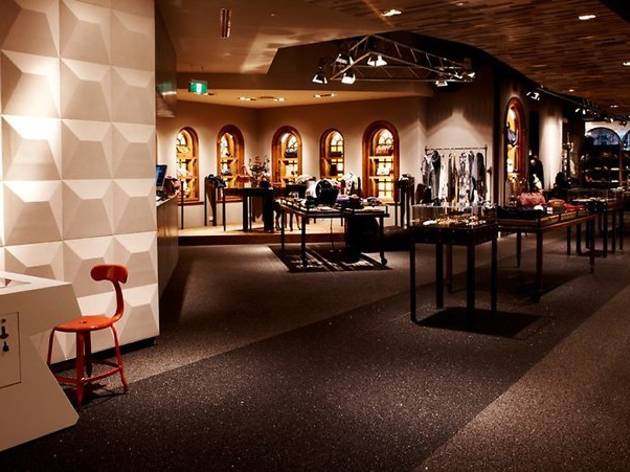 High concept shopping in Sydney
One of the first things Time Out notices when we step inside Cara&Co is the Wall Street Journal quote printed above the register: "One of the best boutiques in the world." And while we're not 100 per cent sure they are right – we haven't done enough shopping around the globe to really know – they very well could be.

Sydney doesn't have a good rep for concept stores – seriously well curated boutiques that give you an exact sense of the target customer as soon you step inside – but Cara&Co, which sits on level four of Westfield Sydney, is a great one. The place is set out a little like a museum, and contains everything a seriously-well-put-together-jetsetter would need to pack in their metallic Pauric Sweeney bag.

Glass shelves spread with perfumes lead to racks lined with fine Aimo knitwear so airy they could only be justified on the skinniest of waifs. Across from them sits a display of Molami headphones – all gold-plated finishes and super-soft leather. They are functional and fashion! – and not stocked anywhere else in Sydney, we might add.

Some selections, though, seem solely directed at shoppers with more money than sense. A nicely tailored Jean Paul Knott jacket covered in what appears to be halved Christmas baubles – 'tis the season! – is just one such example. And, wandering around Cara&Co, we get the impression the store may get a lot of folk with their money-sense balance out of whack. Pieces from a single designer are grouped together around plaques describing the designer's history, preferred materials and aesthetic approach. One plaque for jewellery designer Ellen Verbeek reads: "Gold and diamond jewellery is not disposable." Well please excuse us while we go and rifle through the Time Out bin room. It seems we may have made a very silly mistake.

Cara&Co is very bling, but not at all tacky. Stock is high-end, but they aren't in the game of conspicuous consumption, and we're quite sure the line-up of labels would baffle all but the most in-the-know collector. Bold Junko Shimada dresses sit astride cartoonish Henrik Vibskov menswear and avant-garde Christophe Coppens accessories. It's merchandised to perfection, lit like an art gallery and staff are helpful and very knowledgeable but happy to leave you to your own devices.

Perfect for maxing out your credit card or getting a window shopping fix without spending a cent.
Venue name:
Cara&Co
Contact:
Address:
Shop 4001, Level 4
Westfield Sydney, 188 Pitt St
2000

Opening hours:
Mon-Sun 10am-8pm