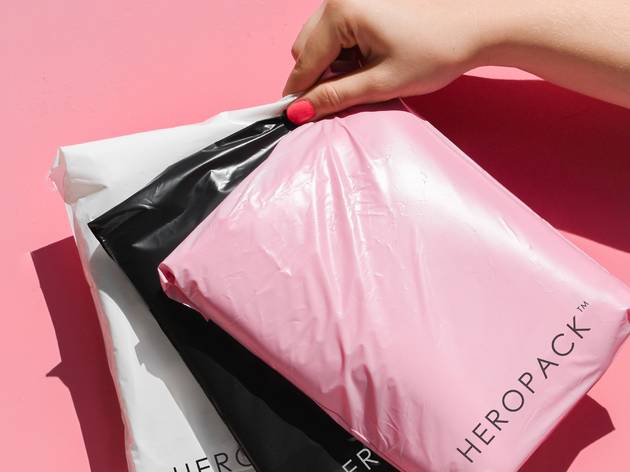 Check out this cute, compostable packaging created by a Sydney-based couple
Stay sustainable while you shop online by sticking to brands who've made the eco-friendly switch
It's a tale as old as time. You've been awaiting the arrival of your tie-dye tracksuit ever since you clicked 'Add to Cart' five days ago. By the grace of God and the good folk at Australia Post, it's finally arrived on your doorstep. You sign for the parcel and start to unwrap it in a frenzy, dreaming of the moment you get to snuggle up in its luridly coloured, fleecy warmth – but you're still unwrapping. You've torn off layers off cardboard, and then paper, plastic and paper again, when you finally unearth your trackies. Your cosy new outfit does little to dispel the cold you feel looking at discarded pile of packaging beside you.
Enter Hero Packaging, a new sustainable packaging brand that's aiming to take some of that guilt out of online shopping.
Founded by Anaita Sarkar and Virkam Davé, a Sydney-based husband-and-wife couple, Hero Packaging sells cute, lightweight and totally compostable packaging to companies who are looking for a sustainable way of shipping their products around the country and internationally. Dwelling on the lack of overarching solutions to the climate crisis on a grand scale is a quick way to spiral into an existential wormhole – but making the switch to shopping with companies who use sustainable packaging is a tangible, achievable change you can make in your life. With hugely popular brands like ethical outfit Lush Cosmetics, fashion retailer Beginning Boutique, Australian label Cue and even yoghurt maker Chobani having made the switch, you'll be spoiled for choice.
Once you receive a package in a sleek Hero Pack, all you need to do is take off any labels, cut it up and pop it in your compost bin, where it will completely break down within three to four months (and sometimes, even sooner). If you don't have a compost, chuck it in your normal bin – the packs are also biodegradable so will break down within around two years even in landfill (as opposed to 400 years for traditional plastic materials).
If you're a retailer or business owner yourself who'd like to give your customers a more environmentally friendly online shopping experience, you can even try out some of the Hero Packaging samples for free – plus, they're customisable with your brand's name.
Next time you're dismayed at the packaging that's got enough plastic to fill half a recycling wheelie bin, consider opting for a more eco-friendly way to shop online. Check out Hero Packaging's website for more information and to order yours now.
This article contains affiliate links from which Time Out may receive a small fee.

In a sustainable kind of mood? Check out this chic, ethical bamboo toilet paper.