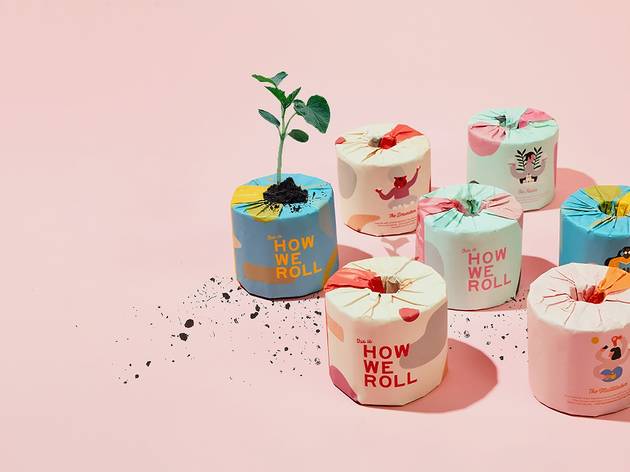 A new ethical toilet paper is here to help the planet and prevent supermarket aisle bust-ups
How We Roll is planting trees in bushfire-ravaged regions for every box of toilet paper sold
Who would have thought that the humble roll of toilet tissue would become a prestige item, a weapon in the culture wars and a symbol for a utopian future, all in the same year? Not us! But the brains trust behind this new bathroom product have a firm grasp on 2020's new normal, and it's a normal that feels very soft against our long-suffering cheeks.
How We Roll is three-ply, 100 per cent sustainable, recycled paper or bamboo toilet paper. Fun facts: bamboo is hyperallergenic, and also a self-replenishing crop that's more sustainable than other fibres, so it's much better for the planet than the stuff that shoppers in Woolies and Coles are still beating each other up over. Especially when you consider the 27,000 trees that are cut down daily to make the stuff we wipe our bums with.
Affordably priced, How We Roll is delivered to your door, so you don't need to brave the dark looks of toilet-seat survivalists filling their supermarket carts with unsustainable brands. Better yet, the company's partnership with One Tree Planted means that for every box sold they're planting one tree in bushfire-affected regions across Australia. How We Roll has so far ensured that 1,000+ new trees have been planted since its recent launch.
How We Roll has a bunch of similar compostable or biodegradable products on their site: bin liners, paper towels, tissues and dog waste bags. Naturally the packaging design is super-cute, so these would all make brilliant and hilarious Covid-era gifts as well. Shipping is free for orders over $50.
Find out more about How We Roll (including toilet paper origami).
This article contains affiliate links, for which Time Out may receive a small fee.