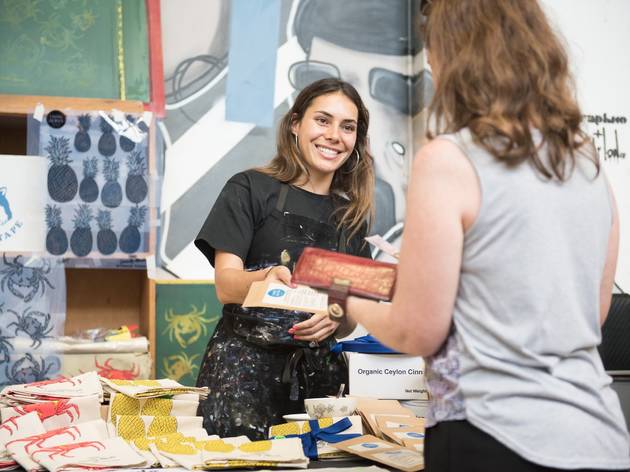 Get to know the Inner West's creative community across 80 stalls and a series of free workshops
With a flourish of holly, cherries and cheer, Commune will host the Christmas edition of their Locally Made markets. The creative, collaborative coworking space is known for throwing killer community parties and fabulously inclusive events, and Locally Made will be no exception. Old-hand stallholders will be setting beside newbies who'll be showcasing their creative work for the first time, offering the usual market line-up of handmade goodies – think funky outfits, one-off art pieces, hand-crafted ceramics and a bounty of locally produced snacks.
It'll be a great opportunity to learn a new craft in between shopping for craft, with fun, free workshops popping up throughout the day. You can pick up skills in screen printing, wood-working, vegan nutrition, illustrating botanicals and even creating sustainable beeswax wraps.
There will be salty snacks and sweet treats to fuel your creative endeavours, and you'll also be present for the launch of Commune's canteen, which will be offering a menu of cruelty-free vegan meals and icy summer coolers.
This is an all inclusive festive market, so bring pup and the kids along, as well as a few gold coins for your entry donation.