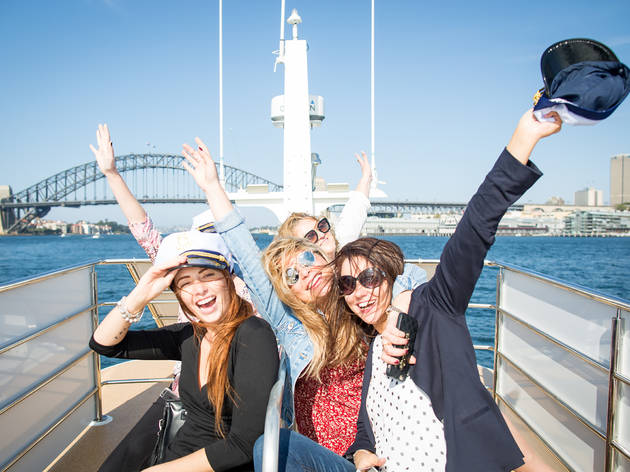 Spend a day cruising the harbour and shopping at Sydney's Birkenhead Point Brand Outlet
Take a cruise before you peruse what's on offer at this waterfront shopping centre
If you're planning to give your credit card a workout, Birkenhead Point Brand Outlet is the place to do it. There's more than 140 outlet stores to choose from, so you can find a bargain in every department, be it fashion, homewares or sport and the outdoors. The shopper's paradise also boasts a beautiful setting, perched on the water's edge. But that sunny seaside spot can be a little hard to get to by land.
Luckily, Sydney Harbour is one of the city's best assets, and you can visit Birkenhead Point Brand Outlet via a dedicated ferry, the Shopper Hopper. Harbourside Shopping Centre is located right in the middle of the Vivid Sydney action in Darling Harbour, so after your day of shopping you can take the Shopper Hopper back to Darling Harbour for happy hour and the Vivid lights.
Getting there
Photograph: Supplied
Take a ride on the Shopper Hopper and start your big day of shopping with smooth sailing. Choosing sea over land saves a whole lot of commuting stress – wouldn't you rather enjoy a salty breeze as you're ferried past Sydney's favourite landmarks than being stuck in traffic or wedged into train isles?
The Shopper Hopper lets you enjoy stunning views on the 20-minute ride to Birkenhead Point Brand Outlet. It casts off on return trips from Circular Quay and Harbourside Shopping Centre in Darling Harbour.
From the Circular Quay Wharf, you'll float past none other than the Sydney Opera House and glide underneath the Sydney Harbour Bridge. Disembarking at Convention Jetty, you'll find yourself right out the front of Harbourside Shopping Centre, where great retail meets top-notch dining experiences (think everything from contemporary Japanese to balcony restaurants overlooking the Harbour). Then, it's onto a whole lotta shopping at Birkenhead Point Brand Outlet, followed by eyeing off impressive vessels docked in the harbour and coasting around Cockatoo Island on the way.
The services run throughout the day to a strict schedule, so it's best to book online beforehand and arrive five to ten minutes before your Shopper Hopper is set to depart. But don't fret if you miss your ride, you can still use your ticket for other journeys that day. The Shopper Hopper can accomodate up to 28 people, with tickets costing $13 one way or $22 return and kids up to four years of age riding for free. Along the the route you can enjoy free Wi-Fi and seating suitable for all weather.
Best of all, the Shopper Hopper takes care of Time Out readers! Just punch in the code TIMEOUT when booking online to receive a 20 per cent discount on any fare until June 30, 2018.
Where to shop
Photograph: Supplied
Now down to the matter at hand: shopping. Whether you have your sights set on an extravagant designer piece of just want to stock up on some basics, the centre is sure to produce the goods. Fashionistas can find a statement piece from brand outlets like Hugo Boss or French Connection, or browse luxury items at discount prices at Harrolds. Start your home makeover by stocking up on all the irresistible bits and bobs at Bed Bath N' Table. Get into the great outdoors and grab bargain equipment from Kathmandu, or treat your feed to a new pair of Nikes or Converse. But keep an eye on the clock – the last Shopper Hopper leaves from Birkenhead Point Brand Outlet at 4pm, so don't miss it if you want to see the Vivid Sydney lights before it ends on June 16.
Where to eat
Photograph: James Horan
If you've been hard at work shopping all day at Birkenhead Point Brand Outlet, you're bound to need a snack. If you want to make a proper affair of breakfast or lunch, visit Café Birkenhead and enjoy your meal with a fresh juice and waterfront views. Serious coffee lovers should head to the Shed Café for a caffeine fix that'll keep you shopping, not dropping. If you'd like a gourmet snack on the harbour cruise home, pick up a treat from Jean Louis Joseph right by the ferry wharf.
Plus, every day throughout Vivid Sydney, eateries at Harbourside Shopping Centre are offering $30 Vivid menus available for lunch and dinner. For just $30 per person, you can get a cheeseboard and drinks for two at The Port which you can enjoy as you watch the Vivid lights at Darling Harbour. You can also feast on a Chinese banquet at Dragon Boat or head to Hurricane's Grill Darling Harbour for a burger, chips and a beer. Check out the full list of $30 Vivid Sydney menus on the Harbourside website.
Don't forget, Time Out readers are able to get 20 per cent off their Shopper Hopper fare.

Use the

code TIMEOUT when booking online – this offer is available until June 30, 2018.