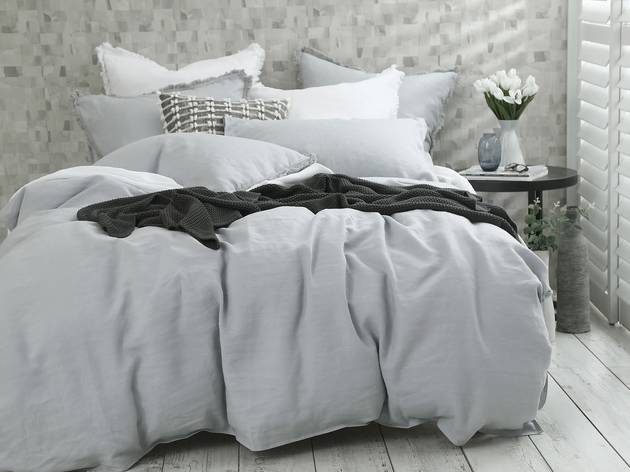 Time Out says
Update your interiors with luxe linen, perfect pillows and beautiful homewares
If you've been looking to refresh your boudoir and didn't know where to start, may we direct your attention to Manchester Warehouse in Kogarah. Your one-stop shop – IRL or online – for all home-refreshing products, Manchester Warehouse stocks everything from cushions and fancy bedding to towels and kids' linen. So get browsing and shopping and prepare yourself for a whole new-look home sweet home.
Manchester Warehouse has your bedroom desires covered with their range of bedding and cosy bed accessories. The warehouse stocks all the basics like pillows, quilts, electric blankets, sheet sets and comforters in all sizes – from baby cots to king size beds. There's also a suite of aesthetic styles, patterns and colours to choose from, making the job of matching palettes to your existing interiors and finding a doona cover to suit your excellent personal taste easy-breezy. Manchester Warehouse's bedding range also hits the mark with affordable and seasonal fabric options, you'll find your next drool-worthy linen sheet set or luxe velvet quilt cover in their store too. And if you're in the market for some statement master bedroom sprucing Manchester Warehouse has a specialty range of "super king" sheets, quilts, covers and more.
Your browsing potential isn't limited to quality bedding at Manchester Warehouse. You'll also find kids and baby homewares, robes, playmats and hooded towels. And if you want to expand your decorating horizons, check out their lines of tablecloths, placemats, napkins and bathroom goodies like fluffy towels and lush bath mats.
On the Manchester Warehouse floor and website you'll find products from over 50 leading brands, including Aura, Ardor, Bambury, Linen House, Hiccups for Kids, MM Linen, and Sheridan. The webstore is super user-friendly with a range of filters to help you find your favourite brand or to narrow down your search to find the best product option for you. They also offer Afterpay and ship to anywhere in Australia for a $9.95 flat rate.
Details