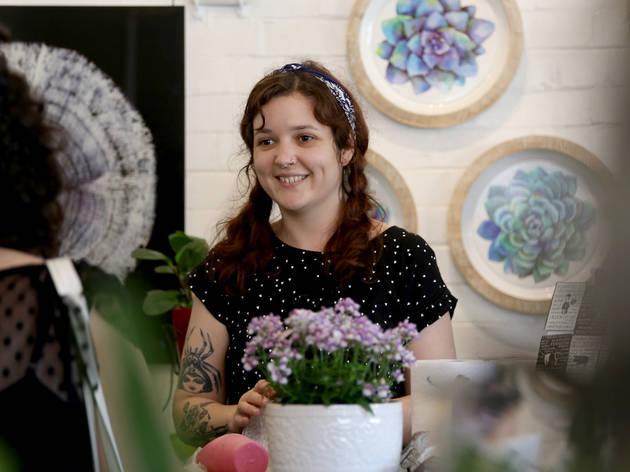 Time Out says
This gorgeous house of greenery has taken over a heritage shop on Norton Street
You can't help but be drawn to this cute cottage filled to the brim with succulents, ferns and leafy terrariums. They tendril their way through the red-trimmed doors and windows of the heritage house where Plantify has taken up residence, luring plant-lovers into the warm forest sanctuary within.
Once inside, you'll find more carefully curated greenery. Some plants come in the standard black plastic pots, while others have already been lovingly planted in ceramics. We are particularly fond of the cohabiting pots – these are collections of ferns or cacti with similar care needs that have been planted in the same vessel. It creates a kind of fairy's grotto and lets you look like you know what you're doing while being as low maintenance as possible.
Prices vary depending on species and if plants are already housed. We walked away with a very well-established cotton candy fern for $21, and there are plenty of decent-sized devil's ivy vines and baby birds of paradise going for around that mark. If you dig their floaty, good witch aesthetic, they also sell pots, planters and other garden paraphernalia in the store.
But the real star of the show here is the staff. Adrienne was tending to the greenery on our visit, and was patient, extremely knowledgeable and happy to help brainstorm fixes for gardening mishaps. Daisy, the resident tiny fluffy doggo, is also a big drawcard.
Details