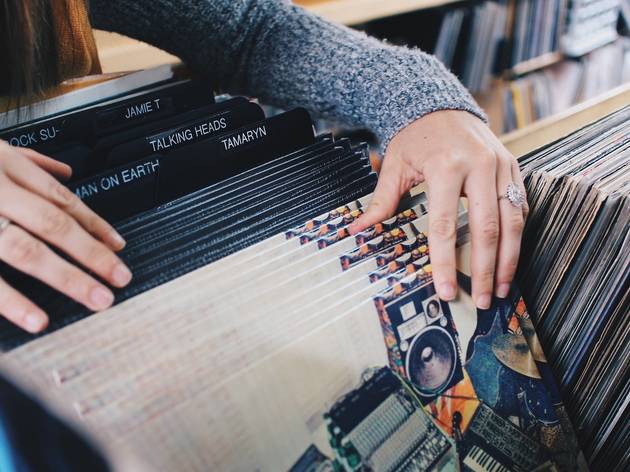 Time Out says
True local heroes, the Frys have been selling records in the same location for 42 years and counting
Not only is Sandy's Music the oldest independent record shop in Sydney, co-owner Nigel Fry says it's the oldest in Australia under the same ownership. "My granddaughter was here the other day, and my son pointed out to me that this was the fourth generation in the shop. I don't think many people could say that about their store!"
Nigel and Jenny took over the shop way back in 1976 when the original owners retired to the Sunshine Coast. Nigel recalls there being at least five other record shops in Dee Why at that time. Still boasting its original signage – the phone number only has seven digits – Sandy's front half is dedicated to CDs and the back half to vinyl.
Jenny estimates that their income is split roughly 50/50 between the two formats – and it's the youngsters buying vinyl LPs that keeps them in business. "It's amazing, really, you're getting teenagers coming in buying Beatles albums and Zeppelin albums and early Rolling Stones and things like that," Nigel says. "It's come full circle.
"Where the vinyl is now, when we started out that was all cassettes and even 8-track tapes. Then our original record stands went home and lived on the verandah for 25 years, much to the disgust of one of my daughters, who was forever telling me to dump them." Then came the vinyl revival, and the stands returned to the shop.
Dee Why locals, the Frys have raised four kids in the shop and live within walking distance of both the shop and the beach. "I reckon it's the best beach in Sydney," says Nigel, formerly a keen surfer, whose own musical tastes run from jazz to reggae to classical. He estimates that their customers include several generations of the same families. "One of the local bank managers has been buying records off us since the '70s."
And what's popular in store right now? "At the moment, our most popular sellers are Hockey Dad, Mac DeMarco, Sticky Fingers. We sell lots of jazz, contemporary artists like say, Culture Vulture, going back to Miles Davis. We sell lots of reggae, a bit of country, also soundtracks, electronica, quite a bit of metal, a lot of Kendrick Lamar, a lot of Childish Gambino. Right across the board."
Details