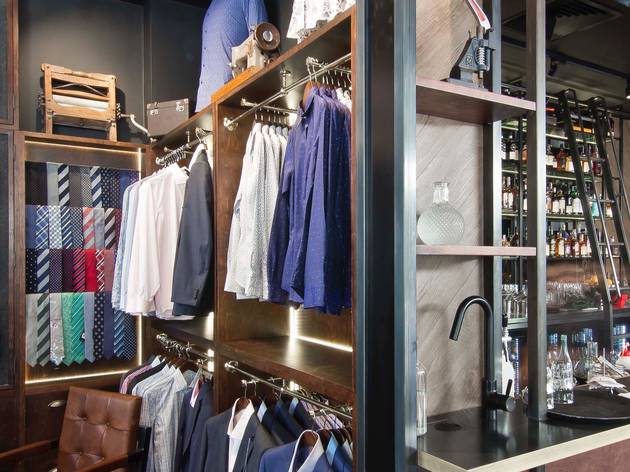 1/4
Photograph: Supplied
2/4
Photograph: Supplied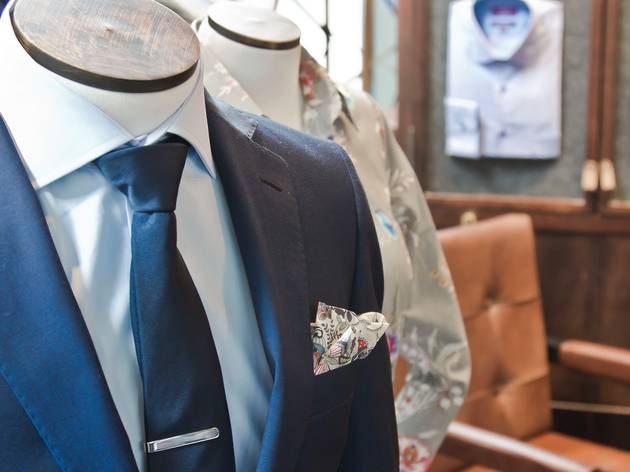 3/4
Photograph: Supplied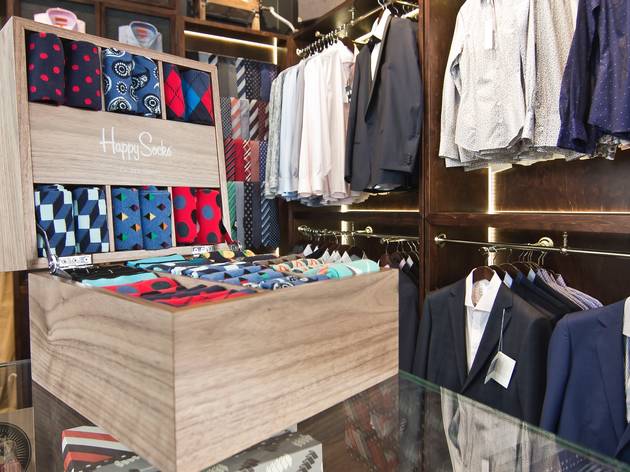 4/4
Photograph: Supplied
Time Out says
Take your shirt fitting with a side of Scotch at this unique suiting store
The first thing you'll notice about Shirt Bar is that they take the bar part very seriously. There are 150 whiskies on the menu, and the bottles take up most of the real estate in this part-restaurant, part-bespoke tailor. It's a challenging venue to label (can we even call it a shop?), but it's understandably popular for those seeking an unusual shopping or dining experience.
Justin Marmot, co-owner and bespoke tailor at the Shirt Bar, says it's a concept they adopted ten years ago for their Sussex Lane venue, which has been transformed into a deli and whisky bar by friend and former colleague Adam Hofbauer, while Marmot and wife Louka moved the shirts-booze-caffeine concept to Barangaroo.
The idea is that you can casually eye-up paisley ties or shiny cufflinks as you stand in line for your shot of espresso at the coffee counter, or sip an aged Scotch as your tailor takes your suit measurements. Or maybe you're here for the broccoli and grain lunch bowl from the farm-to-table menu by Duncan Hockley (formerly of Nomad) – or on a date with your groomsmen, looking for matching smoking jackets. Or all of the above.
Marmot is part of a family of tailors who've been making shirts for four decades – and he's passionate about sharing that history. Justin's father founded Ganton Shirts in '74, which were manufactured in Australia for 40 years (today they're made in Thailand). Well known thanks to an ongoing relationship with stockist David Jones, Ganton shirts are also available at Shirt Bar.
The Ganton shirts are inspired by European cuts and patterns, but the fabrics are better suited to Australia's climate – plus they offer variable sleeve lengths. If you want a Swiss cotton blue-and-white striped Ganton you can expect to pay around $124.95. Their other brand, Jenson, is made in Australia, and the 100 per cent pure cotton basket-weave style costs $179 in a more casual but classy fit. They also sell women's shirts by label Louka + Sabina, also made in Australia, which you can expect to cost $170 for a pink Oxford and up to $210 for a Liberty of London print.
If you're in the market to for something made-to-measure, we'd suggest going for the full tailoring experience and booking in for a consultation with Marmot to design, cut and sew a shirt to your perfect fit. Bespoke shirts are made at their factory in Marrickville and set you back $250-$350, depending on your choice of fabric. Customers are invited to take a glass of their favourite whisky from the bar during their appointments – and some book in for group fittings, where you can be measured for a custom-made suit, manufactured in New Zealand from Italian-made fabrics, from $1,295.
The beauty of the triple-threat concept store is that it's not intimidating, so even if you're here for a comedy pair of cufflinks, you'll be treated with the same Savile Row-inspired service.
Details