The best antique shops in Sydney
We've found the best antique furniture, clothing and homewares shops around Sydney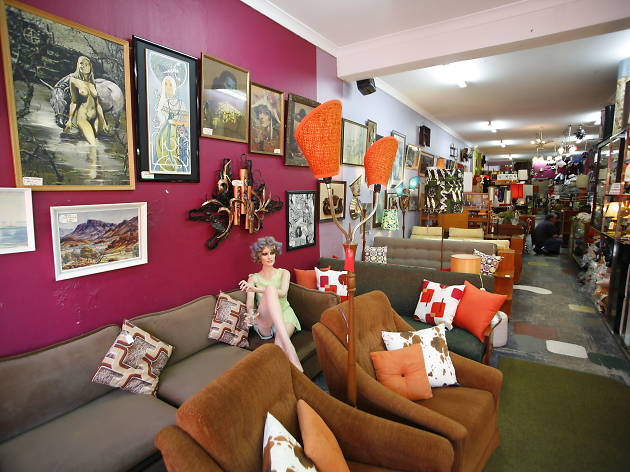 For everyone from Mad Men obsessives to pre-Federation fans, these antiques shops and homewares stores prefer the pre-loved to the pre-packed. We got splendidly lost in sprawling antique warehouses and learnt a little something from the owners of unusual independent stores, who all have a great story to tell.
If you accidentally blow your budget on that highly necessary taxidermy camel or original penny-farthing, stick to the bargains at Sydney's best op shops. Or, if you've picked up a well-worn Chesterfield from one of our favourite antique centres, sink into the cushions with a good read from one of the city's best bookshops.
We didn't anticipate finding a collection of baby gasmasks so appealing – nor, for that matter, a pair of polio prosthetics – but, as we found ourselves inside the new warehouse from vintage and antiques collectors Apostlebird there was a strong sense of fascination with the metal juvenile legs dangling from the beams. Unlike the provincial French furniture dealers and the Rockabilly outfitters of the Inner West, this store has an air of something far more macabre.
The owners of this little Newtown gem celebrate all things old, aged, distressed and weathered by time. Their mission at Drunk on the Moon is to source and restore pre-loved, quality vintage and antique furniture - at affordable prices - from shabby chic loungers to recycled food crates.
Sydney couple Gavin Sainsbury and Scott Jenkins spent a month travelling across France, rummaging for vintage finds and salvaged homewares to stock their shop on Palace Street. Filled with vintage posters, glassware and oak furniture, the store is their first retail venture after years of collecting antiques as a hobby.
There's more to this rustic French design store than exxy espadrilles, we assure you. Surry Hills French interiors store ici et là (it means 'here and there') has gathered a strong following for its collection of antique French deckchairs, zinc letters, industrial light shades and vibrant striped fabrics. But have you met Marcel the resident French bulldog sunning himself on the pavement, or been to one of the special Sunday dinners inside the shop run by ex-Rockpool chef Mike McEnearney? If you answered 'no' to either of these questions, then you know what to do.
As well as being a general auctioneers and valuers, here you can find fine art, collectibles and lots of antiques. Upstairs you will find furniture, lighting, home wares, artworks, fashion, toys, jewellery, music, magazines, collectables.
Rifle through an extensive collection of antique furniture to turn your house into a pad straight out of your decade of choice. For all you rockabilly cats out there, they specialise in goods from 1950s.
Nestled in the heart of Darling Street, Balmain, this store offers an impressive collection of vintage finds, from an eclectic mix of reconditioned French industrial workbenches to antique Georgian Windsor chairs and medical units dating back to the 1930s.
One of the city's top destinations for high-end antiques, Modern 2 Vintage's exquisite collection is small but expertly selected for maximum taste and beauty. The store doesn't specialise in any one era, but last time we looked you could pick up items from art deco furniture to 'vintage' iPods. You're sure to leave with a one-off bombshell of a piece, even if your wallet is a little lighter.
Ken Wallis and TR Keller's store contains around 40 pieces of taxidermy - ducks, peacocks, kookaburras, stags, a wolf rug, and most startlingly, the towering neck and head of a giraffe named Roger. As well as elaborate botanic arrangements the shop is full of old crockery, garden tools, furniture and curiosities.
Release your inner child with an incredible selection of model trains, planes and, um, automobiles. Plus all sorts of 50s and 60s Americana. Savvy staff can help beginning collectors get started and can provide something special for even the most experienced aficionados.
Kit yourself out in vintage threads
Get all dressed up in frocks from the 1950s, flares from the swinging sixties and super trendy smocks from the '70s. You can find outfits from all the ages at Sydney's best vintage shops, and the homewares to match at Sydney's best antiques shops.