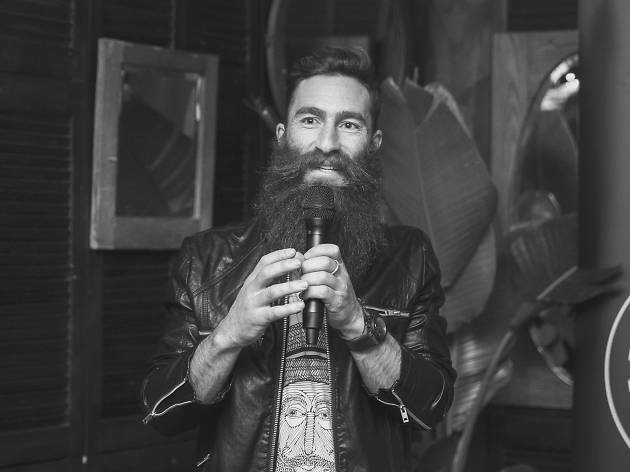 Five adventurous Australian guys
Australians are perhaps best known for their adventurous spirit
Wherever you are around the world, you're likely to run into a bunch of Aussies having a good time. We spoke to five men, leaders in their respective fields, who've managed to bring together their passions and their thirst to travel, in their lives and careers, about what drives themandmakes them unique.
Ryan Kenny is a young photographer who already has an impressive portfolio, including shoots for
Oyster, Junk, Elle Girl Japan, Dazed & Confused, Nylon
(US), and
i-D
. He's also a co-founder of
The Adventure Handbook
— an independent print magazine with a strong online and Instagram (@theadventurehandbook) presence that shares the stories of travellers and photographers from around the world. Ryan has done a lot of traveling in his time, too. He's roamed around California, Utah, Nevada, Arizona, upstate New York and Colorado in the US, often shooting with friends and collaborators in Los Angeles while he's there. In Australia, he has covered half the country, taking trips from Melbourne to Byron Bay for BluesFest, heading into the Blue Mountains for magazine shoots, driving from Adelaide to Alice Springs, taking trips to Tasmania to explore their national parks, and more. "My favourite location is the Flinders Ranges – it's where I want to live when I get older. It's extremely Australian – so much so that it feels like a movie set. When you go to the pub it feels like you're in the Australian version of a Western film." While he takes many of his photos on his travels, for Ryan, the experience comes first. "As a kid I was never really taught how to make anything, so I guess traveling is my version of that – we never went camping as a kid so it was such a new thing that I became obsessed with it. It feels like I'm doing something, and it creates the best and weirdest memories. And when you travel with someone you get to know them properly, for better or for worse." One of his most memorable trips was a 28-day journey from Adelaide to Alice Springs and back with five friends. He didn't take a phone. "It's all about being in the moment, living each day to the fullest, whether it's a great day or it's effed. You're in your own bubble but you're open to new experiences and new people."
Mitchell Oakley Smith is the Editor-In-Chief of the highly regarded independent menswear magazine Manuscript, a beacon of style that walks the line between showcasing practical, polished garments for the stylish gent and exciting fashions that push the envelope. He's also an author, who's currently working on a new book (Maticevski: The Elegant Rebel) and a curator who's working on two major fashion exhibitions to be shown in 2017 and 2018. Fittingly, he's always on the move – both for work, and for inspiration. In the past six months alone he's flown to Tokyo, Paris, Milan, Florence, Berlin, London, Los Angeles, Palm Springs and New York. What motivates him? "To create, mostly. I'm never really satisfied by relaxing. I like the thrill of creating something new, whether that's a book or a magazine or an exhibition or otherwise." Funnily enough, when he's travelling, he finds that he gets more done. "They're busier days when I'm away, and nights are spent communicating with the team back home, given the time difference, but I'm generally inspired by what I'm seeing or experiencing abroad – that might be shows at fashion week, or an exhibition I've travelled to see, or someone I'm interviewing. It inspires me to do more, and do it better." Where to next? "My husband and I have booked a fortnight at Seal Rocks for the summer break, and it'll be the first time we've spent Christmas at home in a few years. It'll be quite a change – quite literally – and force me to relax a little. On the wish list, however, is Scandinavia."
Mark Vicol is a fascinating man. He's a rural development researcher at the University of Sydney, working on research projects that seek to understand the challenges that rural people, and particularly small farmers, in developing countries face in improving their lives in today's hyper-globalised world. He works with farmers and rural households to understand the issues they face from their perspective, and represent their voices to policy and decision makers. "My other passion is hot sauce," he shares. "I'm part of small, boutique hot sauce company in Sydney [Handsome Devils Co]. I'm hoping at some point these two interests might converge, and I can help chilli farmers in Mexico to get better prices for the amazing chillies that they produce." He travels throughout Asia, having worked in India, Indonesia, Myanmar and Thailand recently. "I'm currently based in Yangon, Myanmar working on a food security project which has taken me deep into the remote hills of Chin state on the Indian border, where ethnic Chin people still practice traditional slash and burn agriculture, and Chin women are adorned with full facial tattoos. Getting to some of the villages we work in in Chin involves six- to eight-hour motorbike journeys through steep and slippery mountain tracks that you'd think twice about walking down in Australia!" Mark is motivated by a sense of wanting to make the world a better place. "I see a lot of injustices in the conditions that different people in different places face in trying to live their lives. For the most part, we live incredibly privileged lives in Australia just through the accident of where we were born. If I can use that privilege to make the world a little more equal, then I feel that's what I should do."
For many of the men featured here, travel influences their work. For hairdresser and salon owner Jules Tognini, travel is the very reason he does what he does. Years ago, he took a gap year to travel through South America. "My dad is a hairdresser," he shares, "and so I went through my whole life having good hair without giving a shit. But this trip was the first time in my life that I had shit hair! In Costa Rica there are no real salons, so I bought craft scissors and gave myself a chop. I cut my hair using the side mirror of the car and it looked all right. And I was travelling with a few friends and they trusted me to cut their hair. And we went out that night to beach bars in the sand and everyone kept commenting on our hair, and it turned out to be this thing where people asked me to cut their hair!" He started cutting people's hair on the beach in trade for beer, and he says the more beer he drank the more creative he got. It was a strictly 'no shoes, no shirt, no worries' beach salon, and the experience made him see hairdressing in a different light. When he got back home, he started his apprenticeship. Nowadays, he travels all the time, doing consumer and product education and ambassadorial work around Australia, New Zealand, USA, Canada, Europe and Asia. But after all that travelling, his favourite place is still close to home: Burleigh Heads, on the Gold Coast. "It's close to home and the beach is great. What more could you want?"
Scott Maggs aka Jimmy Niggles
You may already know Scott Maggs (aka Jimmy Niggles)'s face — it's been plastered all over London. As part of an exhibition by famed beard enthusiast and photographer Mr Elbank, Scott's bearded face was one of many featured in an exhibition called Beard at Somerset House in London, and he was the poster boy for the show. Scott's beard and travelling are both central to his work. He and a few friends are the brains behind Beard Season, an organisation that spreads awareness for skin checks by using their beards as a talking point. "One of our mates passed away six years ago from a melanoma on his neck and he was 26," Scott reveals. "We had no idea that melanoma was such a young people thing; it's one of the biggest cancers for 18-45, particularly guys who think they're bulletproof and don't go to the doctors. We decided we needed to do something. It grew from our group of mates, and now we have thousands of ambassadors from around the world doing it, and it luckily has coincided with this beard trend, which we're totally trying to make something mean something." Scott travels around spreading the word about the importance of getting skin checks, having recently been to London, Greece and Turkey, as well as around Australia. This year, they're planning a skin check tent for the sailors at the Hamilton Island races, as well as a tent at Splendour in the Grass. Aside from traveling for work, Scott takes every opportunity to "go off the beaten track." Highlights include Santa Teresa in Costa Rica and New Zealand's Mount Olympus ski area, although his treks down the south coast from Sydney are also lots of fun. His most recent beach trip saw him finding a huge chunk of highly covetable ambergris — at least, that's what he thinks it is...