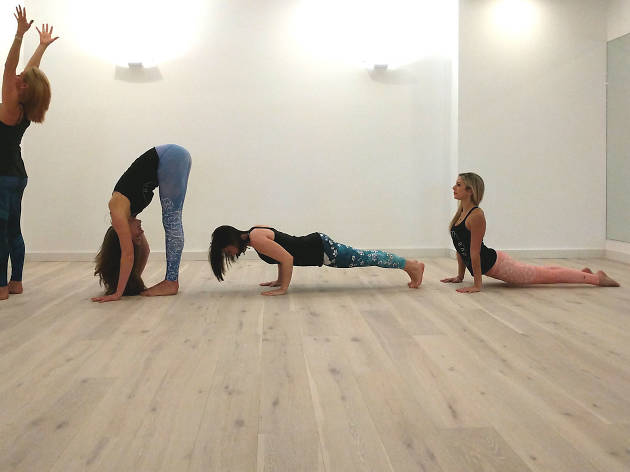 It's a common problem- you want to go to a yoga class but you can't bring your dog with you. Solution: Hot Dog Yoga.
This Double Bay yoga studio is located just down the road from the harbour and is open to all, whether you've got two legs or four.
Upon entry you and your canine companion will be greeted by Pavlova, the venue's reception dog. Unfortunately the dogs can't join in the yoga sessions, but they can play around in the reception area with their new four-legged friends.
Hot Dogs' yoga mats come from Californian company Manduka, and are completely latex free and non-toxic. These environmentally friendly mats have plenty of cushion support but might feel a little slippery for those not used to them. If that's the case you can bring along a towel or rent or buy one once you're there.
The yoga room itself is heated to allow better stretching and relaxation as you transition from one position to the next. The studio uses Far Infrared Technology to heat the room, a system that produces the same kinds of rays found in sunlight without causing skin damage or sunburn. The heated room also helps the body to detox during the class. Different classes operate with different room temperatures.
Classes are often waitlisted so make sure you get there at least 15 minutes early to ensure you're place doesn't get given away to someone else.
Venue name:
Hot Dog Yoga
Contact:
Address:
Level 1/15 Knox Street
Double Bay
2028

Opening hours:
Mon-Fri 6.30am-8.30pm; Sat,Sun 8am-6.30pm