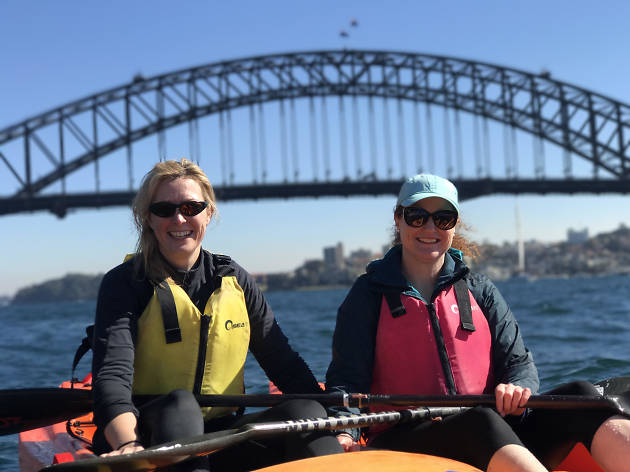 Time Out says
Float in front of Sydney's biggest attractions
Unlike many kayaking companies, Oz Paddle's Sydney Highlights Tour launches from rocks instead of a beach – but don't let that deter you. First timers are in great hands as ex-competitive kayaker and tour guide Sophie Morgan makes sure everyone knows how to paddle properly before hitting the water.
Our tour is a mid-week two-hour scenic tour of the harbour that's perfect for beginners and a great way to see Sydney's tourist sights. If you're feeling brave, opt for a single kayak – a double kayak might seem like the easy option for beginners but you'll pick up the skills quicker going solo.
We launch from underneath Andrew 'Boy' Charlton Pool before heading leisurely towards the Sydney Harbour Bridge and Opera House. Oz Paddle are the only kayaking company operating in this part of the harbour, and despite being so close to some of Sydney's most popular tourist destinations you'll have the waters around Farm Cove almost entirely to yourself.
While you're floating in front of Sydney's biggest attractions you'll probably want to take some Insta-worthy photos. Don't risk losing your own phone or camera to the depths of the Harbour – Sophie will take all the shots you need for a killer profile pic. If you're lucky you might even spot the famous Sydney Opera House seal while you're paddling.
Details