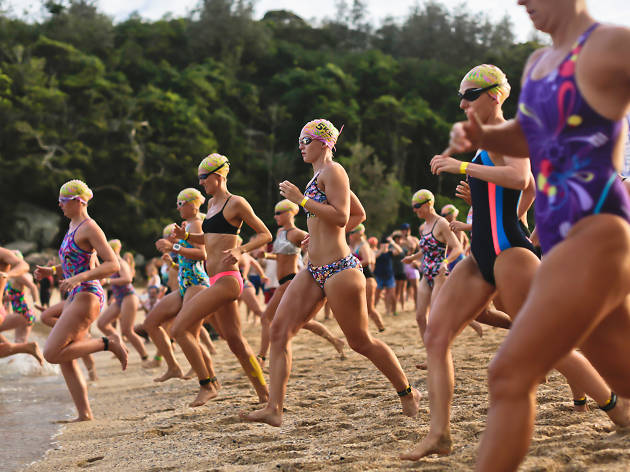 Get a big dose of sun during this sports-packed weekend on the Northern Beaches
The Sydney Morning Herald Sun Run and Cole Classic has a race to suit all ages and abilities, whether you're a sea spirit or a land sprinter. This family-friendly weekend of fitness will unharness everyone from their screens and get them running and swimming in the sunshine from February 2-3, 2019.
There's multiple courses and distances to conquer. If you're keen on sticking to dry land, the Sun Run offers 7km and 10km foot races from Dee Why Beach to Manly Beach. Slippery seals can swim the full 5km from Shelly Beach out to Queenscliff Bay, or opt for the 2km and 1km sea race.
But if you're feeling very confident, doing a mix and match with the Aquathlon. It's a run-swim-run scenario amounting to about 8.5km of swimming and jogging from Dee Why to South Steyne in Manly.
Kids aged 7-12 get their own round of races this year, with oceans swims at 100m, 200m and 300m. Those under four can toddle along after mum or dad on the 7km and 10km runs.
Entry prices range from $30-$100 across the courses (which includes multiple race fees) and contestants are encouraged to raise extra funds for one of the 1,100 charities registered with Sun Run and Cole Classic.