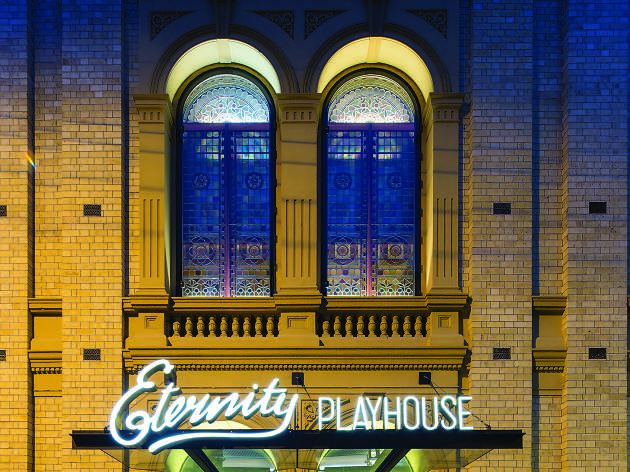 Discover this Darlinghurst hidden gem
There's more to enjoy at (and about) the creative hub that is Darlinghurst Theatre
Darlinghurst Theatre Company was born during the colourful ebbs and flows of Sydney's changing culture. The history of Darlinghurst the suburb is rife with debauchorous tales, peppered with explosions of creativity and known as a notorious bohemian stomping ground, and Darlinghurst Theatre, in its many venues, has been championing just that for 25 years. Nowadays you'll find them serving Sydney fresh theatre, dance, cabaret, comedy and more in the historical Eternity Playhouse.
It all began in 1992 when artistic director Glenn Terry began cooking up plans for a local theatre company in Darlinghurst, founding a school for aspiring actors that would become affectionately known as Darlo Drama. Terry engaged hot shot actors and leading professional performers to teach and the accessible drama school soon attracted over 100 students a week. It was, in fact, popular enough to raise money the next year to kit out the Wayside Chapel in Kings Cross into a proper theatre. Since then the theatre company hopped over to the Reginald Murphy Hall in Potts Point for ten years, establishing itself as an exciting theatre destination, and later relaunched in the repurposed Burton Street Tabernacle building that was rejigged as the Eternity Playhouse to honour Sydney character Arthur Stace (the creator of the famous 'Eternity' chalk tag) where it remains today.
Through its 25 years of enriching the neighbourhood and Sydney's creative community, Darlinghurst Theatre Company has had an artists-at-the-forefront mentality. They have staged over 260 plays and 110 of those were new Aussie productions and every year there is a call out for local artists to submit new work proposals, making the company's season artist-driven rather then a straight curated program from a singular director. They were also the first theatre company to implement a gender parity policy with their artists, champion fair pay for artists, and have always been proud torch bearers for Sydney's LGBTQIA community stories being seen on stage.
The strong legacy of Darlinghurst Theatre Company continues, and today you'll find more in store at the Eternity Playhouse. In between productions the company also fills the historic building with buzzing activity, you could catch an up-close performance from legends like Paul Capsis and Christine Anu at their Up Close & Intimate Cabaret series or grab an exceptional slow braised beef ragu or cheese board at the in-house restaurant Two Trout.
Next up for Darlinghurst Theatre Company is the premiere of Maggie Stone by playwright Caleb Lewis, which will run from September 30 to October 21. Grab tickets and help celebrate the company's 25 years of plying Sydney with exciting local stories, rich performances, delicious dining and the championing of our city's colourful communities.
Best selling Time Out Offers