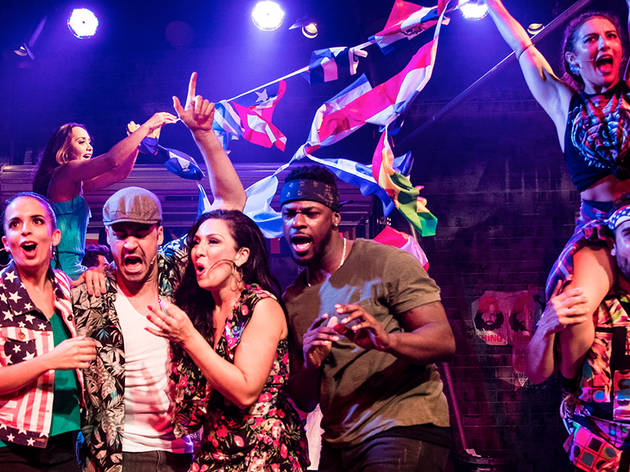 1/6
Photograph: Grant Leslie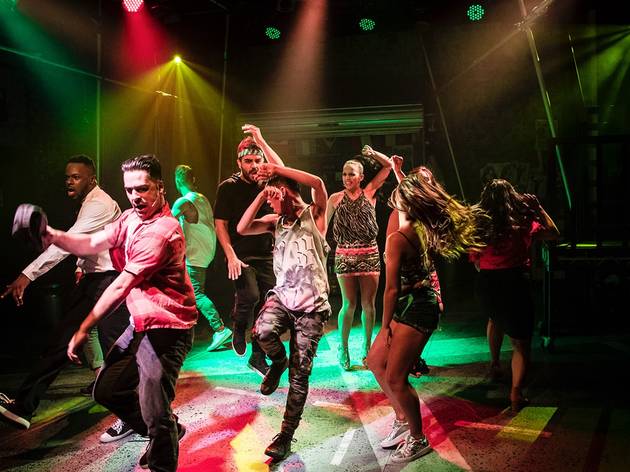 2/6
Photograph: Grant Leslie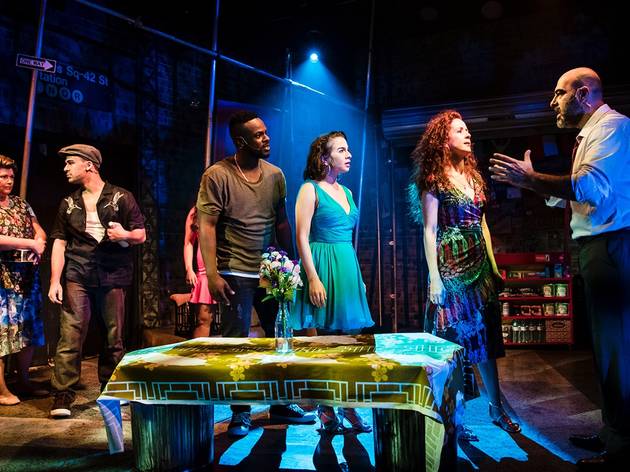 3/6
Photograph: Grant Leslie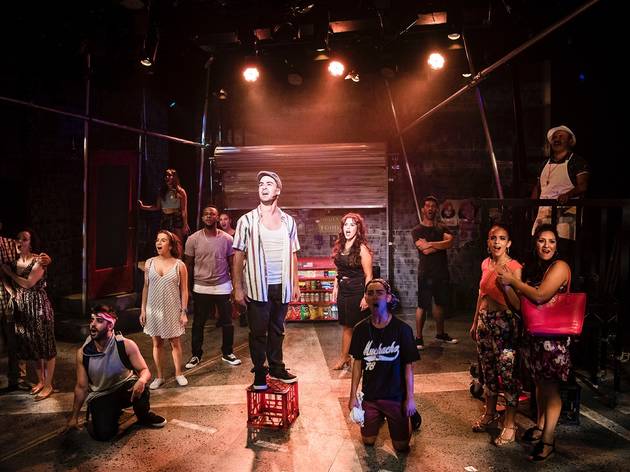 4/6
Photograph: Grant Leslie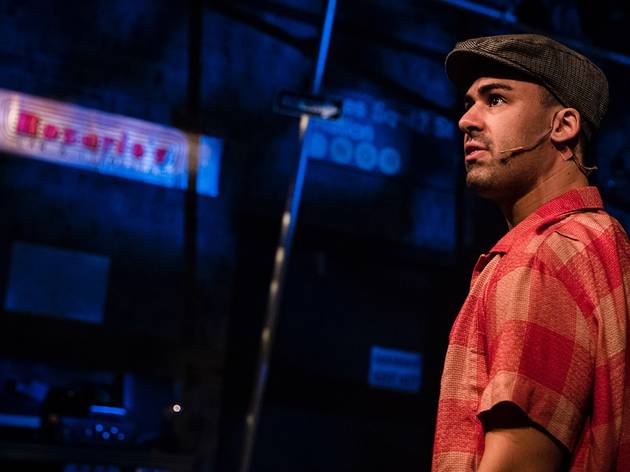 5/6
Photograph: Grant Leslie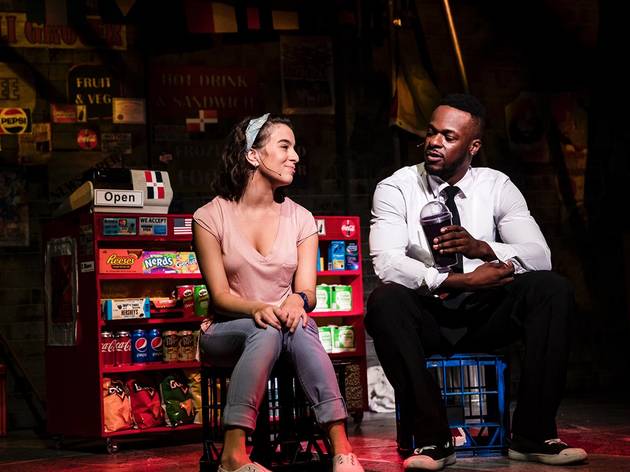 6/6
Photograph: Grant Leslie
The breakthrough musical from the mastermind behind Hamilton is heading to the Opera House
It's not every musical that manages to sell out its entire run before opening night. Then again, not every musical is written by Lin-Manuel Miranda, the hottest musical theatre star on the planet, and not every musical is staged at the Hayes Theatre, Sydney's intimate home of musical theatre, responsible for many of the most magical productions to play Sydney in recent years.
If you missed out on tickets to the initial Hayes season of this musical, here's some news that'll have you dancing all the way to Washington Heights: it's moving from the 110-seat Potts Point venue to the 2,600-seat Sydney Opera House Concert Hall. It's set to play a limited return season reuniting much of the original Sydney cast, including Olivia Vasquez, Luisa Scrofani, Margi de Ferranti, Marty Alix, Ana Maria Belo, Monique Montez and Libby Asciak. Stephen Lopez will be joining the company as Usnavi, taking over from Ryan Gonzalez, who is currently wowing audiences in Jersey Boys, and Joe Kalou will play Benny.
Read our four-star review of the Hayes Theatre season of In The Heights:
While American composer and lyricist Lin-Manuel Miranda is a legitimate superstar thanks to his blockbuster rap musical Hamilton, he wrote an absolute gem for his 2008 Broadway debut. There's a contained energy and slickness to In the Heights that cuts directly to the heart – to describe it as an auspicious debut is a huge understatement.
Miranda, with book writer Quiara Algeria Hudes, has crafted an intricate and infinitely vivacious portrait of life for a mostly Hispanic-American community living in Washington Heights, a neighbourhood at the very top of Manhattan. It's a musical about many things: immigrant families fighting (and mostly succeeding) to find happiness and financial security, and the difficulty of bridging cultural gaps. But there's something more universal that hangs over the whole thing: the innate need we all have to find a home and a community.
This new Sydney production captures that community spirit perfectly thanks to an ensemble made up of musical theatre veterans and relative newcomers.
Out front is Ryan Gonzalez, playing Usnavi, the narrator and owner of a struggling bodega. He's completed a full 360 from his turn as a flamboyant drag queen in the latest show at the Hayes, The View UpStairs, and is completely at home in the role originated by Miranda. He has a knack for Miranda's verses and captures the character's geeky sweetness perfectly.
Olivia Vasquez brings the vocal fireworks as the girl of his dreams, Vanessa, while Luisa Scrofani breaks hearts after a slightly tentative start as Nina, the first person in her family to go to college. Libby Asciak and Monique Montez bring plenty of laughs as the two women from the salon where Vanessa struggles to make ends meet, and Richard Valdez is an immediate crowd-pleaser as the Piragua Guy, selling his shaved ice treats in the middle of a scorching hot summer.
Tim Omaji (better known as popstar Timomatic) proves himself to be a genuine triple threat as the ambitious would-be-high-roller Benny, and Marty Alix lifts every number he's in with humour and verve as Usnavi's young cousin Sonny.
But some of the best work comes from Ana Maria Belo as Nina's demanding and highly strung mother Camilla and Margi de Ferranti as 'Abuela' Claudia, the woman who's cared for the community living on this block ever since she emigrated from Cuba as a young child. De Ferranti's 'Paciencia y Fe' is gorgeously sung and acted, imbued with plenty of passion and years of pain. The song comes immediately after a killer ensemble number, but de Ferranti is able to pull the audience's attention into sharp focus and deliver a genuine showstopper.
The skills that Miranda used to make Hamilton – his ability to couple hip-hop rhythms with musical phrases that mirror natural speech, and his knack for melodies that tug at the heartstrings while championing the underdog – are all on clear display in In The Heights. His full ensemble numbers – like the big-dreaming '96,000' and the chaotic 'Blackout' – are expertly judged pieces of storytelling. Thankfully the sound design is strong enough that you can almost always hear the details of overlapping and quickfire lyrics.
Luke Joslin's direction is a little on the limp side when it comes to dialogue, but the musical numbers all sizzle with heat and passion thanks to the cast, musical director Lucy Bermingham's tight and fiery band, and Amy Campbell's astonishing choreography, fusing hip hop with Latin dancing. The ensemble is made up of excellent dancers and Campbell finds a touch of West Side Story in a sequence set in a club. She expertly works within the confines of the Hayes space and draws the audience's eye around to stage from performer to performer, to exactly where it needs to be for this story to unfold.
Even if the book scenes aren't quite firing on all cylinders, the heart of most musicals is inside the score. And there's no way you could say this production didn't have a hell of a lot of heart.