Joan Didion's The White Album review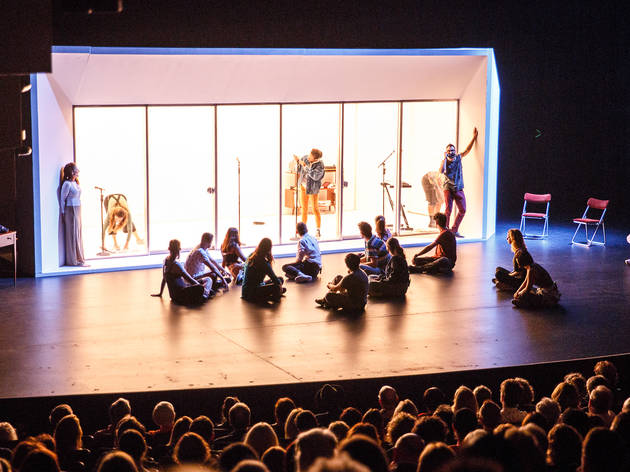 1/4
Photograph: Supplied/Yaya Stempler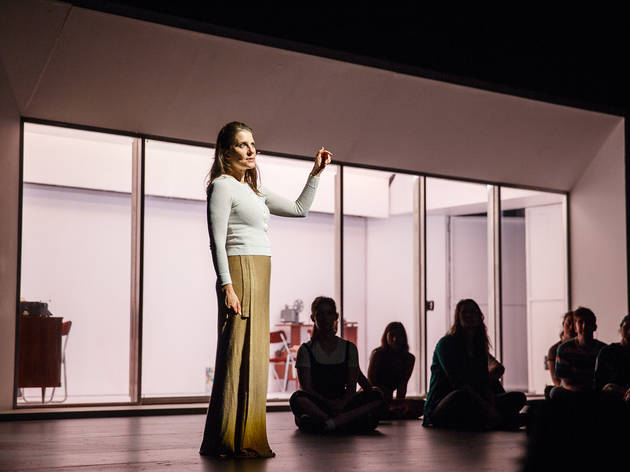 2/4
Photograph: Supplied/Yaya Stempler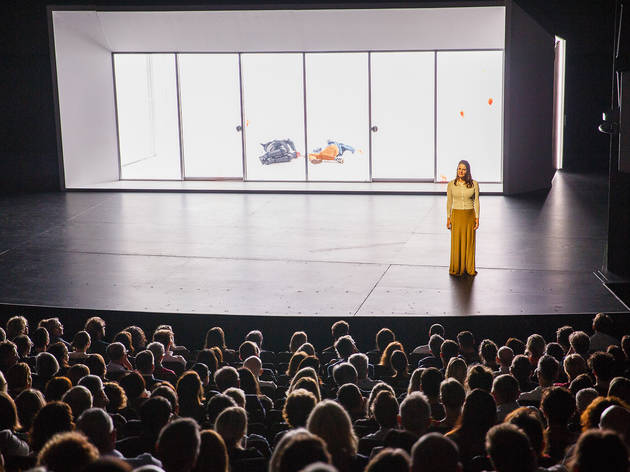 3/4
Photograph: Supplied/Yaya Stempler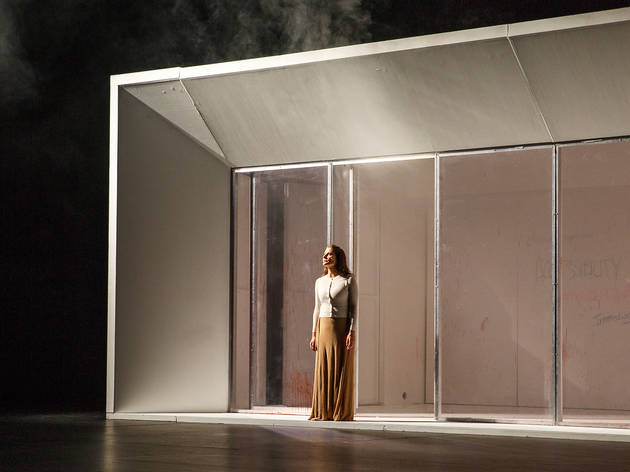 4/4
Photograph: Supplied/Yaya Stempler
Time Out says
Joan Didion's seminal essay comes to life in an inventive new theatrical work
When we can't make sense of the world, we look to stories to help us. When we need to define the social state of play, we often turn to writers and thinkers. It's through the lens of writers like Ta-Nehesi Coates, Roxane Gay and Andrea Long Chu; poet-thinkers like Adrienne Rich and Anne Boyer; playwrights like Nakkiah Lui and Patricia Cornelius that we can grapple with more recent and inexplicable living pain and live change.
And of course, before them, there was Joan Didion, who both gave us the maxim "we tell ourselves stories in order to live" and then took away the comfort of clinging to a narrative all in one essay about America in the 1960s – The White Album.
US director Lars Jan has brought The White Album to the stage, in its entirety, to consider the state of the world – its inherent inequality, its youth clamoring for change, its louche excess – and how it might compare to that counter-cultural game-changing decade 50 years ago. More on that in a minute.
Mia Barron takes on the voice of Didion, reciting the essay with an unsentimental but earthy performance that feels assured and wry. She emerges from, darts inside, and regards a large boxlike structure with glass sliding doors that functions as her Hollywood home, a recording studio, a college campus – whatever we need it to be.
Barron takes us through Didion with a cadence that feels like the experience of reading the essay – direct and unromantic, thoughtful and carefully calibrated to sound, sometimes, careless – her role is less interpretative than it is prescriptive, but it's pleasant.
She's joined by a small supporting cast – Madeline Barasch, Brad Culver, Brittany Engel-Adams, Stephanie Regina and Sharon Udoh – who voice the lines Didion gives to other people in her essay (or who sing; Udoh's lovely, distorted, breakdown take on the Doors' 'Light My Fire' is a glimmer of something new and interesting). There's also a cadre of students who fill out the scenes and follow in-ear stage directions as an interactive, onstage inner-audience. The overall effect is straightforward, with a dreamlike theatricality at the edges.
The last 15 minutes of the show pick up the idea that our current climate is a crossroads similar to that of the 1950s by declaring an open forum. Audience members are encouraged to make the connections themselves between then and now; on opening night, this largely devolved into a generational argument wherein older audience members accused the youth of today of being too conservative. There's no harm in asking audience members to do intellectual work in teasing out the themes of the work (engaged, curious theatergoing is a treat), but to ask them to perform connections, when the performance itself opts for a time-capsule approach, feels like a cop-out. It's a lovely piece, but it never feels more than an exercise in theatricalising an essay; its claims of to-the-minute relevance are theoretical and largely unfounded.
Details
Best selling Time Out Offers