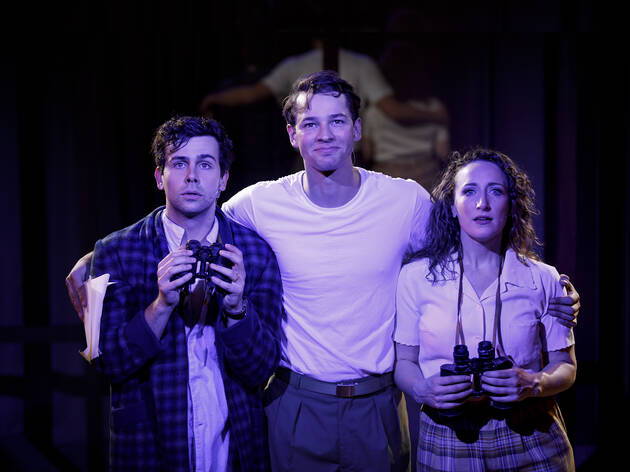 Time Out says
A surprisingly cerebral slice of Broadway that asks, what does it take to make it big, and who gets left behind?
He's perhaps the most skilled songsmith of our age, but Sondheim is also a keen teacher. He has always sought to offer his audiences lessons through his shows, and often in the most subtextual and esoteric ways. Into the Woods warns against the unrealistic idealism of moral absolutes through a fairytale free-for-all. Sunday in the Park with George muses on the paradox that while all is fleeting, some things never change, via a post-impressionist time-hop.
And the same is true in Merrily We Roll Along, a Benjamin Button of a musical in which the narrative gets younger as the show progresses, becoming a parable about the cost of success without substance. Its riffs on common tropes in thoroughly uncommon ways can be confusing on a first hearing – this was one of the reasons its original 1981 production bombed, closing after just 16 performances. But give it time and a clear directorial vision, and its temporal subtleties resurface from the subconscious. Not that this show skimps on instant gratification – this is one of Sondheim's swingingest and, quite deliberately, most overtly Broadway scores, and in the hands of this often jaw-dropping Hayes cast, it's rarely sounded more thrilling. But Merrily We Roll Along's greatest rewards need a little time to take root.
This is a rags to riches story of sorts but turned on its head, starting with the hard-won wealth and tracing its way back to threadbare beginnings. The show opens in 1975, at the post-premiere party for Franklin Shepherd's first major movie – a formulaic potboiler that predictably rakes it in at the box office. Frank is the darling of Hollywood, a cause célèbre to the West Coast elites that surround him. The one person who isn't so impressed is Franklin's "oldest and dearest" friend, Mary Flynn, a one-time best-selling author, but now a budding alcoholic. Whatever faint ember of friendship remained between them is finally snuffed out as she beholds how utterly hollow Frank has become. Emboldened by the booze, she declares their friendship dead, leaving the freshly crowned movie hack to his court of sycophants.
How did we get to be here? That's what the rest of the show aims to show us, retracing the steps and missteps taken by Frank, despite the efforts of Mary and Frank's artistic collaborator and childhood bestie, Charlie Kringas. The story arc of a conventional musical is typically the same: we begin with some kind of challenging schism, then through an emotional journey of change, we reach a moment of self-discovery and catharsis. Merrily We Roll Along follows this same familiar roadmap, but since the narrative flows in reverse (the opening scenes are the end of the story, the final scenes are the start), this usual climb to redemption acts only to compound the tragedy of Frank's squandered integrity. We learn he was once a singularly gifted composer, who could have used his talents for important and politically vital means. But the seductive lure of success, notoriety, adulation and of course, money, steals his gaze. At the wide-eyed, hopeful end of the show, three young friends stand on a New York rooftop in 1957. Their bright, pure ambitions are a bittersweet cadence, uplifting on the ear, but desperately sad in the mind.
If that brief synopsis has you scratching your head, don't worry: this is a rather confusing concept to realise successfully. Indeed, in order to balance the competing needs of giving the audience a good time and serving Sondheim's quiet subversions, it takes a director of real confidence. So the rock-steady logic and sheer swagger of this Hayes Theatre production are a shining credit to the savvy and style of director Dean Bryant. It's a real thrill to see how a virtuoso of the form will tame one of the more unwieldy works in the canon, but that Bryant does so with such innovation and flare, ups the excitement through the roof.
The set and lighting are a yin-yang of restraint and technological flash. Jeremy Allen's set, a surprisingly versatile yet understated room with mid-century modern vibes, obligingly becomes a fancy LA pad, a TV studio, a New York garret and a theatre foyer, with barely a change to Veronique Bennett's lighting design. It's Dave Bergman's infusion of video that does the heavy lifting. A mix of pre-recorded and live-captured projections force a sense of intimacy that somehow makes the diminutive Hayes stage feel more expansive and primed with possibility. Kip Williams may be the grand doyen of video on stage in this town, but Bryant is charting his own path with this 21st-century stage magic.
By far this production's most precious resource is its cast. Bryant has assembled an ensemble that can easily handle the Swiss-watch choreography of Andrew Hallsworth, as we're whisked through time travelling transitions as precisely staged as Sondheim's tricky counterpoint. But there's also room for these vibrant, alert performances to feel a little dangerous, a little wild. At its core, this is a show about superficiality of a very specific kind. Franklin's ascent into a vapid, affluent, hollow, supremely white world is the political statement of the show, but much like its topsy-turvy timeline, it must appear to praise this milieu in order to condemn it. Georgina Hopson as Broadway diva Gussie Carnegie tears the goddam roof down with her opening number in Act II, blinding us with the mega-wattage of her star quality in a gaudy big band iteration of the sweetly subtle ballad 'Good Thing Going'.
However, for all its subliminal smarts, there is one glaring issue with Merrily We Roll Along. While it dives into this complex and mercurial exploration of brotherhood, ambition and identity, every single female role is deeply reductive. Partly this is also a reflection on the way fame and success breeds affectation – Gussie goes from being a relatively sedate secretary to a ridiculous caricature, and Hopson's performance of this is transformation is forensically perfect. But otherwise, women are hopelessly limited by their dependence on men. Frank's wife Beth is destroyed by Frank's infidelity; Mary is emotionally and intellectually crippled by her infatuation and eventual disappointment in Frank; and Charlie's wife Evelyn appears once for less than 10 seconds and is otherwise offstage somewhere having babies.
Bryant goes some way to solving this conundrum by letting his female leads let rip. Elise McCann does what she can to wrestle Mary's energy away from 'sad spinster' with a generous infusion of grounded, tomboyish confidence, giving her dialogue (courtesy of George Furth's book) more punch. Tiarne Sue Yek as Frank's betrayed wife Beth rips out our hearts with her devastating delivery of 'Not a Day Goes By'. Write down that name – Tiarne Sue Yek – because this is a performer of truly extraordinary ability, and given this production is her professional debut, expect to see her on the bill in bigger and bigger roles in the future.

Bryant has also dulled any chauvinist undertones by casting two actors in the leading roles who have an innate boyish charm, underpinned by an unguarded sense of plutonic love, despite Frank's persistent womanising. Ainsley Melham (Aladdin, Pippen) as Charlie and Andrew Coshan as Frank share such a flawless synergy in their performances, I simply can't imagine one doing this show without the other. It's a profound kinship, so thoroughly woven into the fabric of this production that even as the soaring promise of their friendship resounds through the closing number, 'Our Time', we feel the sting of the tragedy we witnessed before we knew what it was.
Details
Best selling Time Out Offers