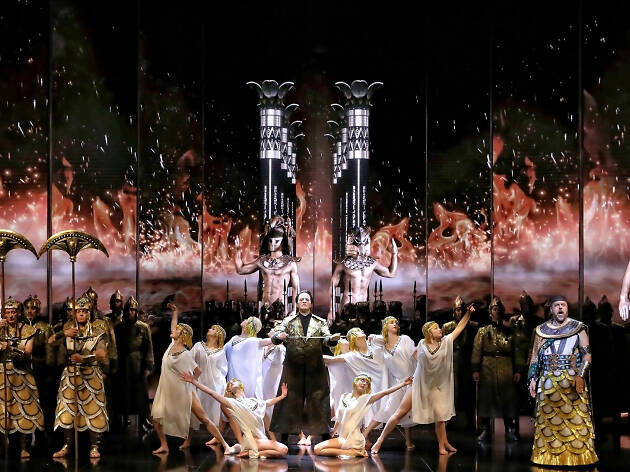 Opera Australia's digital revolution
With the use of giant LED sets, the company is taking a bold step forward and investing in a high-tech future.
Opera Australia is shaking things up this winter, with an entire season of "digital" productions, using massive, moving LED panels as sets. The company is presenting new productions of Madama Butterfly (Jun 28-Aug 10), Anna Bolena (Jul 2-26) and Whiteley (Jul 15-30).
We spoke to the people bringing Opera Australia into the future about exactly what audiences can expect from the new productions.
RECOMMENDED: How to score cheap theatre tickets in Sydney.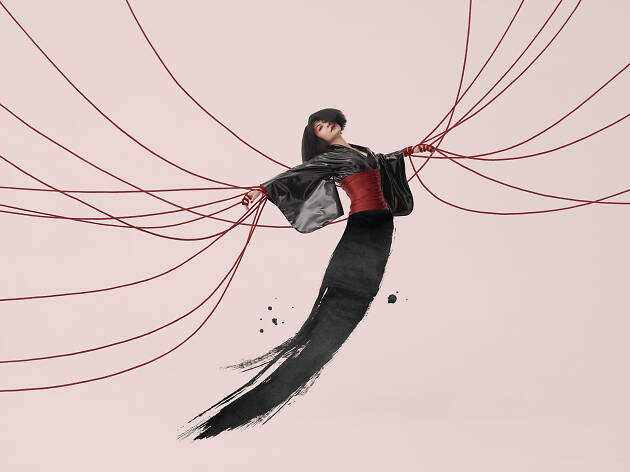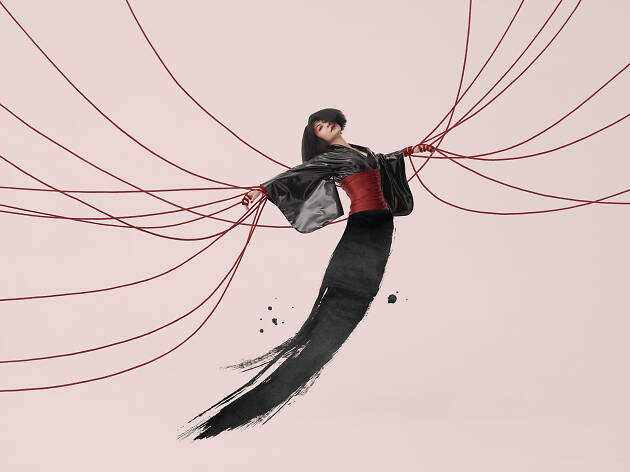 Photograph: Georges Antoni
When it comes to live performance, there's very little that Graeme Murphy hasn't done. The 68-year-old director and choreographer has been one of the busiest and most celebrated artists in Australia for five decades and has created new work on every major stage in the country.
But for his next production, Murphy has had to pick up a few new skills. He's creating a new version of Puccini's 1904 opera Madama Butterfly for Opera Australia on a stage filled with 12 seven-metre tall LED screens, which fly in and out, spin around, and move about the stage in unexpected ways. They hold custom-made animations and larger-than-life film content evoking a timeless Japan for the opera's full three-hour running time.
"It's a bit like making a movie and doing an opera simultaneously," Murphy says of the two-year creative process. That's a long time for any production of an opera, but the new technology has meant that Murphy has had to lock in an enormous amount of material before rehearsals even begin and reconsider the way he's worked for all of his five-decade career.
"I want to see the whites of the performers' eyes so I know where I can push them."
"Usually I keep things a little bit flexible until I get into the studio because I want to see the whites of the performers' eyes so I know where I can push them and where I can't. But the pre-planning in this production has been extraordinary," he says.
Most significantly, Murphy has had to learn how to work with a digital content team to ensure the vision on the screens sits beautifully alongside the onstage action and doesn't overwhelm a tragic story about the young Japanese bride who is abandoned by the US naval officer she falls in love with.
"It is technology that's quite a powerful force," Murphy says of the LED panels, which are being dialled down to between one and three per cent of their full power for the production. "It's not something that you can ignore. Those screens are incredibly bright; if you had them on full, it would be blinding. They're designed to be seen in day time in places like Times Square."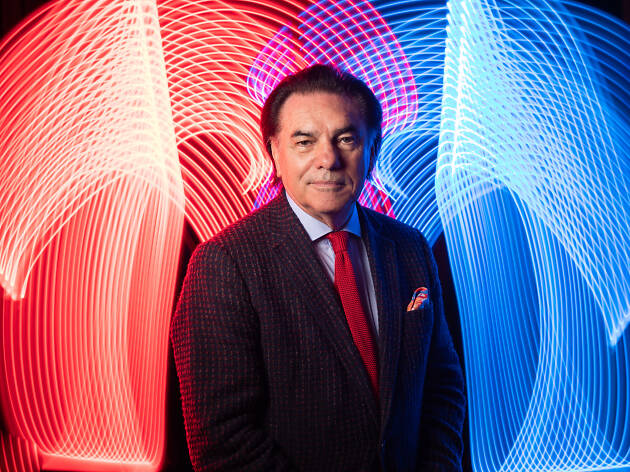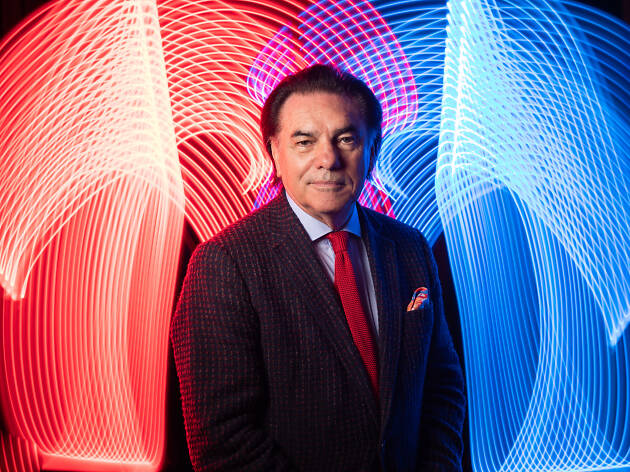 Photograph: Daniel Boud
Exiting the antiques shop
Murphy's Butterfly isn't the only production that will use these LED panels at Opera Australia this year. In fact, the company's entire winter season at the Sydney Opera House is a "digital" season, with a new production of Donizetti's Anna Bolena, and a new opera about Brett Whiteley by Elena Kats-Chernin, which uses the screens to bring Whiteley's work to life.
It's all part of Opera Australia artistic director Lyndon Terracini's plan to ensure the company and artform's survival into the future. It's not an easy task, when opera companies all around the world are seeing audiences dwindling as costs rise.
"When I first came here, god, everything was broken," Terracini says. "The first senior executive meeting I had was about how we could transition to being part time. I thought, 'fuck, I just got here!'"
Since he joined the company in 2009, Terracini hasn't always been a popular figure in the local opera community, but he has increased the company's sales income from $36 million in 2010 to $67 million in 2018. He's done this through staging more popular works, employing some high profile international singers, performing more musical theatre, and launching the hugely successful Handa Opera on Sydney Harbour program.
The company's "digital productions" are the next stage in evolving the company but it's something that Terracini has had in mind for a decade. His initial inspiration was an opera he appeared in: Peter Greenaway's projection-heavy 1994 production of Rosa, A Horse Drama in the Netherlands.
Opera Australia premiered its first digital production last year, a thrilling version of Aida that looked more like a Katy Perry or Kylie Minogue pop extravaganza than what you'd expect at the opera.
You wouldn't necessarily think that a season of these high-tech productions would work out cheaper than a traditional production, but Terracini says the cost of a traditional opera set sits somewhere above $1 million, and the cost involved in moving a show in and out of the theatre is massive. Only minimal "bump-in" period will be required in the digital winter season, which uses the same 12 LED panels (rented by the company so they can quickly replace them with better quality screens as tech advances) in every production. It will also make co-productions with international companies much more financially attractive.
"With a co-production, you're usually putting 15 shipping containers on a ship and transporting them all around the world. You're paying for transport instead of a show. With the panels, you can hire them anywhere, you plug in a USB stick, and there's the show."
"What worked in the 19th century doesn't work in the 21st century."
But it's more than a purely financial move. It's an acknowledgement that "what worked in the 19th century doesn't work in the 21st century," Terracini says.
Opera used to be a genuinely popular and democratic artform and attracted massive audiences with innovative and spectacular staging. But Terracini says that innovation stagnated, and that for many contemporary audiences seeing an old-fashioned opera set became quaint and a little like "visiting an antiques store". He says the artform became "arrogant", and couldn't keep up with the advancements in film in the 20th century. Now opera is looking to film for a little bit of help, although the way it's using that technology is entirely different.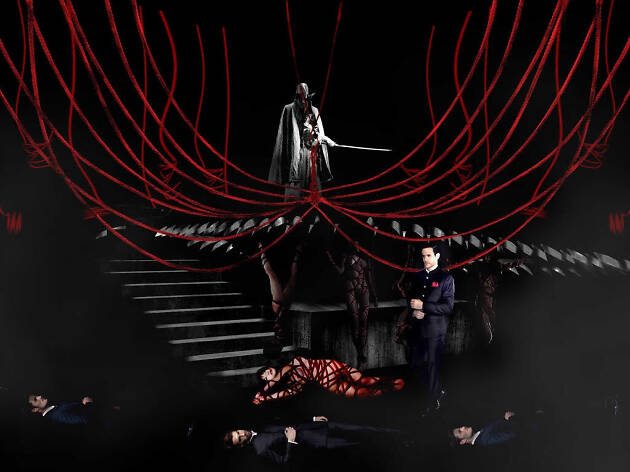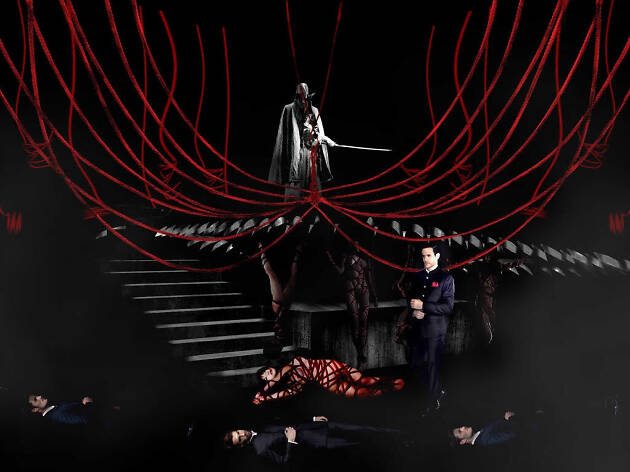 Image: Michael Scott-Mitchell
Bringing a new character to life
According to Terracini, the key to using the LED panels is to treat them like another character in the show. One of the people responsible for breathing life into that character in Madama Butterfly is Michael Scott-Mitchell, a veteran set designer who was the head of design at NIDA for a decade.
He's worked with LED technology before, on the Broadway production of Doctor Zhivago, but the scale of this production is infinitely larger, and the challenges are huge.
"I've called myself the production designer because it's not like a normal set design role," he says. "Yes, it is designing a set and thinking about how the panels move in space, but the vast amount of time has actually gone into graphic design."
Scott-Mitchell has created around 600 renders of different screen images – from abstract images that use the screens architecturally as walls, through to a digital servant who appears to serve endless glasses of whisky – which have then been animated by projection designer Sean Nieuwenhuis. Every moment of the score is matched to video content.
"You can follow the tenor of the music and the tenor of the narrative graphically, and yes, you can do that with set pieces, but they're harder to shift as readily as this allows," Scott-Mitchell says.
Working with automated sets and digital content on this scale is still a relatively new field, and there are more than four different pieces of software that are used in creating the digital content. Not only does it allow little flexibility during the rehearsal period, but it throws up a number of potential technical problems.
"A show with this sort of automation, if it were on Broadway, would have seven weeks to put it together."
"You've probably got, let's say, 12 hours of stage time," Scott-Mitchell says of the in-theatre rehearsal for Madama Butterfly. "A show with this sort of automation, if it were on Broadway, would have seven weeks to put it together. In a way, I think Lyndon thought it would be simpler than it actually is. There's very good intent, and we're all very much up for it, but I guess, having been around the block a few times having done big shows with automation, I know what the pitfalls are and you need time to resolve them."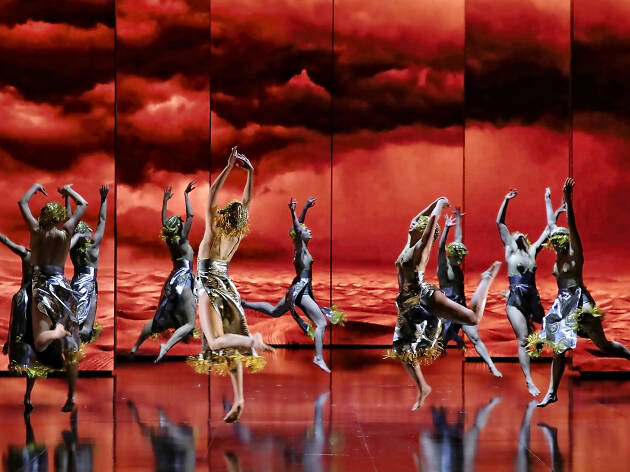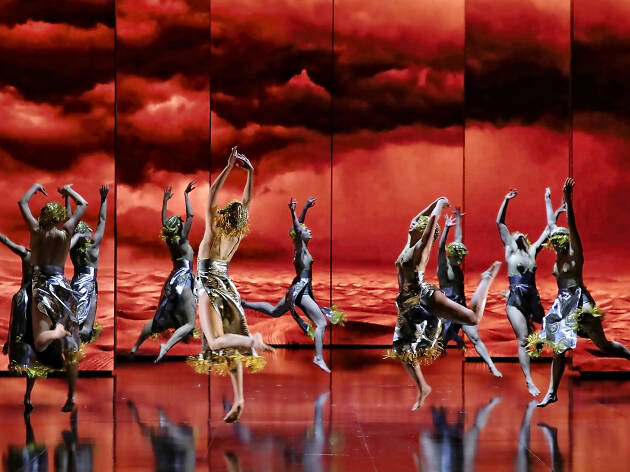 Photograph: Prudence Upton
The end of theatre as we know it?
While Terracini wants digital productions to be a dominating force at Opera Australia – and given the investment, it makes sense that the company will continue down that path – he admits that there'll always be a place for productions that use physical sets. The creatives he's working with, while genuinely thrilled by the prospect of working with new technology, don't see live performance undergoing a complete digital revolution.
"As a performer, I want to have things to touch," Murphy says. "I want to have pillars, and it's so beautiful to have something to climb up and fall down. This technology is another tool in the toolbox, but I don't think it's the answer to our stage questions or the financial questions of design."
Scott-Mitchell agrees that it's an exciting time to be creating new work and experimenting as a designer – and says the design students he's worked in recent years are far more embracing of the technology than designers of his generation – but that digital content won't necessarily become the norm for theatre.
"There'll always be a chair in a room with one light on it and a great actor."
"It's horses for courses," he says. "It tends to be the domain of companies that can afford to use that technology. But there'll always be a chair in a room with one light on it and a great actor. That's not going to disappear – not if I have anything to say about it."
But for now, at least at Opera Australia, audiences should brace themselves for a big change. How much of that change sticks and becomes part of the fabric of live performance is still to be seen.
"This could be the most exciting period, if we embrace all aspects of it, in opera since the 1950s," Terracini says. "I'm not suggesting we'll get it all right – in fact, I'm sure we won't – but we're going to try."
Need a live theatre fix?
There are an overwhelming number of things to do in Sydney in any given week – let alone theatre. Our guide to the best theatre in Sydney right now should help you narrow it down to a guaranteed good-time. If you want to plan ahead, check out our guide to what's on stage this month.
Best selling Time Out Offers