Theatre and musicals in Sydney this week
Got a free night up your sleeve and fancy some culture? These are the shows on stage for the next seven days.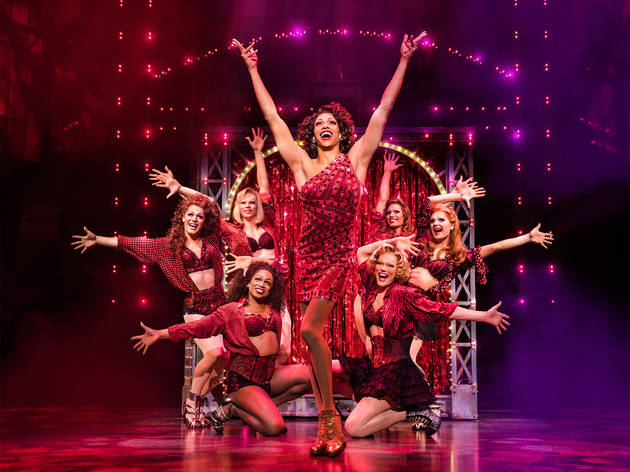 It's impossible to imagine an audience member who is not thoroughly charmed by Belvoir's production of Anne Washburn's Mr Burns – so long as they were born before, say, 1970. The narrative is peppered with pop cultural Easter eggs, and while you don't have to understand them all, you do have to be somewhat au fait with The Simpsons. The setting is a post-apocalyptic America (or: 'post-electric') in which a small fraction of the population has survived nuclear disaster and the ensuing anarchy. Washburn pitches camp with a small group of survivors: Matt (played here by musical theatre's Brent Hill), Jenny (Esther Hannaford), Colleen (Jude Henshall), Maria (Jacquy Phillips) and Sam (Ezra Juanta). As the play opens, they're passing time drinking stream-cooled beers and sodas around a bin fire, and trying to collectively reassemble and re-tell the 'Cape Feare' episode from Season Five of The Simpsons (itself a spoof of Martin Scorsese's 1991 re-do of the 1962 film Cape Fear), in which Sideshow Bob is released from prison and sets out to kill his longtime nemesis Bart. It's an entirely comforting scene – until a sound from the darkness startles the group into pulling their hitherto concealed firearms. Violence (or the threat of violence) is never far away in Washburn's play, and becomes a frequent reminder that physical survival and the urge to tell stories are not so disparate on the ladder of human needs. The second act, in which storytelling becomes a literal act of survival
Book now
Read more
For decades Sydney has clung to an identity embroiled in ambition, status, and business that has been entirely offset by its pockets of bohemia, enclaves of misfits and community of artists, lovers, and seekers of something liberating – something more to life. This is the tension at the heart of Only Heaven Knows, a lesser known Australian musical (first produced at Darlinghurst's Stables Theatre in 1988) about the changing face of Kings Cross and its queer community. It's currently playing at the Hayes Theatre, a short walk from the Coke sign (which makes a delightful appearance thanks to costume designer Emma Vine), and in it, the spirit of Sydney has never felt more enduring. We're welcomed to the story by Lea Sonia (Hayden Tee, interrupting a West End stint in Les Mis to take this role) a real-life drag performer on the Tivoli circuit who was killed in a homophobic hate crime. Her spirit is watching over the Cross, and us here in the Hayes. She introduces the story and takes care of us, her people, during it. It's 1944. Tim (Ben Hall) is a fresh-faced and handsome 17 years old, bursting with endearing innocence. He has left a tough family life in Melbourne for the promise of Sydney. Before long he's stumbled into a job at a deli, a room in Kings Cross, and a new family. There's Guinea (Blazey Best), his landlord, her dear friend Lana (Tee again), and then – and then – there's Cliff. Cliff (Tim Draxl) is a bit older than Tim, an ex-serviceman with a dishonourable disch
Book now
Read more
The constellation of catastrophes that makes up a family is at the heart of Sunset Strip, Suzie Miller's regional Australian drama, set in far-west NSW. When Caroline (Georgina Symes), who has long since split for the big smoke, returns to the small town of her youth – in the middle of a dried-out dust bowl somewhere near Broken Hill – she's more fragile than usual: she's just been through chemotherapy and surgery for breast cancer, and her marriage has broken up. Dad Ray (Lex Marinos) has some form of dementia and her sister Phoebe (Emma Jackson) is caring for him – even though she's fresh out of rehab, trying to win back custody of her kids, and about to marry Teddy (Simon Lyndon).    Caroline is the classic fish out of water with her family: she's had more education, is financially better off, and her clothes are tailored and chic – "city clothes," Teddy notes. She's much more reserved than Phoebe, who we meet for the first time dancing her heart out, singing along loudly to 'Throw Your Arms Around Me.' Phoebe takes care of their dad with ease and a nurturing instinct, and she has a sense of humour about her situation. Jackson plays her with brightness and an open heart; you can't help but love her. Of course, there's tension between the two sisters, whose lives have sharply diverged in adulthood. Phoebe keeps apologising for not being there for her sister during her illness; despite that absence, Phoebe expects Caroline, a lawyer, to help get her kids back. There are d
Book now
Read more
Partway through Act One of The Bodyguard Musical, the set transforms into a karaoke bar and a group of three drunk women stumble onstage. They screlt their way through 'Where Do Broken Hearts Go'. They're loud and they're laughing and they're having the time of their lives, all angst drained out of the song by their giddy, messy, play. It's great fun. These three women are exactly the right audience for the musical itself. To enjoy it, it helps to have a few sparkling wines under your belt, and you should be prepared to laugh at the oh-so-dramatic plot twists that feel far more silly than serious. It's more fun that way. This scene could almost be a spot-on deconstruction of the entire show, but this musical isn't self-aware enough to pull it off. If you've seen the inexplicably enduring 1992 film (starring Whitney Houston with a truly great soundtrack – mostly Whitney), you'll know exactly what you're in for: an A-list singer-turned actor, Rachel Marron (Paulini Curuenavuli, of Australian Idol fame), starts receiving death threats. The bodyguard hired to protect her (TV constant and accomplished dancer Kip Gamblin) is stoic and handsome and on the straight-and-narrow. The annoy each other; they fall for each other. Can they ever truly be together? Will Rachel lose her life to her stalker? Is Rachel's sister Nicki (The Voice's Prinnie Stevens) going to win the heart of the bodyguard instead? And exactly how many Whitney numbers can you fit into a stage musical? (16, inclu
Book now
Read more
If desperate times call for delightful diversions, Opera Australia's new confection of European musical theatre is a very welcome respite from the apocalyptic omens of contemporary geopolitics. Music director Robert Andrew Greene has artfully strung together a jukebox of operetta's greatest hits, superbly sung, in English, by a strong cast of six soloists, along with a single violinist, Yuhki Mayne. The sound achieved by just eight fine musicians is surprisingly full and satisfying in the relatively small Playhouse of our acoustically-challenged Sydney Opera House. The faux Moroccan set by Owen Phillips and the bright, slightly cartoonish costumes by Tim Chappel have an appropriately pantomime feel; director Dean Bryant isn't sheepish about presenting stock characters with the sole aim of consistently sustained frivolous fun, which is achieved beautifully. Greene took his suitably silly plot from the Parisian composer Charles Lecocq, little-known to English-speakers who tend to favour his contemporary British competitors Gilbert and Sullivan. After France's humiliating defeat by Prussia in 1871, Paris couldn't get enough of Lecocq's comic operas, including Giroflé-Girofla, a musical sitcom named for the  twin sisters at its centre, and set in eternally naughty Spain. The old swapping-twin-sisters-on-the-night-of-their-double-wedding plot is clearly and elegantly presented by Greene, complete with jokes so corny that you could have several pre-theatre drinks without risk
Book now
Read more
There's a heatwave in the English countryside and Becky (Gabrielle Scawthorn), a newly-pregnant schoolteacher, is finally on holiday. She's trying to look forward to the new lifestyle that awaits her as a fresh transplant from the city and as a mother to be. She buys a bike; there are paint swatches on the wall. Small problem: she wants to have sex. Her husband John (Benedict Wall) does not. In fact, he so emphatically does not that Becky thinks she must be ugly now (you know, because of the baby), but it turns out that instead he doesn't want to hurt the baby, and no amount of convincing can change his mind. He's more focused on the domestic: reading baby books, restricting Becky's diet, shopping organically and ethically. But Becky has needs. A plumber (Jamie Oxenbould) stares at her and she regains some confidence, and then in with the bike comes Oliver Hardcastle (really), a neighbour whose specialty is having affairs. It isn't long until Becky is building a fantasy sex life with Oliver (Rupert Reid) on the down-low, spinning a web of lies as she dutifully works through his sexual bucket list. It will probably not surprise you to learn that things do not go well for our heroine, who is stuck right at the crossroads of the Madonna/Whore complex; her husband unreasonably expects her to be the former so she seeks to be the latter, but of course that's not really rewarding either – both positions deny her humanity or an equal exchange of respect with the men around her.
Book now
Read more
Jeanette Cronin (Crownies; Janet King) has built a career balancing her on-screen work with a life in the theatre. This year she's making her debut as a playwright with two plays programmed at two different theatres in Sydney. The first was I Hate You My Mother at the Old Fitz, a shaky but deeply-felt story of generational abuse and trauma. The second, I Love You Now, is also driven by emotion rather than by structure. It's also, like her first play, more a series of vignettes than a solid story. This time, it's about the slow death of a marriage. June (Cronin) and Leo (Paul Gleeson) have, somewhere along the way, lost their sense of romance. Their therapist has suggested they try role-play to find their spark without self-consciousness, so here they are in a hotel room (designed with a sparing, clean-lined eye by Isabel Hudson), looking at each other awkwardly. They begin to dance. Live music (by Max Lambert and Roger Lock on keys and guitar) follows their movements. When the couple falters, they stop; it's a show of marital struggle through musical discord. The tango-inspired steps, choreographed by Pedro Florentino Alvarez, are a recurring motif; a hint at the undercurrents of feeling the couple frequently withhold from one another. We never leave the hotel room. Instead we watch as June and Leo try on varying personalities (or actually embark on these affairs – the lines between reality and fantasy are frequently blurred) with muddled degrees of success. June is their
Book now
Read more
"You're seeing yourself reflected in it because it's opaque," says a character in Robert Icke and Duncan Macmillan's slippery and intriguing adaptation of George Orwell's 1984. "It's a mirror. Every age sees itself reflected." As the timelines layer and repeat within the production, and characters dissolve into each other, it becomes increasingly hard as an audience member to discern  who said these lines or what it is, exactly, they're speaking about. Is it someone in a book club, studying Orwell's novel? Is it someone under the rule of the ideological Ingsoc, speaking about the rebellious book The Theory and Practice of Oligarchical Collectivism? Or is it someone, hinted at in Orwell's appendix to the novel, who has survived Ingsoc and rejected Newspeak, and is studying the remnants of Winston Smith's diary from that fabled year? We spend most of the play with Winston (Tom Conroy) as he uncomfortably navigates the regimented world of Oceania in 1984, but continually succumbs to its rules. When barked at by the voice from the telescreen, he obeys and bends over in an attempt to touch his toes. He goes to work and erases the records of people's lives, shaping the past in the party's favour. His rebellions are small, hidden, and largely inconsequential: in thoughtcrime, in a diary, in a secretive tryst. Weaving the appendix through the text, Icke and Macmillan make explicit a crucial part of Orwell's intent: the knowledge that this society can fall. But even so, Winston and
Book now
Read more
For a musical largely set in a Northampton shoe factory, Kinky Boots is surprisingly energetic. Directed and choreographed by Broadway favourite Jerry Mitchell, it's buoyed by buckets of charm, a gung-ho approach to storytelling, and – in this Australian iteration – superlative performances. The show barrels along in a shower of sequins and triumphant lyrics – almost distracting its audience from significant narrative issues. The true story turned 2005 film turned Tony-winning Broadway hit follows Charlie Price (played here by Sydney's Toby Francis, a fine actor with a winning rock tenor), who inherits a struggling shoe factory from his father. With no real passion for the business (or anything much, including his fiancée Nicola) he undertakes the near-impossible job of saving the family business and the livelihoods of its workers. How does he do it? Inspired by a chance meeting with drag performer Lola (Callum Francis, an irresistible onstage presence), Charlie decides to go into the business of 'kinky boots' – making shoes in typically female design, but with the ability to support the weight of drag queens. Lola comes from London to tiny Northampton to help design the new line. Every story beat from here is what you would expect: Lola and Charlie are paralleled as men with father issues; Lola and the 'unsophisticated' blue-collar men butt heads; Charlie discovers his true passion in life (shoes, and a new love interest); and there's a late-stage conflict that throws the
Book now
Read more
Show more