Reuben Kaye has been described as "the evil love child of Liza Minnelli and Jim Carrey", and that's possibly the best way you can wrap up everything about this entertainer in a nutshell. He's brutally funny, politically engaged, always fabulously dressed, and he has a wit as intimidating as his lashes are large. Yet behind the "eight pounds of caustic lead-based cosmetics" is a person who wants to leave the world a better, less conservative place than he found it.
This boy from Oz has gone on to sell out shows across London and Europe, become a sought after star of British television, and rack up millions of views across TikTok, YouTube and Instagram. In his inaugural podcast project, Come To Daddy, he talks to comedians and celebrity guests about their relationships with their parents, as they seek to uncover who is responsible for their problems.
Not everyone needs a bachelor's degree in gender studies... we just need to talk to each other
He has, inextricably, managed to harness the spirit of old-school vaudevillian cabaret and make it feel entirely modern and exciting. With Kaye bringing three wildly different shows to Sydney for WorldPride (Opera Up Late and Live and Intimidating) and Sydney Comedy Festival (The Butch is Back) in 2023, arts and culture editor Alannah Maher caught up with the man behind the mania.
According to Reuben Kaye, what is the essence of good cabaret?
Because cabaret has no rules and it's a lawless art form, it's at its best when it's an amalgamation of things. Cabaret is definable by the feeling you get when you see it, not by ticking off a list of criteria.
People say that what I do has a contemporary edge, [but] it feels to me like I'm doing the oldest thing in the book. I'm an old-school song and dance showman. But what inspires me is a general sense of rage, unrest and dissatisfaction. Or maybe I'm an optimist wearing a pessimist's coat? So I'm always aiming for something better, but still very happy to hang shit on those that deserve it. A lot of queer art, in essence, has always bridged that gap between rallying cry and mockery and filth – and certainly that's the centre of the Venn diagram I want to operate in.
How did you land your aesthetic? You describe what you do as drag, but it's probably not exactly what a lot of people picture as drag.
There's always been a fascination with demonising sissies and giving queer as sinister. Just look at how Disney codes their villains. I examined myself pretty heavily when I realised I love makeup and heels and things, and I sort of realised that the debate within me and the debate in my drag is actually not necessarily about gender, but about supposed gender roles. It's about the constant battle between masculinity and femininity in a male body, which is, for me, a linked but separate debate to gender… It's male tailoring, but it's high heels and it's lashes and it's eight pounds of caustic lead-based cosmetics that'll probably render me sterile. It's a really interesting line to tread.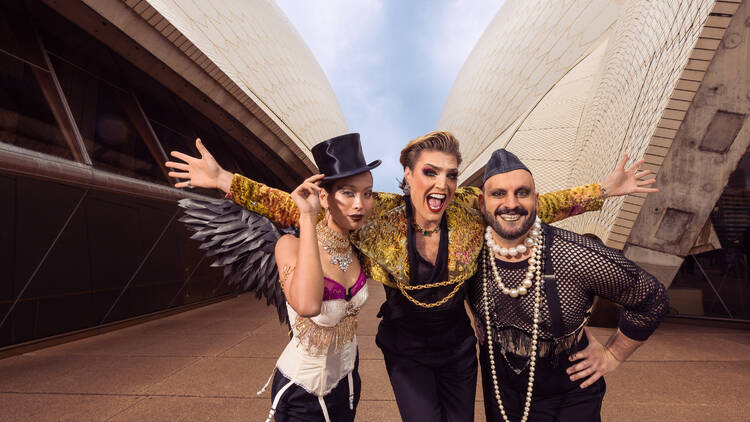 Photograph: Opera Australia/Daniel Boud
You're about to have your Sydney Opera House debut. What can you tell us about Opera Up Late?
It's funny because it's on the set of the Café Momus from La Bohéme, but it's actually going to have this late-night, dangerous cabaret, licentious feel to it, which is really exciting to bring to an established opera company. It's a moment where you get to say to an opera audience, "Hey, here's what's been here all along". Because there's nothing as queer as an opera. Opera is drag. The most problematic part of opera is elitism, and at times its lack of diversity, and I think being able to shine a spotlight on that and undercut the elitism is a really wonderful thing to be able to do, and to do in such a celebratory way. They also let me play in the Opera Australia costume archives… I'm coming out of some ridiculous outfits.
Can you tell me about the origins of your own relationship with opera?
I was raised in a family that loved opera. My grandmother, in fact, baked cakes and brought flowers to every one of Joan Sutherland's performances. My brother was a countertenor, and is now an agent for opera singers. And as a child, what I was drawn to was the drama of operas. Oh, my poor parents had to watch me reenact I think every single death in every opera on rotation. It'd be as stupid as me reenacting the end of Tosca and then making them watch as I jumped off the couch onto a mattress… making an empire line gown out of a bedsheet and a dressing gown.
Your show Live and Intimidating is coming to Bondi Pavilion during WorldPride, what can you tell us about this?
That is much smaller than the other shows, much more intimate. It's raw, it's dirty. It's me, a piano, and my musical director Shannon singing our favourite songs. It starts with a vodka shot and it spirals down from there. I like to say it's a downward spiral so perfect, it could have been designed by Fibonacci. It started at the Adelaide Cabaret Festival as a two-night thing, and it took off so well that we're doing a national tour of it.
You're also bringing The Butch is Back for an encore at Sydney Comedy Festival in April. How would you describe this show?
It's a six-piece band, it's filth, it's politics, it's masculinity, it's the apocalypse – and how they're all strung together with red thread. It was really crafted through lockdown, and it's the most collaborative show I've done. The costumes are fantastic, it's a real extravaganza, and I get to say some of the filthiest things I've ever said.
We see hundreds of coming-out stories, they're legion for queer people, they're like war stories almost. This show is dedicated to my dad and about my dad; and it's meant to let children know that if your parents have an adverse reaction to your coming out, that there is still hope on the horizon for a relationship. No parent has a manual, each parent speaks on their own trauma or their own expectations. There's no such thing as a perfect parent. And it's also meant to inspire "Hey, if you fuck up and say the wrong thing when your kid comes out, there's still a possibility for reconciliation".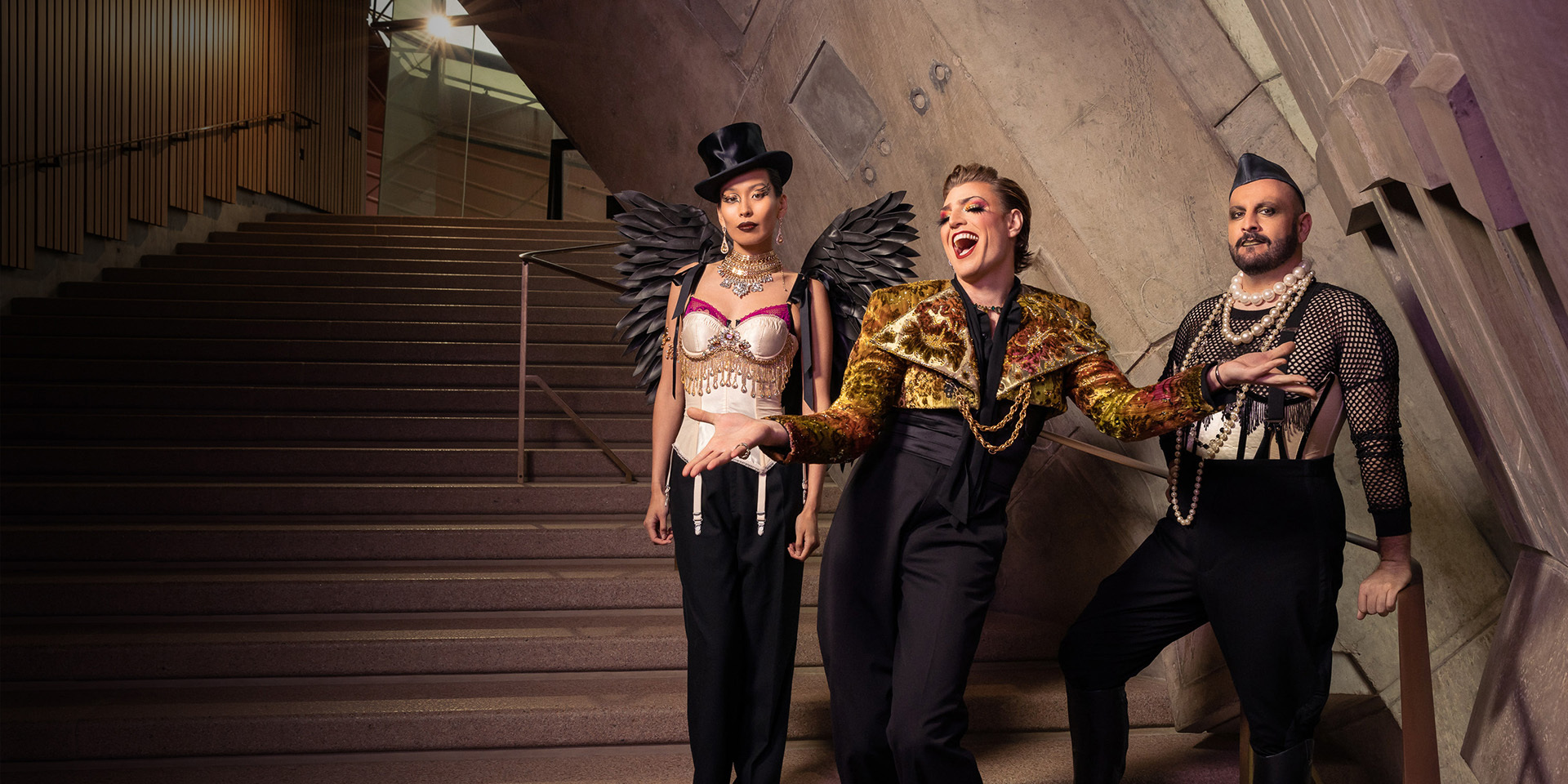 Photograph: Opera Australia/Daniel Boud
Sydney WorldPride is a great time of celebration. What messages do you hope for everyone to take from this time?
That there are still safe, queer spaces in the world. And, that as much as we have hatred and judgement and religion coming for us, that we will outlast them all. We were here before them, and we will outlast them all, including the idea of God. I want to come away with the hope that trans people will no longer be looked at as anything but people. I want to show the world that queer people are more than a pride float, even though that is fantastic and beautiful. But there is room for us in every single part of the world, because we are already in every single part of the world, because we are part of the world… Not everyone needs a bachelor's degree in gender studies to operate in the world. We just need to talk to each other.
What else are you looking forward to about being in Sydney for WorldPride?
I'm really enthusiastic to get into the stand-up scene. I love the idea of stepping into that arena, where I'm definitely not performing for, let's say, a Reuben Kaye accustomed crowd. And the last time I was in Sydney for pride, I marched in the parade, and it was 2010. So this is a really big thing for me as well, to be able to take part in one of, if not the, biggest queer celebrations that started as a riot. Cabaret itself started as a protest, that social commentary and protest and drag itself is rebellion. We are old forms of punk and push back and sacred transgression, and that to me is one of the most amazing things.
What does identifying as queer mean to you?
Being queer is a fuck you to any kind of expectation. Not only is it about your sexuality or your gender expression, but it's about your attitude to love. It's about your attitude to interpersonal relationships. By virtue of that, it feeds into politics, because when our love is made political our bodies become political. Our lives are therefore inherently political, and our form of sex, our form of love, our form of friendship and our interpersonal relationships then become a form of rebellion. And there's no better time to remember that than at Pride, especially WorldPride in Sydney.
Is there anything that you would like to add, Reuben?
Just, you know what? You don't even have to come and see me at WorldPride, although I'd love you to. I'd love anyone reading this to go and see a show, go and see art that is made by people who don't look like you, who don't think like you, because it is the only way that we will really truly change the world. And if you don't want to do that, come and see my show. The bar is open and so am I!
Opera Up Late with Opera Australia is at Sydney Opera House on Thur Feb 18 and Sat Feb 25, from 11pm. From $69+bf. Find out more and snap up tickets here.
Live and Intimidating is at Bondi Pavilion on Wed Feb 22, from 7.30pm. $39+bf. Tickets and info here.
The Butch is Back is at Enmore Theatre on Fri Apr 28, from 9.15pm. $50-$60+bf. Tickets and info here.