Sydney theatre in February
Here's what and who to check out on Sydney stages this month – and where to find 'em
Sydney Festival has now wrapped up, but theatre companies all across the city are kicking into top gear with high profile shows. Sydney Theatre Company starts its year with plays from some kick-ass women (Nakkiah Lui and Kate Mulvany) while Belvoir is bringing a whole soccer team of young girls to its mainstage. And with Mardi Gras taking over the city for much of the month, there's plenty of killer queer performance happening.
Recommended: How to score cheap theatre tickets.
Musicals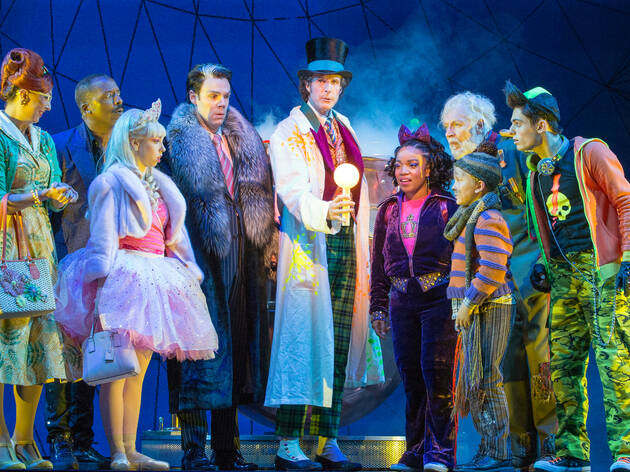 Theatre, Musicals
Capitol Theatre, Haymarket
Roald Dahl's Charlie and the Chocolate Factory has a bit of a chequered past as a stage musical. It opened in a huge, lavish production on London's West End in 2013, and although sheer spectacle helped it run three years, it wasn't exactly a smash hit, and reviews were lukewarm.
Theatre, Drama
Riverside Theatres, Parramatta
Eight years before The Sapphires became a hit 2012 film starring Jessica Mauboy, it was a hugely popular play, telling the story of a group of Yorta Yorta women who form a girl group and travel to Vietnam in 1968 to perform soul classics for the troops.
Mainstage
Theatre, Drama
Sydney Opera House, Sydney
Nakkiah Lui (Blackie Blackie Brown) is set to star in her own play at Sydney Theatre Company alongside Michelle Lim Davidson and Anthony Taufa as three political staffers from different cultural backgrounds who want to get into power and effect real change.
Theatre, Drama
SBW Stables Theatre - Griffin Theatre Company, Darlinghurst
Australian playwright Mary Rachel Brown wrote one of the most successful plays to ever come out of Griffin Theatre Company's independent season, The Dapto Chaser. Now she's had a play picked up for the company's mainstage season which tells the story of a woman (played by Kate Cheel) in a relationship with a man 20 years her senior who has a problem with alcohol.
Opera
Theatre
Sydney Opera House, Sydney
Powerhouse combo director Gale Edwards and designer Brian Thomson (HOSH's Carmen) created this production for Opera Australia's 2011 season – and it has proved a popular hit. Some love La bohème, some loathe it – but there's no doubt that there's plenty of those Puccini earworms, and plenty of romance, sex, tragedy and comedy.
Theatre
Sydney Opera House, Sydney
Director and choreographer Graeme Murphy's 1990 take on Turandot is one of Opera Australia's true evergreen productions. Almost three decades after its premiere, it still looks fabulous, driven by dance and and an otherworldly design.
After something less dramatic?
There's art in every corner of the city this month.