It has been performed in the most prestigious theatres around the world but never in an auditorium like this: no walls, no ceiling, not even stable ground beneath the stage; city lights and two world-famous landmarks in the background and the salty tang of seawater in the air.
Opera Australia is staging one of the most successful musicals of all time, The Phantom of the Opera, as this year's Handa Opera on Sydney Harbour production.
It's the first time in its 35 year history that Andrew Lloyd Webber's timeless masterpiece will be performed outdoors on such a scale. Written by Webber (music/libretto), Richard Stilgoe (libretto) and Charles Hart (lyrics), The Phantom of the Opera premiered in London's West End in 1986, remaining there for an astounding 13,629 performances. Its run on Broadway began in 1988 and still continues, with a record-making 13,509 shows clocked up so far. The 2022 Sydney production will rival all others in scope and opulence.
"The way that Gabriela Tylesova, the designer, has reimagined the set and the costumes for this scale is so impressive and so grand," says Georgina Hopson, who plays the principal role of Christine Daaé. Hopson is reluctant to give away any spoilers, but does share some teasers.
There's fireworks and pyrotechnics and all sorts of crazy things. It's really going to be epic
"I can tell you that there's going to be a chandelier and it's huge and it's going to be hanging over the stage – that's going to be magic! And there's fireworks and pyrotechnics and all sorts of crazy things. It's really going to be epic."
For Hopson, this show is epic professionally as well. The part of Christine Daaé is one of the most coveted in musical theatre and is an afterburner for a burgeoning career.
"It's a pretty huge moment for me," she acknowledges.
It's also the golden chalice at the end of two years of Covid fuelled disappointments. In 2020, Hopson was set to star opposite Anthony Warlow in The Secret Garden, but the show barely saw daylight before it was cancelled. A year later, she was on the verge of playing Princess Fiona in Shrek: The Musical, but was again thwarted by lockdown.
"I feel like third time's a charm!" she laughs – but it's clearly much more than that.
"I feel really honoured to be part of the legacy of this show…it's so iconic, this role and this show. But I don't feel overwhelmed, I feel just really excited. And it's so thrilling to be able to re-invent this material and on such a grand scale as well, there's something really, really special about it. So I'm just thrilled. I'm living the dream!"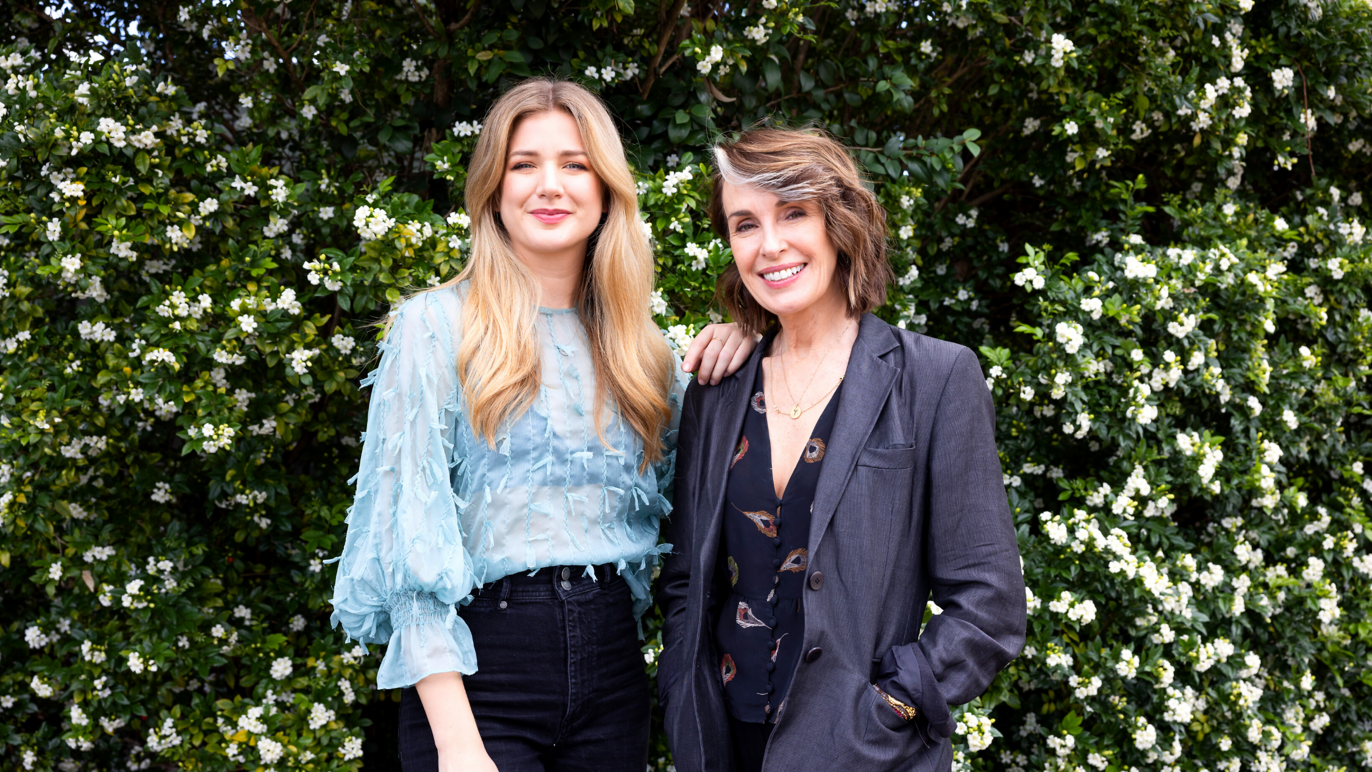 Photograph: Daniel Boud | (L-R) Georgina Hopson and Maree Johnson
It's certainly going to be a right of passage for Hopson: performing in a high-stakes production at the mercy of the elements. However, she's taking it on like a seasoned professional.
"Wind and rain are definitely things you've gotta factor in because it changes the way you exist in that space, but it's also really thrilling to perform in the rain. It's such a melodramatic piece already, and the rain and wind just adds to the drama. So I think it escalates the piece. I love it and I'm happy to be rained on."
Hopson has the very rare fortune of working alongside Phantom veteran, Maree Johnson (Madame Giry) who played the role of Christine in the 1994 Sydney production.
"I've already had some incredible conversations with Maree," says Hopson. "To have someone like Maree there who has been there since – she was there at its creation – it's invaluable insight and knowledge. I've already plagued her with questions. I have plenty more. She's a real fountain of knowledge, just pearls of wisdom left right and centre. Yeah, it's a real privilege to be around someone like Maree, she's really incredible."
Before our eyes, Christine is changed forever in that storyline
Johnson is an enthusiastic mentor, but is also conscious of not imposing her own interpretations and ideas.
"You have to respect the relationship between the performer and the vision that the director has. So, all I can really do is offer my experience and my perspective," she explains. And she has plenty of that to offer.
The Sydney born performer was straddling careers in social work and the arts when a swing role as Cosette in Les Misérables (Melbourne, 1989) opened the theatre door a little wider. It led to her being understudy to Marina Prior's Christine in The Phantom of the Opera in Melbourne. The Australian production of Phantom was among very few original productions globally. Johnson assumed the lead when the show moved to Sydney in 1994.
"It definitely launched me professionally because the role is so iconic – and it's such a big role, you know, it's vocally demanding as a performer, it's demanding as an actor," says Johnson. "Christine goes on such a journey, starting out as the ingenue and then coming to terms with her relationships with the Phantom and Raoul and what that means to her. And she's in danger and she's threatened. Before our eyes, Christine is changed forever in that storyline."
Once you did Christine you really felt like you could almost do anything
Johnson too, was changed forever. "It gave me the confidence to really feel I could do other roles and other things – because once you did Christine you really felt like you could almost do anything."
That confidence manifested in several iconic roles including Eliza in My Fair Lady, Maria in West Side Story and Grizabella in Cats. Feeling the need to seek opportunities further afield, Johnson flew over to the US in 2001, gaining entry as an "alien of extraordinary ability". She did regional theatre and concerts but her road to Broadway hit a detour when she married, had children, then discovered she'd aged into theatre limbo.
"You're no longer the ingenue but you're too young to be a character actor in musical theatre," Johnson explains.
In 2017, The Phantom of the Opera again ignited Johnson's career when she gained the role of Madame Giry in the Broadway production. She is currently still part of that show, but has been granted a special leave of absence to perform in Sydney.
Johnson says it's really refreshing to be working with an Australian cast. It's 20 years since she performed in Australia and the first time she has done a large outdoor door show like this. "I think the closest I've done is the Domain Christmas Carols," she laughs.
Johnson returns to Phantom with a sense of both nostalgia and new discovery. "What is more poignant for me is when I was playing Christine I didn't really give Madame Giry much of a thought. I didn't need to because I was playing Christine. But now, being a mother myself and being older, I find, oh wow! Madame Giry is so complex and so fascinating, and that's what I get really excited about."
Her affection for the show has not waned, nor has it for the many "phans" it has acquired and continues to acquire. "And that is one of the beautiful things about this show, you know," says Johnson, "people have such fond memories of the first time they saw it."
'Handa Opera on the Harbour – The Phantom of the Opera' plays exclusively in Sydney from March 25. Find out more here.