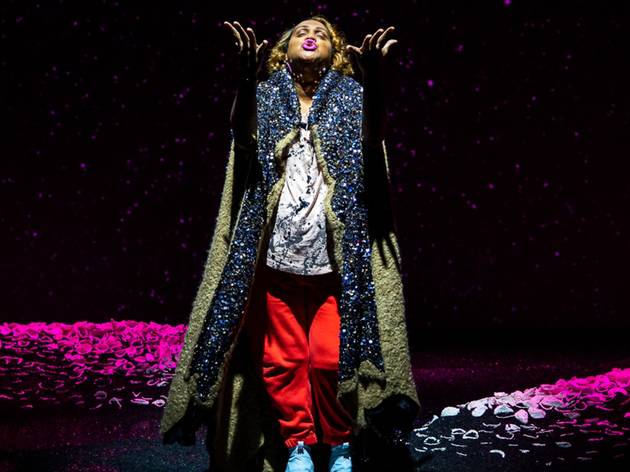 1/3
Photograph: Supplied/STC/Joseph Mayers
2/3
Photograph: Supplied/STC/Joseph Mayers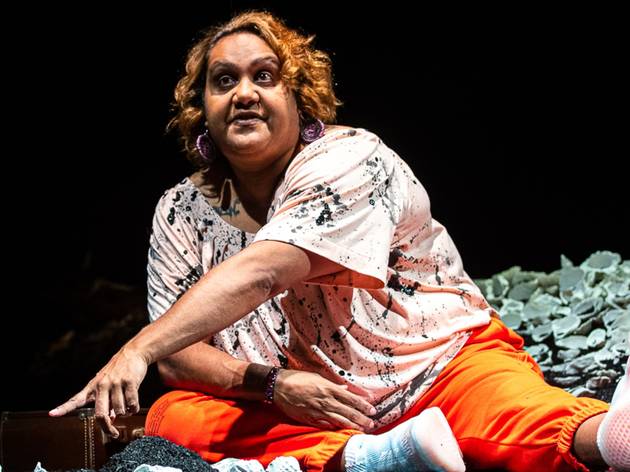 3/3
Photograph: Supplied/STC/Joseph Mayers
Time Out says
An insightful account of what it means to be a First Nations woman in contemporary Australia
When you first sit down for Sydney Theatre Company's latest production of The 7 Stages of Grieving, numbers appear on a screen behind mounds of dirt and broken shells on the stage. Connoting significant moments in First Nations history, 233, 30, 21, mark the years since colonial invasion, the Royal Commission into Aboriginal Deaths in Custody, and the first National Sorry Day, respectively.
The sound of weeping plays as associations of 'grief' flash across the screen: sorrow, loss, death, pain, distress, lament. It ends with "Nothing…I feel nothing". It's a harrowing introduction, a visual recognition of the long-endured pain of generations of Indigenous families, of grief at centuries-long violence and dispossession.
This is the fourth time that Sydney Theatre Company has staged Wesley Enoch and Deborah Mailman's landmark play since its 1995 premiere. Given its landmark status in the canon of Black and Australian theatre, it feels like a natural programming choice in 2021. Particularly as conversations around Black Lives Matter, Indigenous deaths in custody, and reclaiming Indigenous and Black identity grow louder, remaining as urgent and relevant.
The revival presents a black box staging designed by Elizabeth Gadsby in consultation with Quandamooka artist Megan Cope of Re Formation sculptures. Shari Sebbens makes her STC directorial debut after delivering Seven Methods of Killing Kylie Jenner at the Darlo. In her steady hands, it's a work that pulses with quiet trauma, wavering questions, lost culture and intergenerational suffering, while speaking to the pride and strength of being "Black and deadly".
As a one-act, one-woman play, Yankunytjatjara, Warrigmal and South Sea Islander actor Elaine Crombie carries the show as 'The Woman'. She laces yearning warmth and propulsive anger into Enoch and Mailman's writing, bringing musicality and gentleness to the character's experiences as an Aboriginal woman. In its fragmented, non-linear structure, the play first centres around her grandmother's funeral, with the smell of smoke filling the air, mourning how her death left behind many stories untold.
In unfastening the clasps of a suitcase full of photographs of her ancestors, it opens up the stage for The Woman's tapestry-like way of storytelling. The play shifts between tonal genres that allow the audience, too, to occasionally participate. Among these moments are a bitterly wry stand-up comedy segment in which she directly asks, "Have you ever woken up and you're Black?" In another segment, she worries about her nephew, who carries shame from an interaction with police, citing the continuing cycle of abuse that traps young Indigenous people in the criminal system from a young age.
On opening night, Crombie's performance faltered at points, but forgivably, loosening up the relationship between herself and the audience. They cheered her on. In covering the breadth of Black experience through vignettes, Enoch and Mailman's play captures powerful moments, but its hold is often too brief. While loosely tracing the seven stages of First Nations history, the approach breaks the flow. The Woman's anecdotes make an impression, but left me wanting more.
Some sections cut through more than others, including a scene where The Woman takes soil from the mounds, using it to symbolise the kinship system. At times, she struggles to remember the meaning of family lines. Finally, she removes shells from the circle, remarking: "Imagine when children are taken away". The terrible grief of loss of family, tradition and connection to Country is palpable.
Under Sebbens' direction, the play also revels in a more playfully glittery campness. The set's walls are sparkly – a nod to the First Nations LGBTQI+ community – and there's a purple-hued disco lip-sync performance. She also allows enough breathing room for Enoch and Mailman's words to speak for themselves.
It's when the work acutely re-shapes itself through a 21st-century lens that it comes across as less at arms-length, drawing closer to the people watching on (the work was also updated in 2008). The 7 Stages of Grieving then becomes a sounding board, a wise reflection piece that understands that lamenting and apologies are no longer good enough to affect real change.
Crombie poses against a QR code, encouraging us to take a photo, post and follow social media pages like @IndigenousX and @SeedMob. She re-frames these calls to action as "The 7 Actions of Healing". It's an extremely candid, bold way of breaking down the fourth wall, handing to us to play a part in the fight for justice for First Nations people. This veer to activism burns hopeful. Now, 26 years later after its debut, instead of merely watching The Woman perform, we're right there with her.
The 7 Stages of Grieving is at STC until June 19. Get your tickets here.
Details
Dates And Times