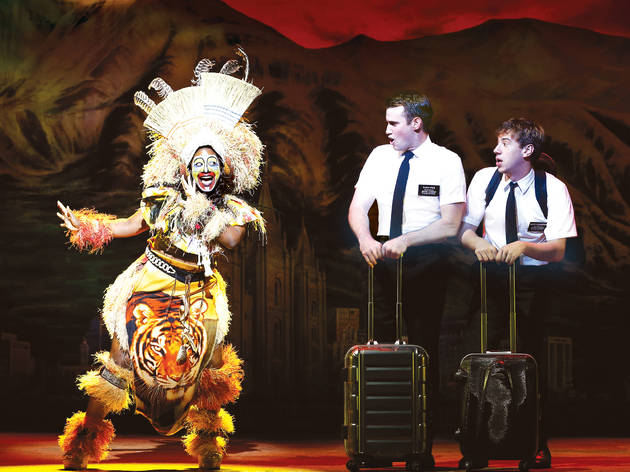 1/5
Photograph: Jeff Busby
Phyre Hawkins, Ryan Bondy and A.J. Holmes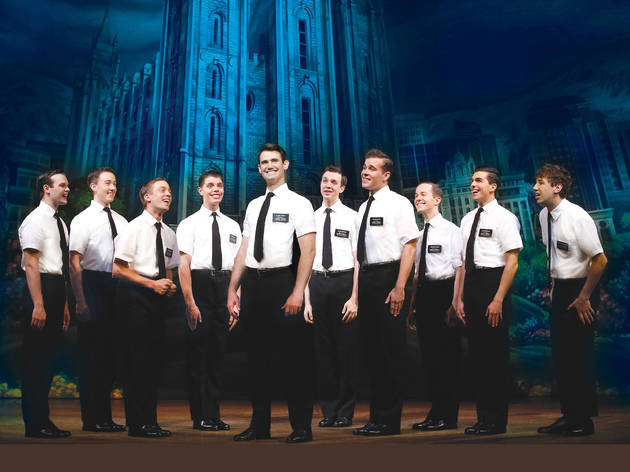 2/5
Photograph: Jeff Busby
Ryan Bondy (centre), A.J. Holmes (far right) and ensemble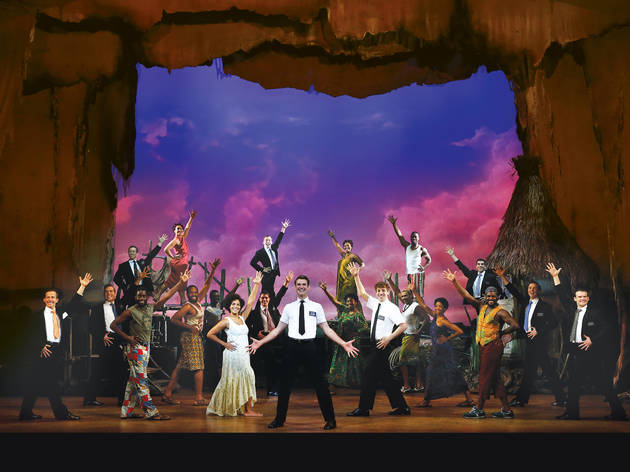 3/5
Photograph: Jeff Busby
Zahra Newman, Ryan Bondy and A.J. Holmes with ensemble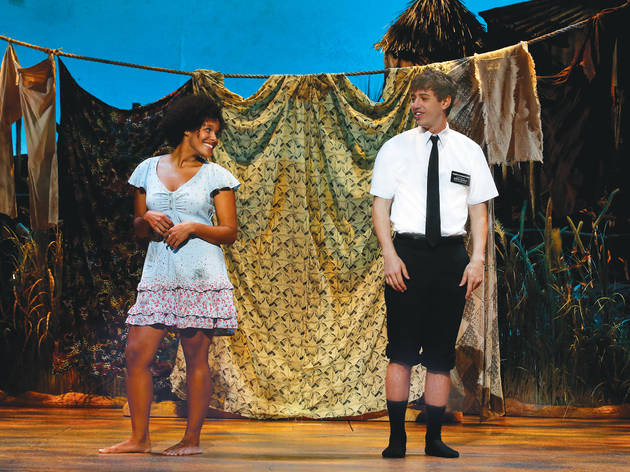 4/5
Photograph: Jeff Busby
Zahra Newman and A.J. Holmes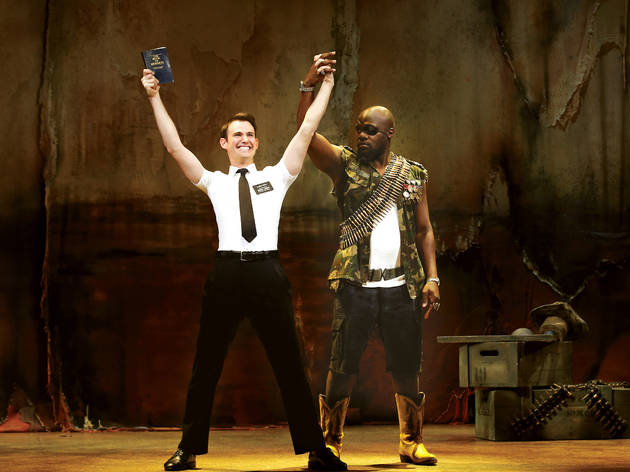 5/5
Photograph: Jeff Busby
Ryan Bondy and Augustin Aziz Tchantcho
Time Out says
The mormons have landed in Sydney and you better believe the hype: this musical blockbuster is every bit as brilliant as you've heard
Read about The Book of Mormon's $40 ticket lottery.
In 2011, when The Book of Mormon first opened in New York City, it was a risky bet. It's notoriously difficult for original shows to survive on Broadway – roughly four out of five shows fail to turn a profit – and a parody of religious fervour, packed with anarchic, puerile humour, written by 'the South Park guys', Trey Parker and Matt Stone? Not a sure thing. Their co-writer, Robert Lopez, had won a Tony and a Grammy Award for his subversive puppet musical Avenue Q, but repeat success wasn't guaranteed.
But as we now know, it was an immediate hit. Not even celebrities were guaranteed tickets, and prices skyrocketed to meet demand. Its cast recording was the highest-charting musical album in over forty years, until Hamilton smashed all records. Its two lead actors – Andrew Rannells and Josh Gad – booked sitcoms and Disney movies. In the seven years since, Robert Lopez has not only won the EGOT (the full complement of Emmy, Grammy, Oscar and Tony Awards) in the shortest amount of time for any recipient, he's the only person in the world to EGOT twice. The show has toured all over the US, has a long-running production in the West End, and recently opened in Sweden.
So is it worth all of the fuss? Does it still hold up in 2018? The answer is yes.
We follow two young Mormon missionaries, Type-A Narcissist Elder Price (Ryan Bondy) and Elder Cunningham (AJ Holmes), a mess with a geeky streak, as they're paired up for their two-year mission placement. Elder Price has heart set on Orlando, Florida (Disney! Putt-putt golfing!) but the duo are assigned to Uganda. They are, to say the least, woefully unprepared for life in a besieged village – and it soon becomes clear that their faith may not be fit to provide salvation to people in true need. So what's a Mormon duo to do? Give up their beliefs, or try to help the villagers in other ways?
For all the show's gross-out comedy, it almost always punches up. The butt of the jokes are usually the Mormon missionaries and their ignorance, and it's clear that Mafala (Bert LaBonte), the village leader, and his fellow townspeople have the intellectual edge on Price and Cunningham. 'I am Africa', a 'We are the World'-style white-saviour nonsense number, zings perhaps harder now than it did when the show opened.
However, the character of Nabalungi (Zahra Newman), Mafala's daughter and friend to Elder Cunningham, has a storyline that's aged the worst – a running joke about texting is dated and it means that, sometimes, the sole named woman's role in the show is a source of ridicule. And it's still a show that provokes, racially and sexually, in ways that are not to everyone's tastes.
But it's clear from the outset that the show has its heart in the right place. It's a generous story with a surprising affection for its characters, and it's also a love letter to the Broadway musical. The score is dotted with musical theatre pastiche (listen and you'll find easy references to Wicked and the Sound of Music, and there are visual gags that touch on everything from A Chorus Line to The King and I). In this way, The Book of Mormon is the class-clown kid brother of the classic American musical, and is all the better for it; the musical wouldn't be half as successful if it didn't respect conventions of the form.
Bondy and Holmes are strong leads with a lived-in confidence (they're fresh off not only a year in Melbourne, but they're also imports from various US productions). Holmes is a cleverly-calibrated geek, bringing something endearingly hapless to the part, and Bondy's Price is the ultimate straight man; you're just waiting for him to explode. They're backed by an accomplished, razor-sharp ensemble whose dance moves and vocal performances are so on point it's remarkable.
But it's a local who nearly runs away with the whole show. Rowan Witt plays Elder McKinley, another Mormon missionary based in Uganda, and is the star of a tap-dancing number about religious repression, 'Turn it Off'. He's a closeted dancing clown dying to break free – and at the end of that number on opening night, the audience cheered like they might never stop.
Newman's Nabalungi is hopeful, daring and open-hearted, and it's a delight to see the actor, who Sydney audiences might recognise from straight-play stages everywhere from Bell Shakespeare to Belvoir, looking completely at home here on the musical theatre stage; her voice – often used in plays – is fully unleashed here in all its colour and technique, and it's wonderful.
It's a beautiful-looking, tongue-in-cheek show from head to toe, directed by Parker and Aladdin's Casey Nicholaw (who also choreographed), with scenic design by Scott Pask. The resident creative team have preserved the show's spirit and brought it brightly, and near-flawlessly to the fore.
Musicals work best when they touch you – when the music elevates and advances the storytelling, and when you're invested in the journey. The Book of Mormon does all of those things and it does it with a nod to contemporary humour, with social satire and flat-out parody. It's an old form speaking a new language, and the result is undeniable: even seven years on from its initial success, it still works. It's rare to laugh that much in the theatre. If you could use a laugh, it's for you.
Details
Best selling Time Out Offers