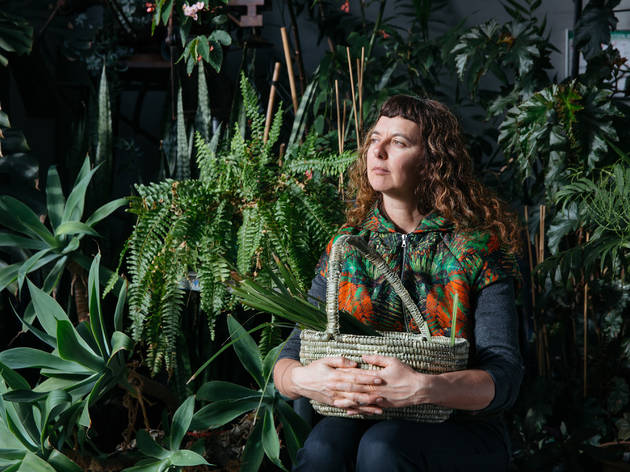 Time Out says
Six women star in this Indigenous answer to Top Girls, premiering at Carriageworks
In Winyanboga Yurringa, six Indigenous women of different ages and backgrounds go on country for what they think is a camping trip, only to realise they've been gathered for something more profound and challenging. Playwright Andrea James playfully describes it as the Indigenous answer to Caryl Churchill's seminal 1982 play Top Girls – "without the dining table".
"I studied Top Girls at uni, and it really stuck with me," say James. "That idea of a whole bunch of women from different periods in time, the discussions they have… And the idea of putting six Indigenous women on stage really excites me."
The playwright, who is also directing the premiere production (through local Aboriginal theatre company Moogahlin Arts), has cast a mix of newcomers, favourites and veterans: Kylie Coolwell, Matilda Brown, Tessa Rose (Redfern Now), Alexis Lane (Cleverman), Angeline Penrith, and 'black theatre' pioneer Pamela Young.
Winyanboga Yurringa has been developing since 2012, when it was commissioned as part of a larger project: a staged adaptation of the groundbreaking 1980s teledrama Women of the Sun. Co-written by Sonia Borg and Hyllus Maris, the four-part series moved chronologically from the 1820s to the 1980s, with each episode focusing on the story of a different (fictional) Indigenous woman.
James was commissioned to write a new 'episode' that captured the experience of the contemporary 'women of the sun'. Living in Melbourne at the time, she began interviewing her circle of female friends and travelling up to her homelands in Yorta Yorta country to talk to women there.
The stage adaptation didn't eventuate, but James developed her episode into a stand-alone full-length play. The end result is an amalgam of a fictional scenario with real life stories and characters. The predominant issues discussed on stage include lateral (or intra-community) violence and identity.
One of the characters is based on photomedia artist Bindi Cole, who James met while she was working for the Koori Heritage Trust, and who was part of a successful 2011 class action against journalist Andrew Bolt over articles in which he questioned her Aboriginality.
"I was interested in how that affected the indigenous community," says James. "I also wanted to explore what happens if you've been taken away from that community – if you were raised in the city, for example – and you want to reconnect; how do you do that once time has passed? What hoops do you have to jump through?"
Details
Best selling Time Out Offers