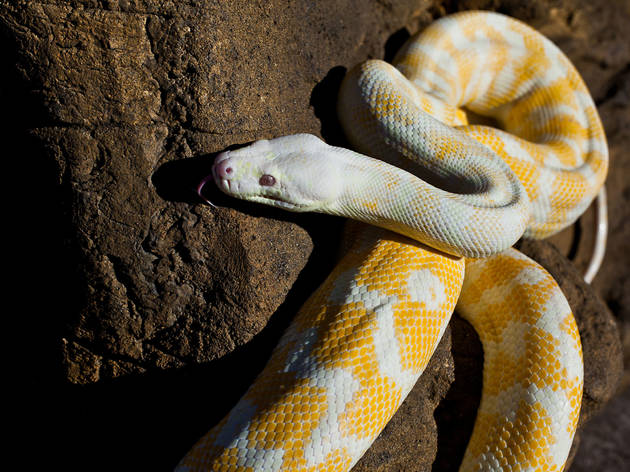 6K
"I limit myself to one rat every seven days"
Extreme Pets in Liverpool specialises in reptiles and unusual companions. We took a trip there to interview a permanent resident and employee of the family-run store, a snake called 6K. Never having met a snake before, we were a bit apprehensive, but 6K's lovely co-workers helped us overcome our fears
Hi 6K, what an unusual name you have. Is there a story behind it?
Well, when I first came to Extreme Pets I was meant to be a product. One day about a year ago, a man bought me for six thousand dollars. He paid half on the spot and then never came back. So 6K stands for the six grand I was priced at.
Wow, six thousand dollars! You must be a pretty special snake.
I am, but my current wife is even more special. Her name is 15K. We're trying for a baby. Actually for 12-18 babies.
Were you upset that your intended owner disappeared?
Nope! I'm pretty super happy about it. I really like it here.
What kind of snake are you?
I'm an albino Darwin Carpet Python.
You're so svelte. Can you tell us what you eat?
I like to stay in shape, so I limit myself to one 200g rat every seven days.
And what do you do here? What's your job?
Most of my job involves keeping the lady snakes happy, and making babies with them. I guess I'm a professional breeder. I also model because, as you said, I'm so svelte. You might have seen me in a magazine
Read more about the Secret life of Sydney pets
Best selling Time Out Offers