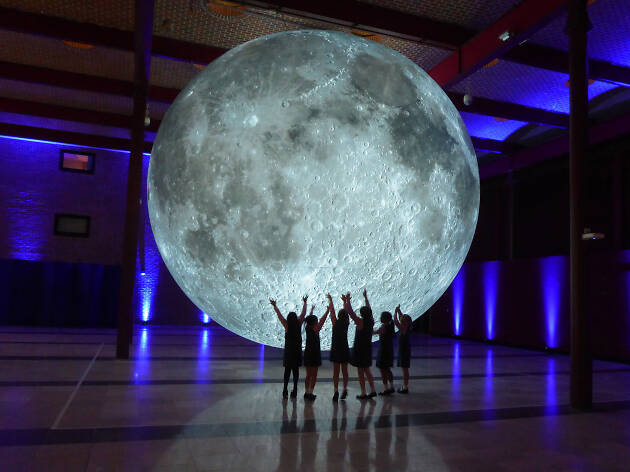 Time Out says
Gaze at Earth from the surface of the Moon and learn about humanity's first steps on the lunar face
It's 50 years since Neil Armstrong took that giant leap for mankind, and to commemorate the half century since the Moon landing, the Powerhouse Museum is hosting a cosmic exhibition dedicated to the landmark event. The Apollo 11 exhibition will feature more than 200 objects involved the momentous 1969 space journey and other pieces exploring the science, design and historical impact of the event.
Star (and Moon) gazers will undoubtedly flock to the accompanying installation, 'Museum of the Moon', which is an intricate replica of the Moon's surface. Created by UK artist Luke Jerram, the piece combines detailed NASA imagery of the lunar surface with 'moonlight' (we're excited to find out how you capture such an aura), and an ethereal soundtrack by BAFTA Award-winning composer Dan Jones to create a gobsmacking experience of the Moon on Earth. The spherical structure measures seven metres in diameter at a ratio of 1:500,000 to detail five kilometres of our favourite glowing sky orb.
Beyond that mesmerising display, you can investigate intriguing specimens like a feed horn (a device which collects radio waves) from the famed Parkes Radio Telescope, which received the very first images of the Moon landing that were broadcast around the world (well done New South Wales). There's also part of the Redstone Rocket, which flung the first American into space, and an Olivetti Programma 101 computer, which is the kind of processor used by NASA to calculate the famed launch and landing.
An interactive virtual reality experience with scientifically accurate models will also let you experience the landing as if you were orbiting above it in the Command Module with astronaut Michael Collins, who stayed aboard to monitor the Moon walk from above.
This galaxy of learning is all included in the admission price to the museum.
Details
Best selling Time Out Offers