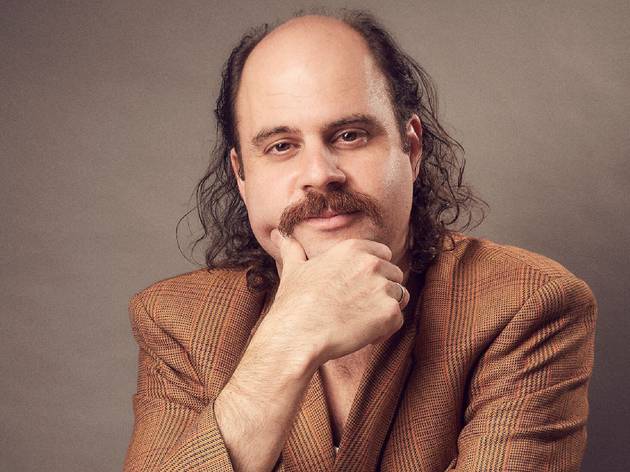 Time Out says
Tune into this eclectic online variety show for distinctly Aussie comedic flair, hot advice, and the coolest musical guests
Do you fancy watching charismatic hosts, the hip-est of musical performances, interesting and informative guests, all wrapped up in a distinctly Australian humour and funky flair? Get around this new online venture hosted by the strangely charming, post-disco smooth talker, Donny Benèt, and Western Sydney's own thick-beat slinging R'n'B star, Kymie.
At Home with Amaysim is a variety show operated by Aussie telecommunications company Amaysim (known for their mobile plans). It's providing comedic relief and entertainment to Aussies at home in unusual times, putting the spotlight on and supporting the local arts and hospitality industries who have been hit hard by lockdown restrictions. Get your heart racing and work up a nostalgic sweat with speedy workouts from Retrosweat's Shannon Dooley, nail the perfect iso-loaf with Crummies Sourdough School, navitage getting sensual at home alone or with your partner with sexologist Laura Miano, and make your own delicious gnocchi with chef James Eddy from Melbourne's Good Gnocchi. Get into a classic stitch up with comedian and online pioneer Aaron Gocs, bliss out to the eclectic sounds of Sydney solo artist and producer Rainbow Chan, or allow astrology queen Holi Dae Knight to drag your sign.
The episodes are all turned around in a tight 15 minutes and streaming live from Amaysim's Facebook page on Wednesdays and Saturdays from 6pm. This web series is the perfect antidote to the news cycle. It's a little bit like a fever dream of a strangely comforting spoof of the mid-morning television you'd end up mindlessly watching when you chucked a sickie from primary school, add touches of Feral TV and an episode of Rage with a particularly eccentric guest host, and you've got yourself a tonic for your homebound soul.
Didn't catch that episode live with that special guest star you adore? Catch up on previous episodes over on the page for some light entertainment and unlikely tips over your work-from-home tea break. Begin your post-iso life with some new skills, some new artists to listen to, and some chuckles under your belt.
Details
Best selling Time Out Offers