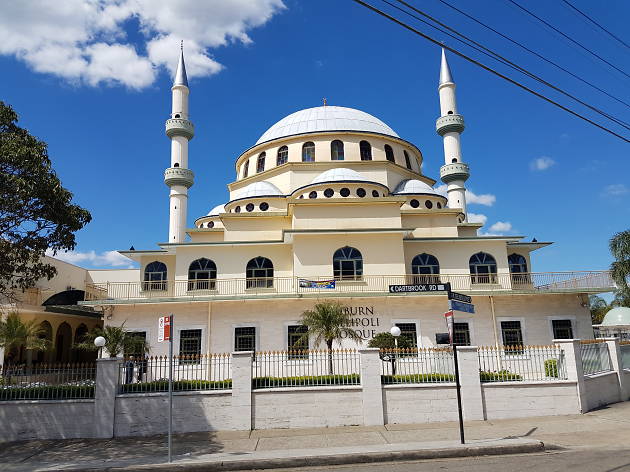 Find peace on a tour of the Turkish-style mosque in Auburn
The most striking thing about the Auburn skyline is the white dome of the Auburn Gallipoli Mosque, flanked by two slender minarets rising out of a shallow valley along the railway. It's a classical Ottoman style mosque that was designed by Turkish architects, constructed from marble shipped over from Turkey and painted according to Turkish designs. Sadly the call to prayer can only be broadcast inside the building due to noise restrictions, but even without it, when you stand in the beautiful gardens of the mosque you feel like you could as easily be in Istanbul as Auburn. Thanks to both community curiosity and the ongoing HSC Religion module tours of the mosque are popular and happen every day except Friday when the grounds will be filled to capacity for the congregational prayer. Tours are taken by volunteers and on our visit it's a quietly spoke young pharmacist who walks us through the history of the mosque, the community around it and the five tenets of Islam. It's an excellent opportunity to ask questions about religion, and also one of the most peaceful educational experiences you're likely to get outside of a guided meditation.
Venue name:
Auburn Gallipoli Mosque
Contact:
Address:
15-19 North Parade
Auburn
2144

Do you own this business?
You may be interested in: