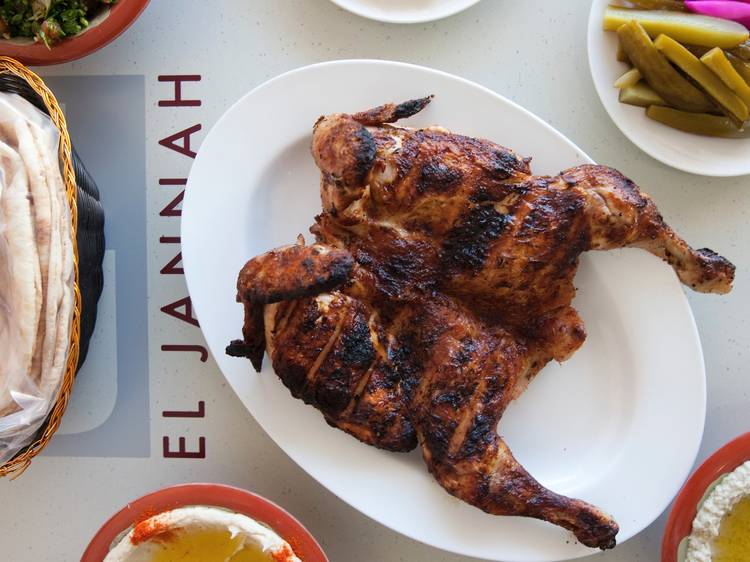 Photograph: Supplied
Gursha Ethiopian Restaurant is one of Blacktown's most famous restaurants. It's a cosy little dining room at 115 Main Street and is popular for its injera, served with tender stewed meats or a vegetarian spread of lentils, chickpeas, spinach chopped and a delicious savoury stir-fry of cabbage, carrot and potato. Tear off pieces of the soft, spongy pancake lining the big plate and use it to scoop up a mix of flavours in each mouthful.
The sweet smell of charcoal chicken is in the air in Blacktown thanks to the busy ovens at El Jannah (44-48 Flushcombe St), where you can get your fix of bronzed chicken, pickles, garlic toum and flatbread.

Jasmine Yin, who grew up in the area knows that not everyone is familiar with Burmese cuisine, so she recommends you visit Sun's Burmese Kitchen and order the battered gourd, fried shrimp and onions, lahpet thoke (tea leaf salad), dan bouk (biryani), mohinga, the goat curry, and ohn no kaukswe, which is similar to a laksa and her favourite dish.

There is a sizeable Filipino community base in Blacktown, which means Filipino food is popular and readily available, like at Angel's Filipino Barbeque (122 Main St) where you can get your sinigang and sisig fix, plus charcoal skewers of barbecue chicken and pork belly in a sweet, sticky soy marinade.

For all the spicy, salty, sweet and sour flavours of Laotian and Thai food, head to Green Peppercorn's Blacktown outlet (the OG is in Fairfield) inside the Central Hotel (41-55 Main St).
If you want a taste of the deep south out west, Black Bear BBQ (11/27 Forge St) is smoking brisket, chicken, cheese sausages, and pork belly in an industrial estate. They get started early, which means you can have a barbecue breakfast with your coffee, and you can pre-order a whole smoked pork belly if that's how you roll.
Smash your hunger with a halal snack pack at Kebab Express 14/10 Sunnyholt Rd). They have five sizes, including one supersized with schnitzel. There is also pop music blaring from the speakers onto the street (you can hear it two blocks away), so it's pretty much a party every night of the week.