Blacktown Area Guide
From waterparks to a bleak colonial past, Blacktown is a multicultural melting pot, and mixed bag of good times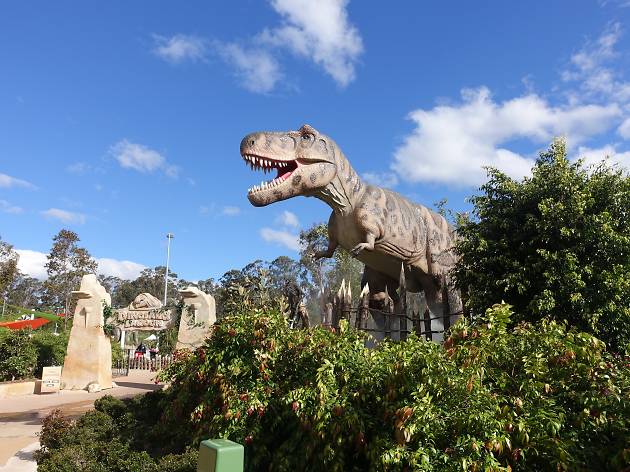 On the northwest edge of town, between a fast food complex and a string of mega hardware stores, sits the most important historical site in Blacktown. It looks like an empty paddock, with a few clumps of trees, and no signage to speak of. But in the early 1800s, this site was ground zero for Australia's stolen generations. When Governor Macquarie set up the Native Institution in Parramatta, it was the first recorded incidence of Aboriginal children being forcibly taken from their families.
In 1823, he moved the Native Institution to what is now the corner of Richmond Road and Rooty Hill Road. When the children moved, their families moved with them, though they weren't permitted any regular contact. "They camped around the edges, and that spot became known as 'the Blacks' Town' and that road that became Richmond Road was called 'Blacks' Town road', and that's how Blacktown got its name," says Jenny Bisset, the director of Blacktown Arts Centre, who have staged a number of projects on the site. "The Darug community have a lot of knowledge about that site."
Blacktown remains a significant locus of Aboriginal and Torres Strait Island peoples and culture, with Indigenous Australians making up 2.7% of the population (more than twice Sydney's average). It's the largest Indigenous urban centre in the state. The traditional custodians of the area are the Darug nation, although the area is now home to Indigenous Australians from all over the country. In 2012, residents fought off a bid by local councillors to have the city's name changed – the council put forward, rather lamely, 'Western Sydney'.
This is no far-flung satellite suburb. It's a city in its own right, with a population larger than the whole of Canberra. Blacktown is also a significant migrant centre, with large populations of Filipino, Hindi and Arabic speakers, and a growing number of Sudanese arrivals, all of which makes for some pretty excellent eating options, including one of the best Halal Snack Packs in Sydney.
Now, visitors are probably better acquainted with the city's massive water park – Wet'n'Wild – than its bleak colonial history, but there's plenty of scope to engage with both on a trip out west.
Things to do and see in Blacktown
Restaurants and pubs in Blacktown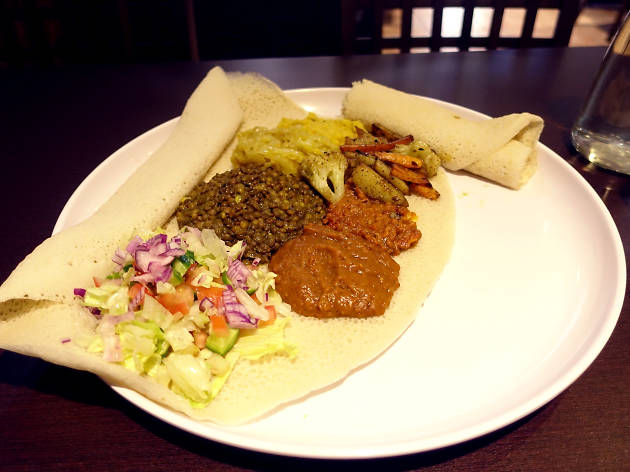 Blue Nile African Cuisine and Cafe
The afternoon we visit, there are a dozen or so members of Blacktown's African community hanging out the front drinking tea and swapping stories. While inside, we're served the best Ethiopian food we've ever had in Sydney. The cornerstone of Ethiopian cooking is a spongy flatbread called injera. It's got a tart, fermented taste – like sourdough, but even stronger, and it comes with everything. Or, more specifically, underneath everything. Ethiopian food is a hands-only situation (and Blue Nile have a basin for pre-and-post eat wash ups). Dollops of different curries are dropped onto a base of injera, while another plate of bread is served on the side, rolled up like napkins. The idea is to tear off small pieces of bread and scoop the curries, stews and braises into your mouth with them, like tiny sloppy joes. The greatest pleasure comes when you eat the base bread that's been infusing with juices and spices all meal long. We order a mixed vegetarian plate: yetakelt beainetu. Each dish is multi-textural and totally distinct. Puy lentils are mildly spiced and perfectly al dente, cabbage is sweet and fragrant, while beans have a robust, well rounded heat. Next to it is a simple side salad of red onion, iceberg and tomato – all very crisp. The serves are generous and the prices are low. After our meal, we're brought a refreshing, perfumed Moroccan tea, free of charge. Our server is manning both the front of house and kitchen solo, while her son plays a game in the corner. This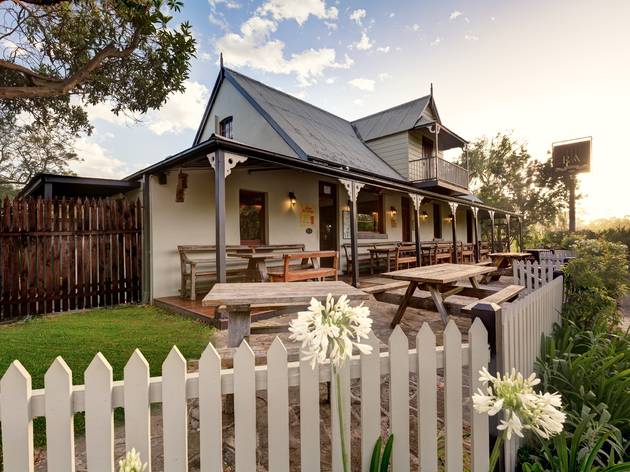 Royal Cricketers Arms
This heritage-listed 1880 pub was first built to serve the workers constructing the Prospect Reservoir, and sits just across the road from the dam. The real star here is the terrace and back garden, which is huge, with lush, jungly fig trees and a corrugated iron shed-bar up back. The menu is heavy on the pub-grub classics, including a huge golden pork knuckle that, when it whizzed past, gave us immediate menu-FOMO. There's not a lot on the drinks list for booze-nerds to rhapsodise over, with a standard range of macro-brewed lagers, and wines in all three colours. But if you're looking for a cold beer and a big meal in a pretty setting, it's got you sorted.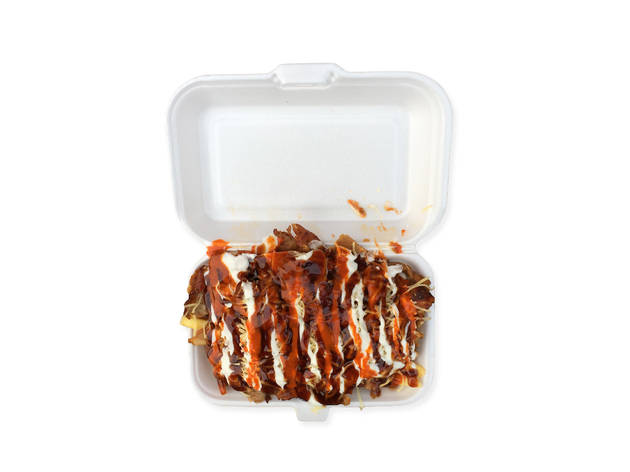 Kebab Express Pizza, Pide and Adana
Kebab Express is situated right on the highway and is an eating outdoors/takeaway sort of joint. There is pop music blaring from the speakers onto the street (you can hear it two blocks away), so it's pretty much a party every night of the week. They do no less than seven sizes of HSPs (these guys mean business) and everyone around us is ordering them, including a group of teenage boys tearing through a pizza-box size. We order a mixed beef and chicken number and we've got to say, the meat here knocks every other HSP we've had in town out the water. The chicken in particular is crisp edged and heady with oregano. The chips are crisp and hot, so hot in fact that their residual heat manages to melt the cheese which has been placed above the meat, rather than sandwiched between the chips and meat, which surprises, and delights, us. The chilli sauce is hot, the barbecue spicy and the garlic yogurty and cooling. This is a HSP that might even be worth pulling over on the highway for.
Accommodation in Blacktown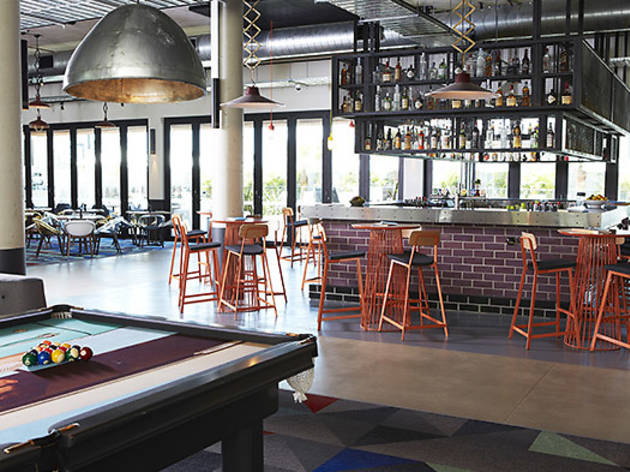 Atura Blacktown
Lounging around the Atura's palm-lined piscina under a tasseled sun umbrella, the sky uninterrupted by buildings, you could be in any little desert town in the US. Albeit one with a very nice pool. The rooms at the Atura are spacious and cheerfully decorated, with industrial concrete walls, offset by quirky flourishes like large sunshine yellow ceiling decals, and owl statuettes in the slick, modern bathrooms. An overnight stay feels like you're living inside a boutique advertising agency in downtown somewhere, right down to the free, fast wifi. The hotel's Roadhouse Bar and Grill dishes up dudeish food like burgers, steaks, and on Saturdays a high tea that swaps out cucumber sandwiches for sliders. The bar also has one of the largest collections of American whiskeys around these parts, and they'll do a tasting flight if you ask politely. Service is warm and accommodating, and the crowd is a mixture of conference-types, couples on date nights and amusement seekers thrilled by the proximity to nearby Wet'n'Wild. Out in the halls, Martin Mischkulnig's kooky portraits –originally commissioned by the near-by Blacktown Arts Centre – hang. The Atura is the western cousin to Sydney's QT, but the vibe here is very much community driven. For instance, on Saturdays they host an open mic night. When you wake up... If you're here on Sunday, stroll to the Blacktown Markets for bric-a-brac, antiques, second-hand goods and bargain-priced fresh fruit and veg. If you're up for a late break