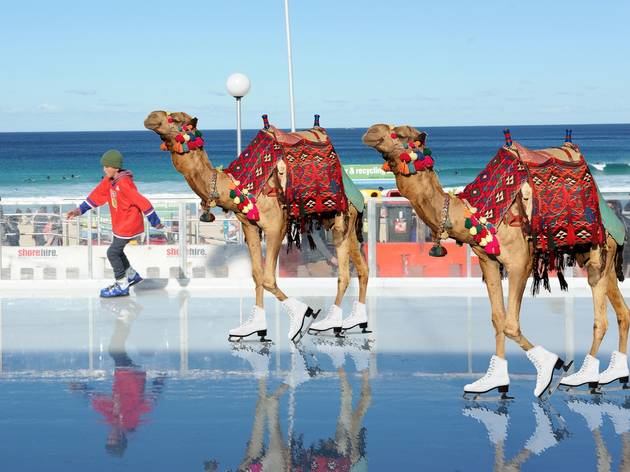 Bondi's winter festival includes ice-skating, yoga on the beach and camel rides
Bondi's six-week winter festival proves that you can still have fun at the beach even when the temperature has dropped and it's long past sun-baking season. For the first time, you can book camel rides along Bondi Beach on weekends. Though Australia has the largest population of wild camels, this will be the first time they've appeared on Bondi Beach.
The festival's popular ice rink is back for two weeks (Jul 1-17). Grab tickets early as it'll be school holidays and as busy as ever ($10-$22). If you haven't skated here before, it's the largest beachside ice rink in the Southern Hemisphere and there's room for beginners and more experienced skaters to glide across the rink without to many collisions.
This year Bondi Winter Magic kicks off with a community salute to the sun for United Nations World Yoga Day on June 19 – winter solstice. There will be a free yoga class on the beach followed by classes, medication, talks and music at the Pavilion.
In July, look out for Art on the Streets (Sun Jul 10) – an outdoor display of local artists' works at Roscoe Street Mall. Sign up for a free Bondi History Walk on any Sunday that month to discover lesser-known facts about the streets and cliff tops of the suburb. Plus, Music on the Streets will bring amateur and professional musicians to Bondi Town Hall for a dancing and music jam on Sunday July 31.