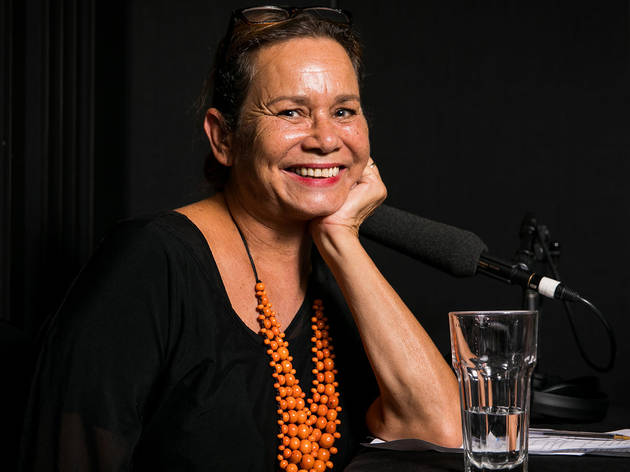 1/6
Photograph: Anna Kucera
2/6
Photograph: Erika Larsen / National Geographic
3/6
Photograph: Australian Catholic University
4/6
Photograph: Andrew Quilty
5/6
Photograph: Andrew Quilty
6/6
Photograph: Andrew Quilty
Three activists, driven by circumstance, share their stories of campaigning for political, social or cultural change
Three deadly advocates for change are coming together on the 50th anniversary of the 1967 Referendum to talk about being accidental activists. Rhoda Roberts AO, head of First Nations Programming at Sydney Opera House, tells us the date of the talk is significant, not only because it's a milestone anniversary for Indigenous Australian rights, but also because, "If we don't have these conversations we won't be celebrating another 50 years."
"There was great hope in '67 and people thought their world would change and it didn't," says Roberts. "Fifty years on we're still talking about Aboriginal people and the disparity, whether it's health, housing, social, cultural… and that's one side of it. I'm trying to be proactive and look at the solutions to look after country. We're simply custodians here."
The panellist at Deadly Voices Live (a live version of the Deadly Voices podcast) are Tara Houska, a tribal attorney in Washington DC who was charged with criminal trespass during the resistance at Standing Rock; hydrogeologist Bradley Moggridge, who was the first in his family to graduate from university; and "the Frackman" Dayne Pratzky, an unexpected anti-fracking activist.
"They're actively seeking justice – standing up and making their voice count," says Roberts. "Dayne became an activist through circumstance. Tara's a tribal attorney; her passion is as a custodian. And Brad, as a young boy, his grandfather told him about the underground tunnel systems created by Aboriginal people – this made him interested in water – and after a CSIRO study, what did they discover? The filtration systems under our Great Artesian Basin."
Roberts says she's excited to bring together a line-up of speakers that'll spark a "colour blind" conversation, connecting the dots between traditional knowledge and science. Houska, as the national campaigns director for Honor the Earth and former Native American advisor to Bernie Sanders, will bring a perspective from America's First Nations people. Moggridge, who worked for CSIRO as their only Indigenous Waters Research Specialist, and former pig-shooter Pratzky will offer widely different perspectives from Australia.

"This is everyone's issue, but come and hear it from this perspective. For me, it's like closing the gap – seeing our perspective. Water is our lifeline, it's often our boundaries."
Coming together on May 27 is important, says Roberts, as it was a day when people power changed the nation. "Fifty years on, the most extraordinary thing is that Australians are standing together to protect the country. If we don't, our children will be looking at river systems that don't exist anymore. And it's not just here, but around the world."
Deadly Voices Live takes place on the opening night of Vivid Sydney, and just before the Red Ochre Awards, the Australia Council Awards for Indigenous Excellence, at Sydney Opera House.