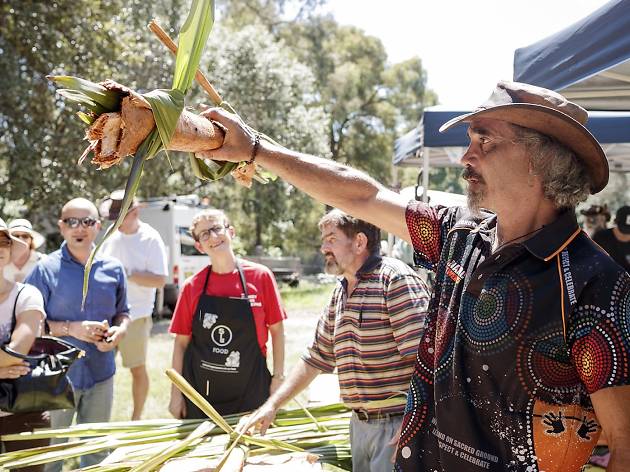 How much do you know about eels? Find out more at Parramatta's Eel Festival
They may not be the most cuddly creates but eels are an important animal for Parramatta's local Darug people, the Burramattagal tribe, and are the namesake of the area.
Get to know more about these underwater creatures and their significance in Indigenous culture at the Eel Festival, presented by Sydney Living Museums. Now in its third year the event will feature demonstrations, talks and tours, all centred around the humble eel.
Hosted at Elizabeth Farm, the day commences with the Welcome to Country, this year being delivered by local Darug woman Leanne Watson, followed by a smoking ceremony performed by Jessy Mckinless from Nulungu Dreaming. Visitors will have the chance to learn the Darug language from local cultural leaders in a number of sessions across the event, as well as expoerienceing the boomerang paiting inspired by themes from the Eel Totem.
The theme extends to the food – there'll be cooked eel to sample, including 'collared eel' made from a recipe dating back to 1816 and prepared by Sydney Living Museum's resident colonial gastronomy expert, Jacqui Newling. Fred's Bush Tucker and Kallico Catering will also be serving up traditional and Indigenous dishes on the day.
The musical line-up includes contemporary Aboriginal performing artist and award-winning poet Gumaroy Newman playing the Yidaki (an Aboriginal word for didgeridoo), as well as the Mt Druitt Choir, who will sing in a number of Aboriginal languages. Renound Indigenous act the Stiff Gins round out the talent gracing the stage this year.
To help get you there a free shuttle service will run throughout the day from Parramatta Railway Station to Parramatta Ferry Wharf.