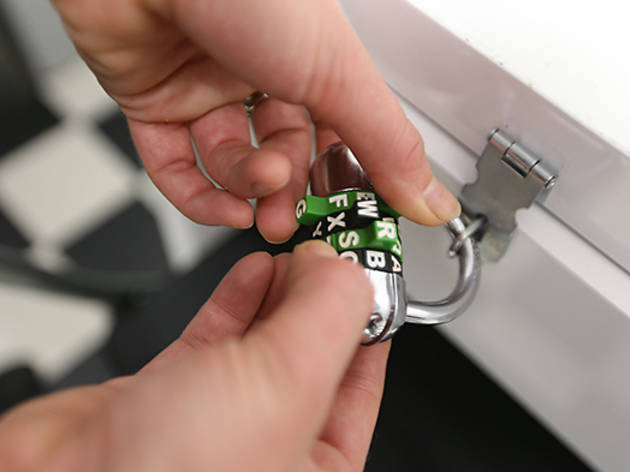 Time Out says
Get out, before the butcher returns
Darling Harbour's escape rooms are the easiest ones to find – they're part of the Strike Bowling network. And the three themes are the same ones that you'll find in Melbourne: Forensic, The Garden and Butcher's Burrow. Throwing ourselves straight down the middle in terms of the rooms' difficulty rating, we opt for the petrifying Butcher's Burrow. This one also sounded the most like a scene from the Saw movies.
Blindfolded and led around in circles before entering the room, we were bricking it before the clock had even been set. Our phones were locked away in a safe, and we were given a walkie-talkie if we needed to ask for help. We'd need it.
For the onlookers, watching closely by video monitors, seeing the four escape room newbies enter the room would have been laughable. After removing our blindfolds we stood, terror-struck, in the middle of the tight, dark space, too afraid to touch anything. Is that a bucket of blood? What's that noise?
Totally clueless, we scramble through the darkness giggling like school girls. Then we find a battery, presumably for a torch, and bam! It's game on. With newfound purpose we cast aside our fears (temporarily) and get down to business. We had to radio for help a lot, but each time we did the clues offered over the phone didn't kill the experience. The team gave hints, never solving the puzzles for us.
The puzzles ranged from visual challenges to extrapolating numbers and codes from items we'd found around the room. It took lateral thinking, brainstorming and a lot of guess work. It was down to the wire, but we made it out – just in time.
Outcome: Success!
Atmosphere: ✮✮✮✮✮
Creativity of puzzles: ✮✮✮
Difficulty: ✮✮✮
Fun: ✮✮✮
Best quote: "I'd never make it out alive in real life"
Our tip: If something doesn't work, keep looking. Split up and search the room.
Details
Address:
22 The Promenade
King St Wharf
Sydney
2000

Price:
$100-$150
Contact:
Opening hours:
Mon-Fri 11am-late; Sat, Sun 10am-late
Best selling Time Out Offers