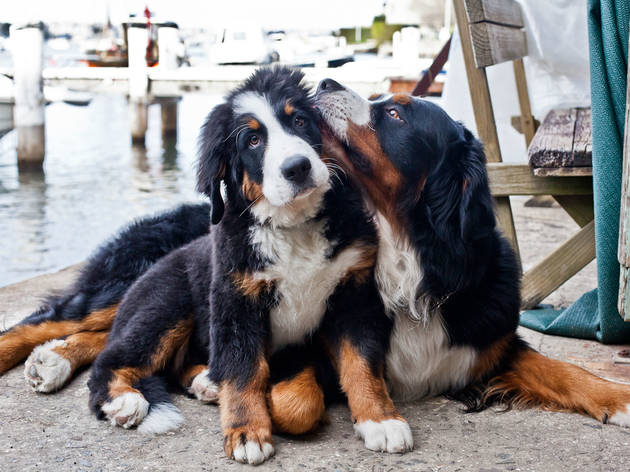 Harrison and Phoebe
"We're the company's chief biscuits easter"
Best mates and award-winning show dogs, Harrison and Phoebe work together at the Ensemble Theatre. These beautiful Bernese Mountain Dogs were born to be onstage, and the North Shore theatre is the perfect place for them. Their agent, David, kindly allowed us a few minutes with his star clients.
Firstly, how old are you two?
Harrison: I'm three, and Phoebe is four months. But she's very mature for her age.
Tell us about your awards from the All Breeds Dog Show.
Phoebe: I won Best Puppy in Show. It was my first show!
Harrison: I won Australian Champion. I was pretty stoked.
How long have you worked at the Ensemble?
Harrison: Since we were born.
Phoebe: Harrison showed me the ropes. I'm still learning but he's a very good teacher.
What do you do at the theatre?
Phoebe: We're in charge of entertaining the actors before a show, and we assist David with the finances.
Harrison: We're also the company's chief biscuit eaters. Oh, and every day at 2.30pm we hold a community meeting in Milson Park, where local dogs discuss neighbourhood matters.
What do you do in your spare time?
Harrison: David takes us for a sunrise walk in Sydney Park every morning, and on weekends we hang at the café there. There's heaps of dogs and the coffee is excellent. You should go.
Phoebe: I like it when David takes us out for a drink in Newtown. It's a great way to end a hard working week.
Read more about the Secret life of Sydney pets
Best selling Time Out Offers