HSBC Sydney Rugby 7s Series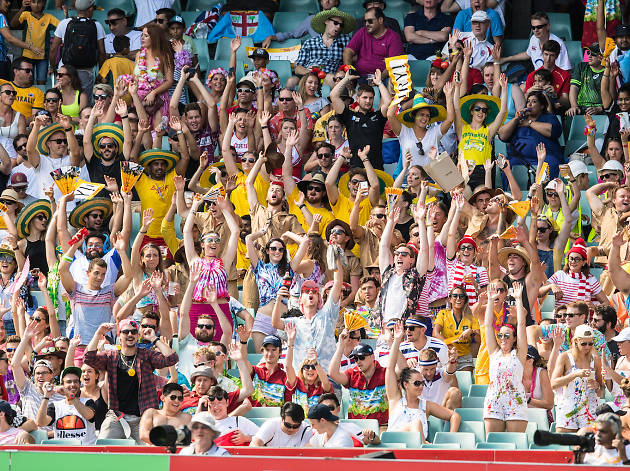 [Sponsored] The Aussie leg of the World Rugby 7 Series will see three days of on-field action, off-field dress-ups and thrills all round
Sydney's biggest festival of rugby is back – and it's mighty. It takes place over the January 26 long weekend, when 16 countries will go head to head in the Australian leg of the HSBC Sevens World Series. Why not dress up, grab your mates and get in on the action – on and off the field.
Sports fans will fill Allianz Stadium, dressed to the nines and out to play (seriously, costumes are a major thing at these events, so now's the time to get outrageous). They'll be watching Argentina, Australia, Canada, England, Fiji, France, Kenya, New Zealand, Papua New Guinea, Russia, Samoa, Scotland, South Africa, Spain, the USA and Wales battle it out for supremacy in the mens tournament.
The recent Olympics certainly gave Aussies a taste of rugby victory when the Australian womens team brought home gold. Now we will see if they can hold onto the top ranking when the womens tournament pits teams from Australia, Canada, Fiji, England, France, Ireland, Japan, New Zealand, Papua New Guinea, Russia, Spain and the USA against each other.
The games are made up of seven-minute halves with a two-minute halftime so it's frenzied and highly skilled. It's a concentrated sporting experience where you go hard or go home. The event is like a mini-Rugby World Cup, except it's faster and more intense. Remember, these players have only seven minutes at a time to make their mark, so that means tries aplenty.
And it's worth locking down those tickets ASAP. The event has sold out in previous years and you don't want to be holding a kangaroo outfit with nowhere to wear it. You can buy tickets to individual days – Friday is all about easing into the fun, Saturday things get serious and on Sunday the champions are decided in the finals. You may as well get a three-day ticket so you can ride the adrenaline wave all the way to the grand final.