My Dad Wrote A Porno Live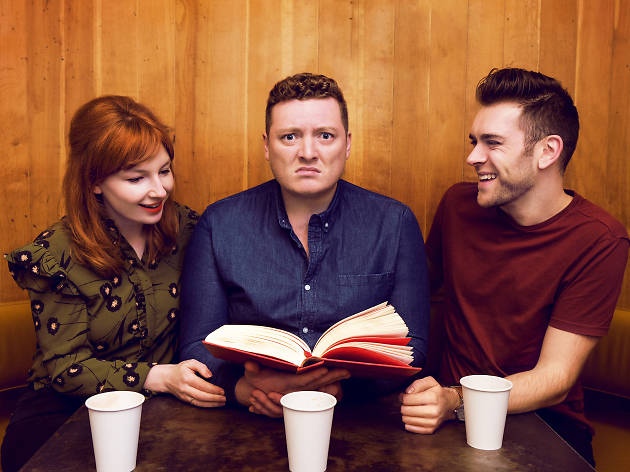 Time Out says
The brains behind this ridiculously funny podcast are coming to Australia with a new live show
What would you do if you found out your dad wrote a porno? Would you ignore its very existence? Would you bring it up with him? Or would you, say, create a podcast with two of your friends and read out chapters to the wider world? Let's just say, Jamie Morton made the right decision.
The My Dad Wrote A Porno podcast is like a filthy book club, where listeners get a section of the devilishly funny Belinda Blinked erotic novel dissected by the author's incredulous son and his friends James Cooper and Alice Levine.
Jamie's 60-something father (who – no joke – penned the book under the moniker Rocky Flintstone) was sincere in his approach to later-in-life self-publication, but the resulting novel is a trainwreck of clumsy and weird descriptions of sexual situations, with a vague plotline about the goings-on in the super sexy world of pots and pans sales. Basically, it's a disaster – but a disaster filled with spit-take worthy prose.
Launching in 2015 with readings from Rocky Flintstone's literature, the series has been a runaway success, boasting 160 million downloads worldwide, massive live shows and even an HBO special.
Jamie, Alice and James were last in Australia in 2017 with a sold-out tour, and are returning with a brand new show in early 2020. We're the first stop on their world tour, and we're pretty honoured to be the first to find out what's been happening in Belinda Blumenthal's world.
They are now two Sydney shows on the cards, on January 8 and 9, but given the success of their 2017 tour, we wouldn't be surprised if a few more dates are added.
Read our interview with Jamie Morton about the future of My Dad Wrote a Porno.
Details
Best selling Time Out Offers