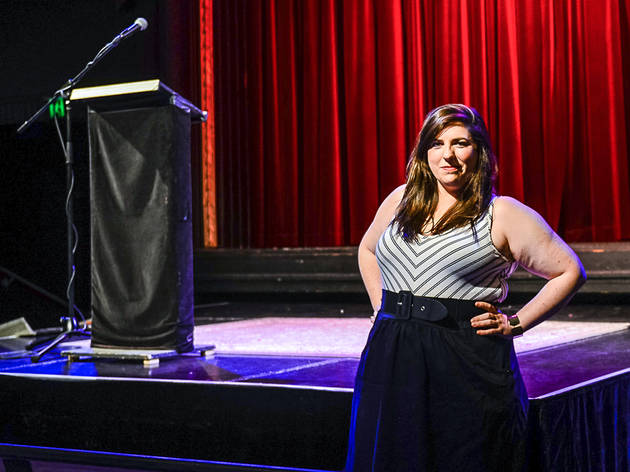 A new monthly storytelling night is giving a platform to diverse stories from within the LGBTQIA community
"Growing up with lesbian mothers in the '80s in Australia, you get to do a lot of spokesperson-ing," says Maeve Marsden, a producer and performer from Lady Sings it Better and this year's Sydney Festival show Mother's Ruin. Marsden is a passionate storyteller – but she's most passionate about hearing other people's stories, particularly from within the LGBTQIA community.
"Communities based around difference are worth celebrating," she says. "Historically, the LGBTQIA community have had to be storytellers because our stories are sometimes erased in the history books, so there's this beautiful culture of making our own histories."
Queerstories started life as a recurring Late Night Library event at Kings Cross Library. The response was so positive that Marsden ran a Seniors Week special, then a one-off event at the Sydney Festival and a ticketed event during the Sydney Fringe. All of which were so successful that Marsden applied for funding and received a grant from the City of Sydney, enabling her to run Queerstories as a monthly fixture at the home of storytelling in Sydney, Giant Dwarf.
"I like to say it's like Story Club with homos," jokes Marsden. "We have a lectern rather than a big red chair (I didn't want to steal Zoe Norton-Lodge's big red chair) and the stories are moving, sad, poetic, and comedic. I like the mix."
The City of Sydney grant means that Marsden can pay her speakers a fair wage and it also means they can have Auslan interpreters. "Storytellers like to put in weird slang or really descriptive sexual content," she says, "Because it turns into these in-jokes with the deaf audience members and the interpreters."
Each night will be recorded for a podcast, which Marsden says is part of that shared rewriting of history. "It's a storytelling event first and foremost," she says. "Not activists giving speeches on same sex marriage – though if one of the speakers wants to get married they might talk about that. It's more about storytelling by interesting people and the LGBTQI community is what ties the speakers together. It doesn't have to be about being gay at all."
Previous speakers have included reverend Dorothy McRae McMahon and justice Michael Kirby, as well as writers like Benjamin Law. In March, it'll include journalist Patrick Abboud, activist Nayuka Gorrie and writer Kerry Bashford.
"I always want to get a mix in ages, so I look for diversity in age, background and sexuality. They don't have to be comedians but they do have to be storytellers."