Ring in the new year partying in the clouds at Zephyr Sky Bar
Count down to 2019 with a super luxe celebration on top of the Hyatt Regency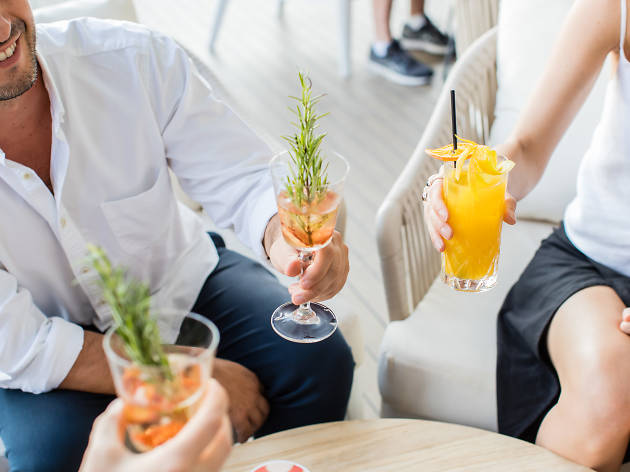 Yes, we know what you're thinking – how did they end of 2018 come around so quickly? As another year comes to a close, the one thing you really need to be thinking is where and how you'll be spending the last few hours of the year. Will you be stuck shoulder to shoulder with the crowds at Mrs Macquarie's chair , or will you be living the high life 12 floors above the city, sipping champagne and watching the midnight fireworks in style?
If the latter sounds more appealing, reserve your spot now to spend New Year's Eve at Zephyr Sky Bar. The stylish bar roosts on the 12th floor of the Hyatt Regency and boasts some incredible panoramic views of Darling Harbour. You know what that means – stunning views of the fireworks on New Year's Eve. But there's plenty more than just some of the top views in the city to enjoy at Zephyr Sky Bar this December 31.
Choose to spend your New Year's Eve at Zephyr Sky Bar and you'll enjoy delicious canapés throughout the evening as well as a drinks package. The talented bar staff will be pouring drinks throughout the night so make sure you take the chance to enjoy one of their snazzy new cocktails such as the Caramelised Peach Mojito – a lip-smacking combination of Plantation white rum, caramelised peach syrup, peach liqueur, Montenegro Amaro, peach puree, fresh lime and mint.
This is how you make 2018 go out with a bang. Zephyr Sky Bar's New Year's Eve party runs from 8pm until late and tickets are available now for $399 per person.