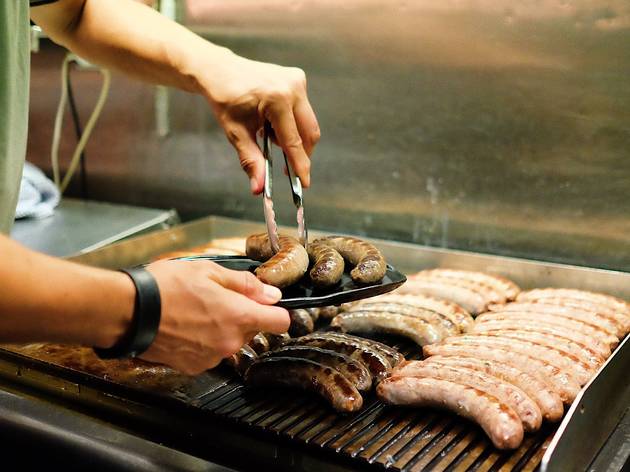 1/2
Photograph: Supplied/The Sausage Factory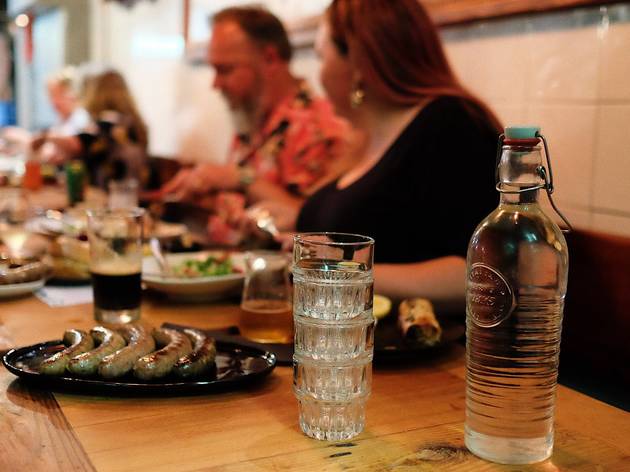 2/2
Photograph: Supplied/The Sausage Factory
Time Out says
Sydney's "Sausage Queen" takes you through the twists and turns of creating snags
If you've ever pondered that eternal question, 'how is the sausage made?', or even if you're just a fan of a good banger and a beer to wash it down – this one is for you. On the first Saturday of every month, the Sausage Factory in Dulwich Hill hosts sausage classes where you can get hands-on with mincing and making artisan snags with a tinnie in hand.
Sydney's Sausage Queen, Chrissy Flanagan, leads you through a three-hour journey from pork shoulder to pork link, discussing the theory of what goes into a good sausage, and rounding out the afternoon with a big lunch. The Sausage Factory is an Inner West snaggery, small brewery and restaurant, so you know the meal and the bevvies will be as carefully constructed as the batch of bangers you'll take home to impress your loved ones. The space is adorned with kitschy woollen sausages knitted by the queen herself, and she'll tell you that there's a harmonious overlap between the skills of knitting and sausagery.
"They're both really tactile, you're making something, there's twisting, and there's a long thread-y, cord-y thing. At the end you can eat it or you can hold it, it's all good news," says Chrissy.
It goes without saying that this class won't particularly appeal to people who don't eat meat, but Chrissy says even seasoned carnivores might get a surprise: "Sausage making turns out to be incredibly confronting for people. I think it's one thing to think about how a sausage might be made, and quite a bit more to actually get your hands in there. Probably the number one surprise is how messy it truly is."
Sausage classes run from 11am to 2pm and are $139 per person, including lunch and bottomless beers. Private bookings are also available if you're looking to have a private sausage party, a bangin' work event, or can't make it in on the first Saturday of the month. If you'd like to dine on the Sausage Queen's latest batches without putting in the labor, you can book in for dinner at the Sausage Factory on Friday and Saturday evenings. Make a booking here.
Details
Best selling Time Out Offers