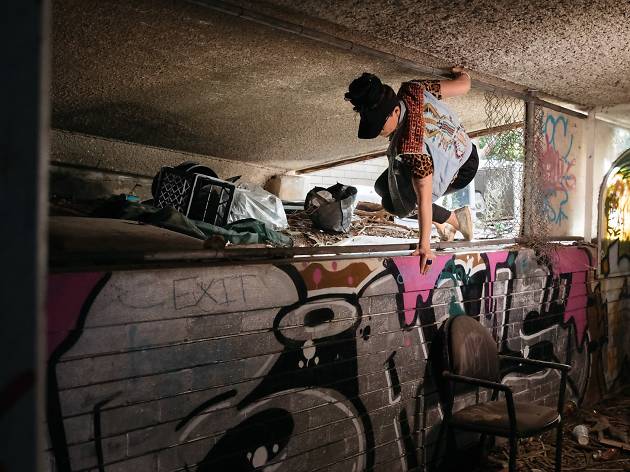 Secret Sydneysiders
Meet three locals who operate undercover – for work, exploration and play
Parallel to the daily commute and office chatter of every day Sydney are individuals who operate under the radar. Some in a veil of secrecy as vital as Batman, some whose job depends on anonymity, and some who just prefer their activities be kept a secret. We chatted to three Sydneysiders who operate undercover to find out what they do and what draws them to a life of secrecy.
If you're after more Sydney secrets, have a peep at eight local myths we went ahead and busted. Or, hit the pavement and find out more lesser-known Sydney stories at one of these spooky ghost tours.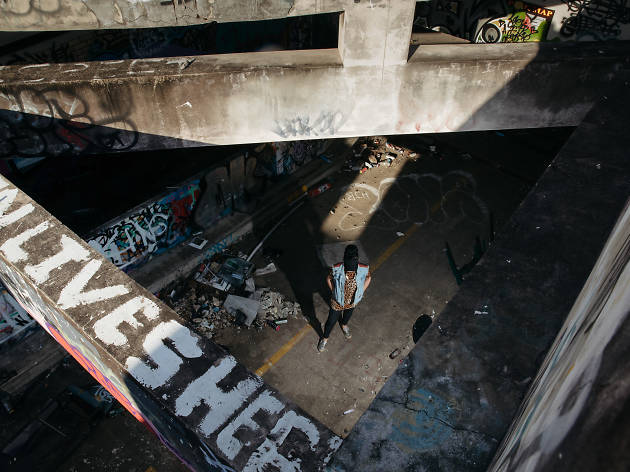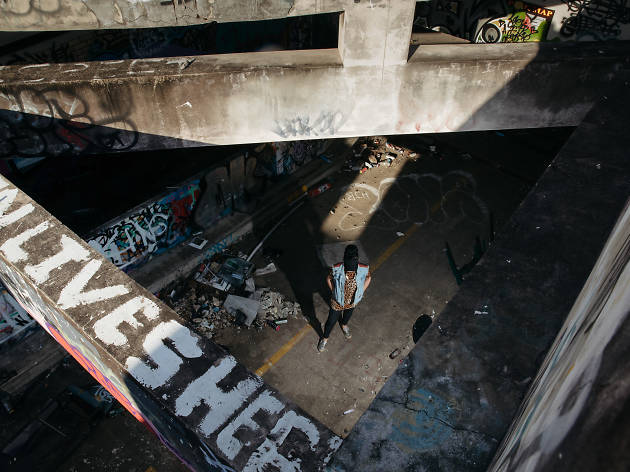 Photograph: Daniel Boud
Urban exploring is the act of discovering and investigating old and run-down man-made structures. Urban explorers, who commonly shorten the act to 'urbex', operate semi-secretly as the places they are digging into may not be safe or even legal to enter – think underground tunnels, rickety abandoned theme parks and curious ruins. Gia is a passionate Urbex-er from Sydney, who runs a photography blog called ShhSydney, cataloguing her adventures and sharing stories about the interesting pasts of long-forgotten locations.
"I want to reach out to Sydney folk so everyone can enjoy these places without having to travel there themselves," she says. Most recently, Gia, 35, visited the old Emmanuel Margolin estate – an overgrown mansion with an attached private zoo and theme park that once specialised in dancing Spanish horses called El Caballo Blanco. An Urbex dream scene. "It is completely derelict now, and nature has totally reclaimed the zoo's facilities. It's still evident that this was once an incredibly opulent place. It was a very humbling and haunting place to visit, as many animals were said to have been mistreated here; at the time there were no rules or regulations for exotic animal ownership."

Gia prefers to operate solo, though she's part of many online Urbex forums and Facebook groups: "a quirky collection of history enthusiasts, oddballs and adventure seekers". The images she posts on ShhSydney are often haunting and enigmatic, showing building remnants overtaken by plantlife. "It's so surreal wandering around a place that has been forgotten by society – every sound you hear is magnified, and it's empowering to pluck up the courage to go somewhere alone. It's the closest to a spiritual experience I've ever had."
She conducts extensive research before visiting a site, and regards older people as invaluable tools. "We tend to take it for granted now that the internet will have all the information we need to know – and, yes, while recent inventions like Google Earth are a great tool to have, it may just be the little old lady next door who remembers some place really special from the past that you might not have found otherwise." Gia hopes to explore the ill-fated theme park Old Sydney Town and the water-fringed Peat Island Asylum next, but says she'll have to get over a fear of boats and acquire a drone before those are possible. CF shhsydney.wordpress.com.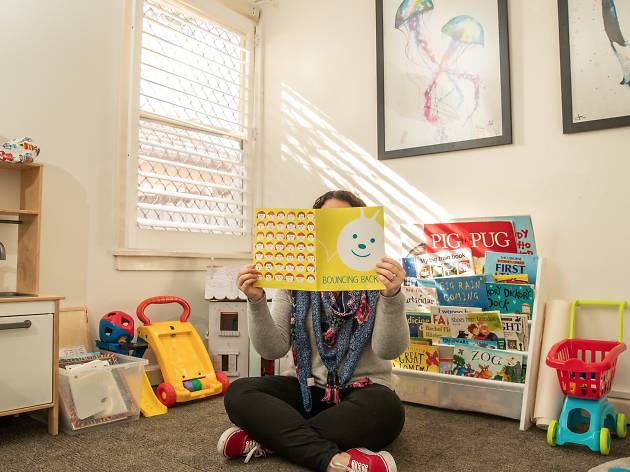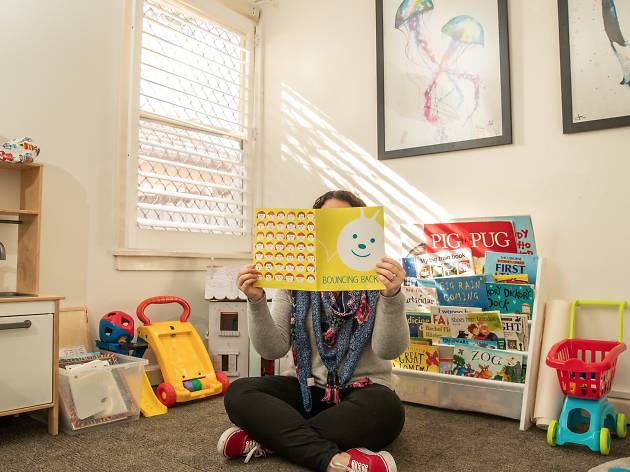 Photograph: Daniel Boud
The women's refuge caseworker
Courtney is a lifeline for mothers and children escaping domestic violence. Her job at the Delvena Women and Children's Refuge in North Sydney requires absolute discretion – the precise location of the live-in facility must remain confidential – and can vary from fixing washing machines to organising immigration paperwork. "Today I had a client who was in hospital, so I went out and had a meeting at the hospital, brought her back, then I had to go pick up some kids at one stage, so every day is very different," she says. Courtney's been a caseworker with the refuge for three years and is still trying to find a balance between keeping domestic violence on the political agenda, while maintaining her clients' security and her own. "It's really a challenge," she says. "Our community wants to be doing what they can to help, but because we're limited in terms of our resources and want to maintain safety, we're often standoffish."
Delvena can house up to five families, and as Courtney walks around the colourful quarters giggling toddlers bombard her with hugs and high-pitched chatter. She says watching the kids grow in a safe space is the greatest joy of the job. But she's realistic about maintaining her own emotional care: there's a little oil burner in her office and plenty of debriefs with supportive co-workers. "Some days really get to here," she says, pointing to her chest. "And it's really how you work through that and process it that's important." Old friends with shared passions get her through the tougher days. "One's a lawyer, one's a detective, one's a physiotherapist and the other would run the world with her admin skills. One day we'd love to open a centre for women where all of our skills would be able to support them." OG womensrefuge.org.au.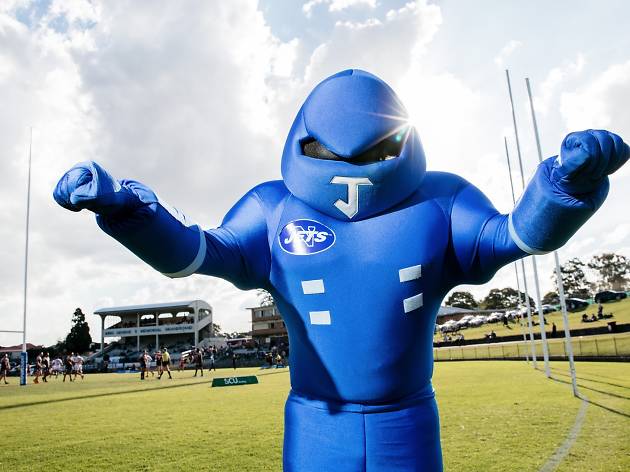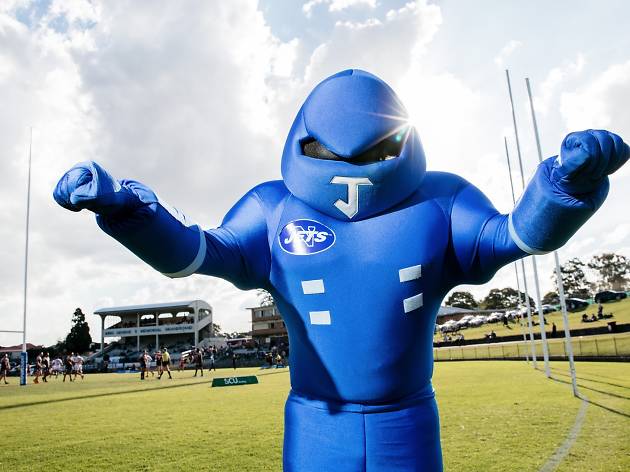 Photograph: Daniel Boud
Every time the Newtown Jets play a home game at Henson Park, spectators are treated to the antics of Jet Man – the cheeky blue team mascot who interacts with the kids, poses for photos, pokes fun at the adults and helps generate a whole lot of team spirit. Jet Man made his debut during the 2012 season and a number of people have donned the outfit over the years – for a long stretch, Jet Man was actually a woman – and the latest to do so is a 16-year-old school student from Liverpool, Tommy. "I felt like I needed to do something to give back to the local community," Tommy says. "I used to live in Marrickville and this takes me back to my childhood of going to the footy every week with my friends."

Despite his tender years Tommy's no novice to the mascot game. Last year he had a stint as Sid the Sock, mascot to the Sydney Blue Sox baseball team, in Blacktown. But wearing a silly outfit and being the centre of attention has its challenges. "Some kids are just nasty! They'll come up to you and hit you in the ballsack, do crazy things to you. If you don't have a handler with you, you have to play a bit dirty back to them, which creates more fun."

A handler is pretty much essential for Jet Man, as the helmet is so difficult to see out of. The costume also gets alarmingly hot. "You come out of it sweating buckets. Every 20 minutes or so you have to have a bit of water, have a little break." Then there are those situations a mascot can't predict. "One time [at a Blue Sox game] this little girl comes towards me crying 'Sid! Sid!' I crouched down and gave her a hug and all of a sudden this dog comes out of nowhere – I found out later it was her dog – and tackles me to the ground. I was fine, but I worried that the suit would be ripped up."

Tommy aspires to one day being a mascot in the the NRL, although as a career, teaching right now appeals to him. It's a natural choice for a guy with a good rapport with kids and a strong streak of showmanship. "Jet Man is just me acting like a fool. All my friends call me 'the Wild One', because when it comes to parties, I just go all-out." ND

Newtown Jets are playing at Henson Park on Sat Jun 2, 16 & 30; Jul 7 & 28; and Aug 4, 18 & 25. www.newtownjets.com
Find out more Sydney secrets
We've tried and tested Sydney's best tours – from seaside foraging trails to urban graffiti walks – to bring you a list of tour operators who'll help you discover the hidden gems of this city, whether you're local or here to soak up the view.
Best selling Time Out Offers